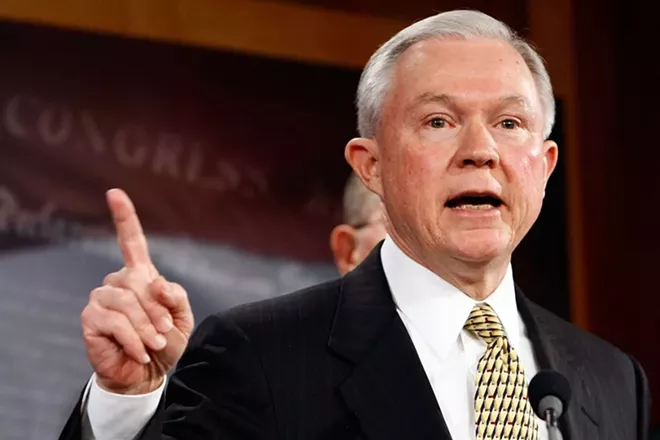 Last week, U.S. Attorney General Jeff Sessions withdrew a set of Obama-era guidelines outlining how states that have legalized medicinal and recreational marijuana can avoid federal interference. Those guidelines essentially told weed farmers, sellers, users and patients that as long as they follow state laws, the feds will leave them alone.
Sessions, whose anti-marijuana views are well established, has now paved the way for federal prosecutors to pursue criminal charges in states where weed is legalized. Exactly what the new policy means for Washington state, other states that have legalized and those that are considering legalization, is unknown.
"He let the dogs off the leash," says Douglas Hiatt, a Seattle-based lawyer who handles federal drug crimes. "If you're a U.S. Attorney in a state where marijuana is legal, and you don't want it, you're now authorized to go after it."
Will the pot shops in Washington start to close their doors?
It doesn't appear like that will be the case, at least not immediately.
"I suppose there are people who might panic, but I wouldn't recommend that," says Sam Calvert, owner of the retail shop Green Star Cannabis. "I think it's unlikely they're going to start going after people. They don't have the budget in the DOJ to shut everybody down."
Will banks change how they interact with marijuana businesses?
This is the biggest area of concern for retailers and lawyers who spoke to the Inlander.
Carol Ehrhart, co-owner of 4:20 Friendly, says her bank has already contacted her to say "we're not closing you down just yet."
But if the time comes, "will we have to go back to strictly cash?" she asks. "That really boils down to a security issue for us."
Along with memos that address farming, sale and use of marijuana, Sessions also rescinded memos that guide prosecutors considering going after banks who take money from marijuana businesses.
"He repealed the memos on banking issues and referred to the money laundering statutes [in his memo]," Hiatt says. "That may be pointing toward the direction they're going. They start in on that, and I think they'll have a good chance of shutting things down."
What's Washington state doing to push back?
There's not much they can do at this point.
But Washington State Attorney General Bob Ferguson addressed reporters last week, saying that his office has been preparing for this moment since voters approved marijuana for recreational use.
"We work with other AGs and have a structured organizations of states ... who've legalized marijuana," Ferguson said. "We are very well positioned from a legal standpoint. Our legal arguments have been crafted. We are prepared. We're not messing around in defending the will of the voters."
Beyond that, Ferguson and Gov. Jay Inslee say they've requested to meet with Sessions, as they did with then-AG Eric Holder during the Obama administration. So far, Sessions has not agreed to a discussion.
Is Sessions' move in line with American voters?
Nope.
A Gallup poll from October 2017 found that 64 percent of Americans believe marijuana should be legal, the highest level of support in almost five decades.
The only two demographic groups in a Pew Research Center survey, also from last October, whose majorities do not support legalization are Republicans and white evangelical Protestants.
Beyond that, 29 states have legalized medical marijuana, and eight, plus Washington, D.C., have legalized the drug for recreational use.
Is Sessions' move in line with Trump's campaign promises?
Nope.
Asked by a reporter in Colorado about marijuana legalization, candidate Trump said: "I think it's up to the states, yeah. I'm a states person. I think it should be up to the states, absolutely."
What do we know about the interim U.S. Attorney for the Eastern District of Washington, Joseph Harrington?
In a prepared statement following Sessions' policy shift, Harrington emphasized that "public safety is always at the fore" when his office considers criminal charges "including those that may relate to marijuana."
"This United States Attorney's Office will continue to ensure, consistent with the most recent guidance from the Department of Justice, that its enforcement efforts with our federal, state, local and tribal law enforcement partners focus on those who pose the greatest safety risk to the communities in Eastern Washington, by disrupting criminal organizations, tackling the growing drug crisis, thwarting violent crime and corralling white-collar fraudsters in this District," the statement says.
Reached by phone, Harrington declined to elaborate.
Some of the more high-profile cases that have come out of that office recently involve heroin, meth and cocaine distribution, child sex crimes and child pornography and violent criminals.
However, it was also this office that prosecuted the family now known as the Kettle Falls Five for growing medical marijuana in 2012. That case was brought under then-U.S. Attorney Michael Ormsby, an Obama-appointee. Convictions in that case were eventually overturned, and the case was dismissed earlier this year.
"That office over there, I have no idea what the hell is going to happen," Hiatt, the Seattle lawyer says. "Who knows? At that point, the whole thing could blow up again." ♦