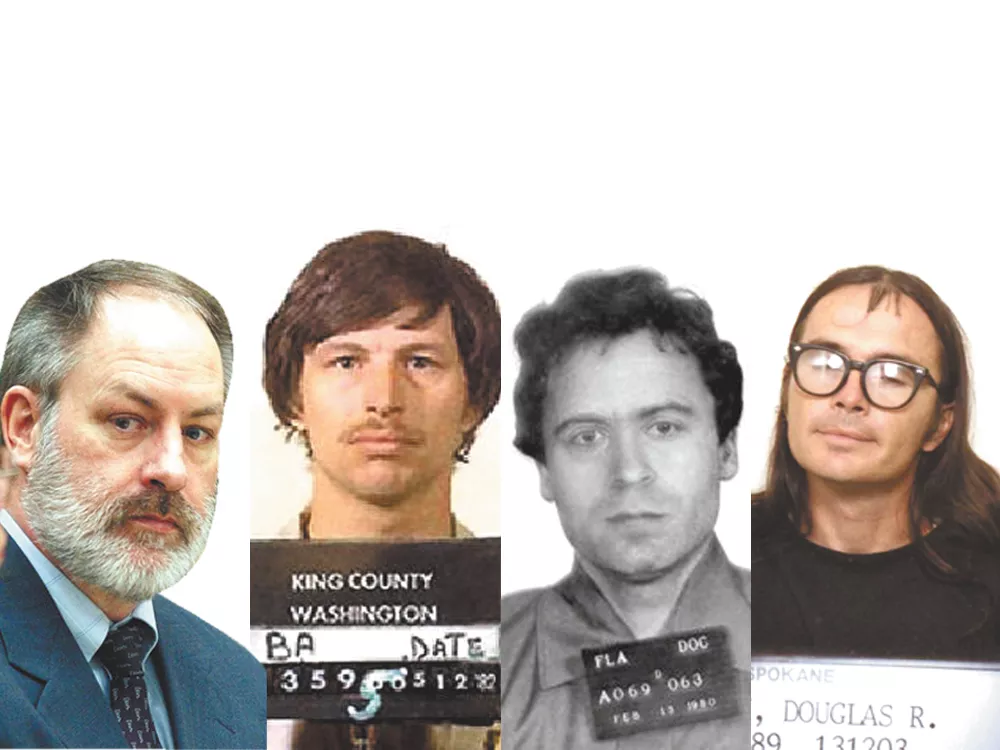 After 22 years of searching, local authorities believe they've found Spokane's latest serial killer.
Police say Donna Perry, once a man, shot three Spokane prostitutes and left their bodies naked in the Spokane River in 1990. That's after they matched Perry's fingerprints to one of the crime scenes and DNA evidence from the killings to Perry after she was arrested earlier this year for illegal possession of firearms.
If their evidence holds, add the case to the list of dozens of other killers who've called the Northwest home.
Among the most notable:
Ted Bundy, a University of Washington law student from Tacoma, admitted to killing 30 women and girls throughout Washington, Idaho, Colorado, Utah, Oregon and Florida, though some investigators believed his body count was much higher. He was executed in Florida in 1989.
Gary Ridgway, known as the Green River Killer, strangled at least 48 women, a number some investigators believe could actually be around 90, making him one of the most prolific serial killers in American history. Ridgway targeted prostitutes in and around Western Washington.
Robert Lee Yates, a former military helicopter pilot, terrorized Spokane in the '90s, killing prostitutes, many of whom worked on East Sprague. He confessed to 13 murders in 2000 and is currently on death row.
But despite high-profile killers and plenty of wilderness for dumping bodies or hiding out, it's not that "the Northwest is this 'land of the serial killer,'" says Jacqueline Helfgott, a professor and chair of the criminal justice department at Seattle University.
She says notorious serial killers and the people who write about them give the Northwest a disproportionately bad rap. Consider Seattle true crime writer Ann Rule, who wrote the first-person account The Stranger Beside Me about Bundy and Green River Running Red about Ridgway, and Jack Olsen, who wrote about the "Happy Face Killer" in Oregon and Spokane's "South Hill Rapist" Fred Coe.
"It can occur anywhere, but it's the combined effect of high publicity around some very prolific killers," she says. "In this technological age, we're constantly being bombarded with the most extreme images. That kind of information is always primed in our minds … so when a serial killer pops up in Northwest, it's not that we've got all these serial killers running around or we need to watch our backs or the Northwest is the birthplace of the serial killers."
While high visibility can make people unnecessarily scared about the region (statistically, you're more likely to die of the flu than be killed by a serial killer, Helfgott points out), it can also help shape the way the country as a whole thinks about serial killers. In the '90s, as authorities learned more details about Ridgway, they began to see a portrait of a serial murderer like none they'd known before. He wasn't on the fringes of society during his killings; he was maintaining jobs and marriages.
"He was a very different type of serial killer, who looks very normal and seems to be very normal while on the other hand operating with this extreme fantasy life that he can keep apart from the rest of his life," she says. "Our understanding of serial killers as all psychopaths was dispelled by people like Ridgway."
Portrayals of serial killers in the media, on TV and in movies continue to bring them into our consciousness, sometimes in the Northwest. The 1990 TV series Twin Peaks was set in a fictional Washington town, and AMC's recent series The Killing is set in Seattle. Both focus on investigations of murdered teenage girls and feature plenty of pan shots of the region's natural beauty.
Not surprisingly, investigating serial killers doesn't look the way it does on TV. For years after the three unsolved Spokane murders, Jim Hanson and another detective continue to investigate. They knew they were looking for one killer who was still on the loose. (At that same time, Green River officials were desperate to catch the killer who would turn out to be Ridgway.) It was big news, Hanson says, but as years passed the community largely forgot. When he left the department in 1996, he still didn't know who had killed the three women.
"The detectives who work these cases never forget about them," Hanson says. "There isn't a homicide detective out there with a cold case he doesn't think about."
The Spokane County Sheriff's Office dedicates two detectives to the 45 cold cases on its books, says spokesman Craig Chamberlin. They comb through the evidence over and over again and send anything collected before DNA or other scientific advancements to a lab. (That norm could be in demise, though. King County will soon close its cold case unit due to a lack of funding, according to news reports last week.)
Chamberlin says any crack in a cold case attracts attention, but this one is different. People want to know about Perry's sex change, he says.
"It's interesting … just to try to figure out: If this person killed women, why did he go through a gender reassignment? Psychologically, why? Does it have anything to do with the murders?" he says.
Whether it's fact or fiction, people are always clamoring for answers like that, says Gonzaga's Weatherby.
"It bothers us deeply that people can turn out like this. What was in their childhood? Was there a turning point?" she says. "It's so bizarre and frightening to us as a population that we become fascinated … [We] want to climb inside the person's mind and understand them better."