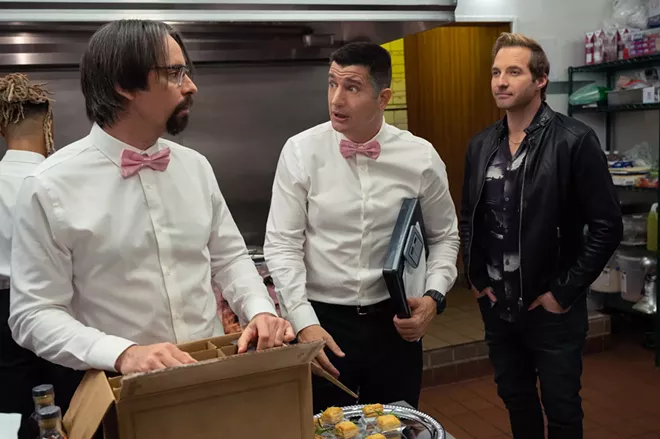 Like many of you, I've been working from home for three years now. You're probably also getting emails from the bosses lately, something along the lines of "Come on back to the office, fam! Don't you miss the free Red Bulls, foosball, and wearing pants?" Nope. I'm firmly in the #WFH4Life camp now, though I do occasionally miss the office (if not The Office). To scratch that itch, here are some of the best workplace comedies you can stream now.
PARTY DOWN (HULU, STARZ)
The original 2009-10 run of Starz comedy Party Down was barely a ratings blip, but it's since become a cult favorite. Struggling Hollywood actors and writers toiling away as cater-waiters for successful showbizzers sounds like hell, but the killer cast (which includes Jane Lynch, Adam Scott and Lizzy Caplan) wrings sharp laughs from every miserable event. Starz finally rebooted Party Down last month with the O.G. cast (sans Caplan), which means the Party Down crew are now 13 years more bitter on the job.
WORKAHOLICS (HULU, PARAMOUNT+)
Capital D-U-M dumb, Workaholics cranked out 86 episodes over seven seasons without ever running dry on idiotic plots. Adam (Adam Devine), Blake (Blake Anderson) and Ders (Anders Holm) live together in a ramshackle Rancho Cucamonga house and "work" at a telemarketing company, but mostly they just get high and concoct ludicrous get-rich-quick schemes — this was pre-crypto currency, BTW. In the tradition of Seinfeld and It's Always Sunny in Philadelphia, the Workaholics never learned a single lesson.
CORPORATE (PARAMOUNT+)
If Workaholics was the most gloriously stupid, live-action Comedy Central sitcom ever, Corporate was easily the darkest. Matt (Matt Ingebretson) and Jake (Jake Weisman) work at a drab and industrially vague megacorporation, and their limited time away from the desk is equally dour — it was Severance before Severance. Corporate hilariously satirized every aspect of what used to be IRL office life, including manufactured cash-in holidays (like "Remember Day," a pointed mashup of Christmas and 9/11).
BETTER OFF TED (HULU)
Like Corporate, Better Off Ted was set at an uber-conglomerate of nebulous intent, though there were occasional mentions of "cow-less beef" and "killer robots." Corporate cog Ted (Jay Harrington) is a mid-level suit trying to balance his ethics with his company's evil practices, frequently talking directly to the camera to explain what's going on. Opposite Ted is his boss Veronica, a cold company shark played to poisonous perfection by Portia de Rossi. Needless to say, 'Merica didn't take to Ted.
THE LARRY SANDERS SHOW (HBO MAX)
It's hard to believe in these dragons-and-dystopia times, but HBO also used to do comedies, and The Larry Sanders Show (1992-98) was one of its best. The Garry Shandling series was set behind — and in front of — the scenes of a late-night talk show, focused on the network power struggles between host Larry (Shandling), producer Artie (Rip Torn), and, to a lesser extent, sidekick Hank (Jeffrey Tambor). Larry Sanders holds up, especially when you realize that basic White guys still host all late-night talk shows.
CALL MY AGENT! (NETFLIX)
The agents at a French talent agency (led by Camille Cottin) struggle to run the company after the untimely death of their boss (he swallowed a wasp while vacationing in Brazil — perfect). Call My Agent! may be in French (sorry), but the daily stress of enduring client and coworker egos and facing potential financial ruin translates to any language. The celebrities playing hyper-diva versions of themselves are also mostly French, but you'll recognize some of them (like Monica Bellucci and Sigourney Weaver).
VEEP (HBO MAX)
It's been said that Veep (2012-19) was the most profane HBO series since Deadwood (it was me; I said it), with Vice President Selina Meyer (Julia Louis-Dreyfus) and her team (Anna Chlumsky, Tony Hale, Reid Scott and Timothy Simons) trading exceedingly vulgar insults at dizzying velocity. Veep portrayed the inner workings of Washington, D.C., as a perpetual clown car dumpster fire with flag pins, which we've come to accept as horrifyingly accurate in 2023 (but now with AR-15 pins). Veep is the last political comedy. ♦