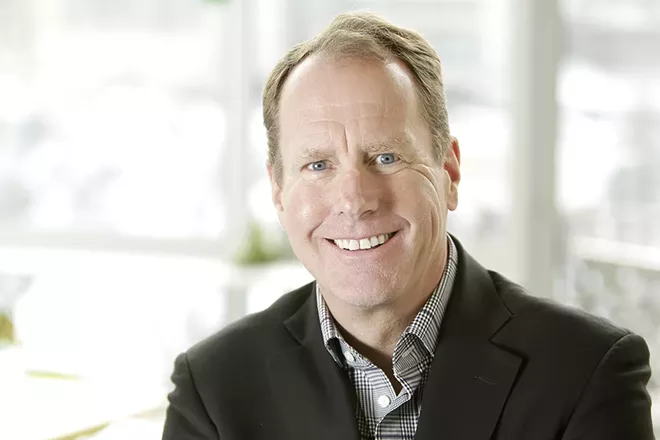 Founded less than two years ago, Lime has raised $467 million and is already a unicorn to investors, sporting a valuation of $1.1 billion. "Through the equitable distribution of shared scooters, bikes and transit vehicles," the company "aims to reduce dependence on personal automobiles for short distance transportation and leave future generations with a cleaner, healthier planet," according to its website. Strategic investors include such disruptive innovators as Uber and Google. Lime currently operates in more than 120 U.S. and European cities and has facilitated some 12 million rides.
Lime bikes and scooters arrived in Spokane in early September as part of a two-month pilot. Anyone who has been downtown recently has likely seen, ridden or dodged one of the company's Lime vehicles. I think they're terrific — riding a an electric scooter at age 58 makes me feel like a kid again. It can be challenging, however, to steer, brake and hold a briefcase at the same time. I don't even try to hold a cup of coffee or scoot and text.
They're also extremely convenient. I can hop on a scooter right in front of my office to go to a nearby appointment, meet someone for lunch or run an errand. I would have otherwise walked or driven. Riding a scooter saves me time and is cleaner for the environment. I still walk to the gym, however, as I wouldn't want to support critics' concerns that Lime and its competitors are contributing to unhealthy lifestyles.
Lime is also developing a new type of vehicle known internally as a "transit pod." The concept is in early stages and the design is still in flux. But Lime's plan is to build an enclosed, electric vehicle that could hold one or two people, resembling a smart car or a deluxe golf cart. The vehicle wouldn't be a car, exactly; it's not even clear whether it would have three or four wheels. But it would drive in normal street traffic, and could hit a top speed of about 40 miles an hour.
In a possibly related effort, Lime has applied for a car sharing permit in Seattle. The company did not comment specifically on its Seattle plans but did say "you can expect electric vehicles to be an additional micro-mobility option for Lime riders to choose from within the Lime app soon."
I am inspired by the disruptive potential. For the first time, I can imagine not owning a car. Once the kinks are worked out, and the requisite infrastructure is created, I foresee relying upon Lime for first- and last-mile jaunts, Uber for medium-range transportation needs and Zipcar for longer-distance trips. The icing on the cake will be when Jetson-style flying cars become available!
Rider safety, interaction with pedestrians and cars and "Lime Litter" are among the kinks. Hospitals have reported a noticeable increase in injuries in cities where Lime scooters are available. Helmets should be attached to each Lime bike or scooter and required for operation; riders should be obligated to hold a current driver's license.
Scooters should not be allowed on sidewalks — I have already had a few near misses, both as a pedestrian and operator.
But I'm not particularly bothered by the site of scooters and bikes randomly parked throughout Spokane; it's part of the elegance of the business model. I suspect this issue will resolve itself.
The infrastructure requirements are anyone's guess. The unintended uses of Lime, Uber and self-driving cars are unknown. There will be many trial-and-error experiments to identify what works and what does not. What will parking garages of the future look like? Perhaps they become a confluence of various transportation modes. How does public transportation fit? City buses, as they are constructed and operated today, may become money-losing endeavors and become obsolete. I wouldn't be surprised if another disruptive Uber or Lime-like company emerges to compete with traditional, publicly operated buses. Among the challenges will be providing open access to all. Lime addresses this by providing half-price scooter rates to individuals who participate in any state or federally run assistance program.
I'll also be curious to see whether ridership remains robust during the winter months. According to a Lime spokesperson, "All Lime products (scooters, bikes and electric bikes) are built to withstand the toughest weather conditions, including snow and rain." Lime, however, has only been in operation for one full winter so it is just speculation at this point.
Public feedback, observations and data received during Spokane's pilot program with Lime will help guide the initiation of a permanent bikeshare program expected to launch in the spring of 2019. Dockless scooter-sharing companies like Lime have been banned in Seattle, and there's no timeline for when that might change. Seattle's mayor wants to conduct a study and consult with other mayors. Much of the hesitancy is safety related.
I encourage Spokane to take a different approach than Seattle. Lime is a disruptor with many potential, positive consequences for transportation. As with all revolutionary innovations, there will be issues, problems and chaos. Rather than put the brakes on change, I hope Spokane will be progressive in embracing Lime and continuing to partner with them to resolve the kinks and infrastructure issues. Plus, it will serve as another opportunity to show Seattle that Spokane is "Hacking Washington."♦