FALL IN LOVE WITH THE ROAD
I fell in love with Washington not in a singular moment but during the slow accumulation of thousands of miles of pavement under my car.
Growing up among the amber waves of grain on the Palouse, one of my first long road trips took me through the strikingly different landscapes of desert and shrub steppe before I arrived at a friend's apple orchard in the center of the state. Where desperate jumbles of sticks calling themselves plants littered the landscape for miles around, this valley had magically been brought to life with water from nearby dams.
One summer, another friend and I marvelled as we passed pungent dark green mint fields on our way west, their smell so overpowering it lingered with us for miles even though our windows were up.
Countless other times my car passed through the mighty Cascade Mountains as I visited my old home in the east and my new college home in the west, the snow capped peaks reducing other ranges I'd see around the country to mere hills in comparison.
Over on the peninsula, the highway hugs the lush rainforest as your hood points toward the rugged shores of the Olympic wilderness coast. There, my car could take me only so far before my own feet had to traverse slippery rocks at low tide and clamber over muddy headlands so I could land on my own private stretch of sandy beach by sunset.
See, with some gas money, decent upkeep on your vehicle and a little patience, there's magic waiting in this place. With any luck, your summer road trips will help you fall just as much in love with all that the Pacific Northwest has to offer. Here's where to find just some of it.
BETWEEN A ROCK AND A DAM
Near the center of everything and nothing, about two hours west of Spokane, Steamboat Rock State Park serves as a grassy, camping oasis in the middle of the desert. Drive past looming basalt formations on your way there at night and you're likely to spot a snake or two soaking up the summer heat on the dark highway. But when you enter the campground, green grass and shade trees await. For this shorter road trip, trek out to the park for the weekend and cool down in the shallow waters of Banks Lake, where boating is popular. One day, head up to Grand Coulee Dam. This summer, there's a brand new virtual reality experience at the visitor center, allowing up to five people to use Oculus Go headsets to view parts of the dam that no one usually gets to see on a physical tour. For now, the display will be around for six months, says Lynne Brougher, public affairs officer for the dam. Seattle company Pixvana's technology enables users to simultaneously explore rarely seen parts of the 10th largest power station in the world. People might also be interested in visiting the nearby Colville Tribal Museum, Brougher says. Stick around until nightfall and you can watch the 30-minute laser light show, "One River, Many Voices." The show displayed on the massive concrete dam details its history and impacts every night at 10 pm through July 31, at 9:30 pm during the month of August, and at 8:30 pm in September.
GET A BOAT
As an Inland Northwesterner, you've seen North Idaho's beautiful offerings: Priest Lake, Lake Coeur d'Alene and Lake Pend Oreille. But now you're itching to get out on the water further from home. For your water wanderlust, try a trip over to Lake Chelan, where the mountains meet the water in the eastern shadow of the Cascades. If you don't have your own boat to float, the app GetMyBoat — self-described as the Airbnb of boats — offers rental listings in the area that can help you explore the lake. "It's not just power boats and pontoons, we also have lots of kayak rentals, outdoor excursions, rafting, really anything that's on the water," says Val Streif, head of marketing for the app, which has listings throughout the state and country. "And, being able to comparison shop, you get that price range, which is pretty nice."
EMBRACE THE BLUES
Fans of blues, jazz, latin, folk and world music: Pack your cutest festival outfits and your passport, and take the more than 4-hour drive north into British Columbia for the Kaslo Jazz Etc. Festival Aug. 2-4. Camping is available, and tickets are $245 for the weekend. More info at kaslojazzfest.com.
STREET EATS
Understandably, not everyone is interested in camping or super outdoorsy road trips. For a more urban, culinary adventure, head over to Seattle for the Street Food Festival July 6-7 and try edible delights from more than 100 food trucks and vendors expected to fill up five blocks in South Lake Union.
WORTH THE DRIVE
If you're craving some forest time, head to Leavenworth for a few days and camp near Icicle Creek in the Okanogan-Wenatchee National Forest a few miles away. Or stay in town at one of the hotels while you catch some of the many summer events going on in the Bavarian-style village. Turns out, there's just as much fun to be had in the summer as in the winter, as you float the river, grab some local brews and bites, and leave a happy camper.
ROADSIDE PIES
Ever hear of a place called Trout Creek? It's a small town in northwest Montana, and by the looks of it, you're gonna want to plan a detour through there on your way to Glacier National Park or Missoula this summer. That's because they're having their 40th annual Huckleberry Festival. Started as an event to sell art and delicious huckleberry treats, the festival features everything you'd hope for in a small-town celebration, from a parade and kids' activities to a pie-eating contest. It all takes place Aug. 9-11. More info at huckleberryfestival.com.
DRINK AND RUN
For more Montana adventures, roll into Missoula three hours east of Spokane, set up a home base and venture out to Lolo Hot Springs for a soak in the minerals. Then catch a show at the KettleHouse Amphitheater or explore the nearby Garnet Ghost Town. If you want to run just a little bit (we're not talking a whole marathon here), consider participating in the Missoula Marathon Beer Run, a free 3.1-mile social run that ends at Caras Park with a party and a free beer from Big Sky Brewing Company for finishers who are 21 or older. The beer run is at 6 pm on Friday, June 28, and kicks off the Missoula Marathon weekend.
RIP-ROARIN' RIGGINS
Head about 4 hours south of Spokane/Coeur d'Alene into central Idaho and plan your fishing/RV trip near the Salmon River to coincide with the Riggins Hot Summer Nights talent and car show July 26-27. There'll be plenty of classic cars coming to the small town for the family-friendly event. Plus, if you show off your talent, you could win some of the $1,500 in prize money at the country-themed talent show Friday night ($5 per person to enter).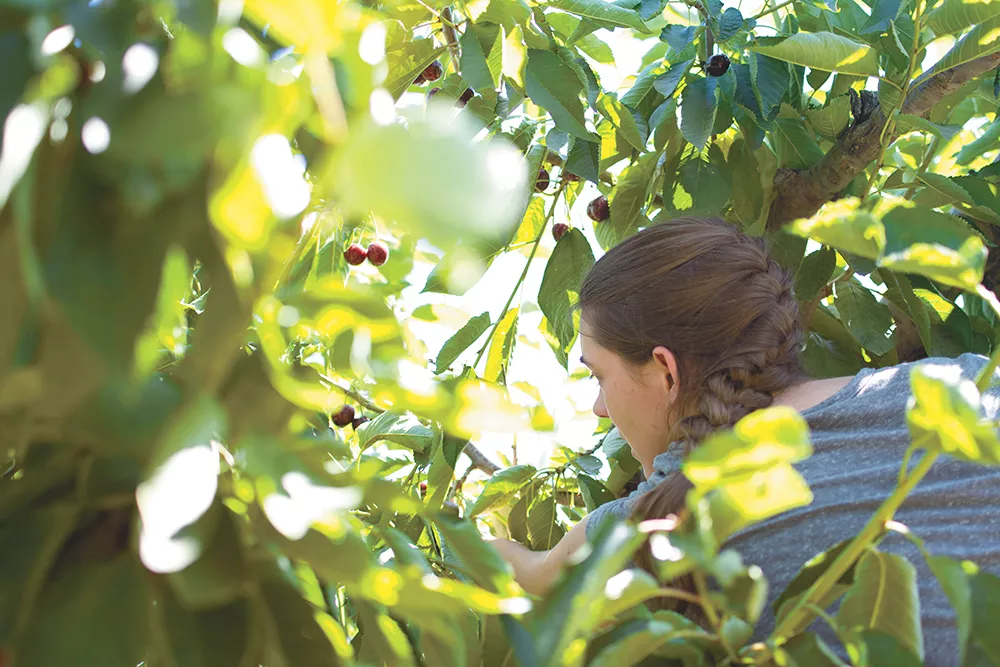 WHERE/ WHEN IT'S RIPE
Washington offers a bounty of fresh fruits and vegetables, and July and August are prime time for U-pick farms, where you can walk into the fields yourself and pick the freshest strawberries, cherries, raspberries, blueberries and apples. Pack a cooler and ice and add some side stops to your road trips west this summer, planning out where to get all your in-season favorites using the guides at pickyourown.org as a starting point. Make sure to call ahead to verify places are still operational and their fruits are in season. ♦