A pilgrimage to Chamonix, France, the birthplace of alpinism, is something every backcountry skier daydreams about while skinning familiar hometown hills. Our dream came true in January 2015, highlighted by two days of off-piste skiing among the glaciers, steep couloirs and towering peaks of the Mt. Blanc massif. We met our guide, Thor, the night before he led us into the mountains. From Taos, New Mexico, he left for Chamonix after high school and has been here for almost 20 years. Thor is a great guy. He's a small guy, but we both laughed at how we only thought of him as small while in town, and that in the mountains he seemed like a giant.
We told him that we wanted him to "scare us safely," and that we wanted steep skiing and some touring. He told us to come prepared to tour (our backpacks loaded with backcountry gear) and our passports (in case we drove through the Mt. Blanc tunnel to the Italian side). He would have harnesses, crampons and ice axes for us. Our hearts were pumping.
After staying up too late — due to the time change, excitement and anxiety and a cool bar called Elevation, full of drunken locals — we met Thor at the Pointe Isabelle Hotel at 8 am. He told us we were going to Italy, as he had spoken to some other guides and heard it was good. We drove through the tunnel and arrived in a sleepy Italian village called La Palud, located at the base of the Helbronner tram. After a cappuccino at the Café del Funivie, we made first bin (apparently the cool way to say tram car) that morning. We had two different tram rides, and at the top of the second had to ascend an enclosed, steep, 228-step staircase, arriving at the 11,072-foot Punta Helbronner. We were breathing hard, light-headed and growing more and more weary. At the top, we hiked with our skis on our backs, in awe of the surrounding mountains.
The Alps exceeded our expectations visually, and that is saying a great deal. We were looking back toward the French side at the Aiguille du Midi tram up from Chamonix and down at the Vallée Blanche (a glacier that's also a famous ski run, but inaccessible due to low snow and crevasse exposure at this time). After a short ski around the peak, we put on our skins for a hike up to the shoulder of the Aiguille d'Entrèves at just under 12,000 feet.
The vistas from the top of the ridge were incredible, with expansive views well into Italy and back into France. We were psyched, but also starting to get a bit more nervous. In retrospect, we should have been far more nervous than we were.
Once we got to the ridge, Thor told us to start getting our crampons on, and to get our ice axes out. Yikes. Hearts began to race, and would have even more if we'd known what was ahead. At this point — and this is for our mothers and wives — we were never in a no-fall-zone situation and were always roped to a guide when we were in an exposed situation. That disclaimer being made, we were scared shitless.
Thor asked us who was more comfortable with the rope and crampons. Given that I had used them once before, it fell to me rather than Stephen. Thor said that I would go at the back, with Stephen in the middle. He roped up Stephen first, and much to Stephen's chagrin, realized that he'd mixed up the order, so now Stephen was going to be at the back. He then instructed us on the best technique with the crampons and ice ax, and how to simply stow the ice ax if we needed both hands.
He asked, "Are you guys ready to go?" We said "yes," even though there's no doubt that the answer was "no" in both of our minds. He gave us permission to go really slow and encouraged us all along the way. We kept the rope tight between us, which gave a sense of security. We both laughed afterward that during the roped-up hike up the ridge, we only looked at our hands and our feet and the rock in front of us — never looking up or down the mountain. Not going to lie... we were scared.
We came to the crux move, where we had to shimmy around a large rock outcropping. Keep in mind that our skis protruding out and above our packs were really disconcerting, as it felt like it took our center of gravity out of whack. Stephen had to make the crux move first, because he was on the end of the rope and we needed to belay him and then me. He was not happy about that, but neither of us said a word most of the hour that this took place. Although at one time I did look back to him and say, "You're not at Schweitzer Mountain anymore, Dorothy!"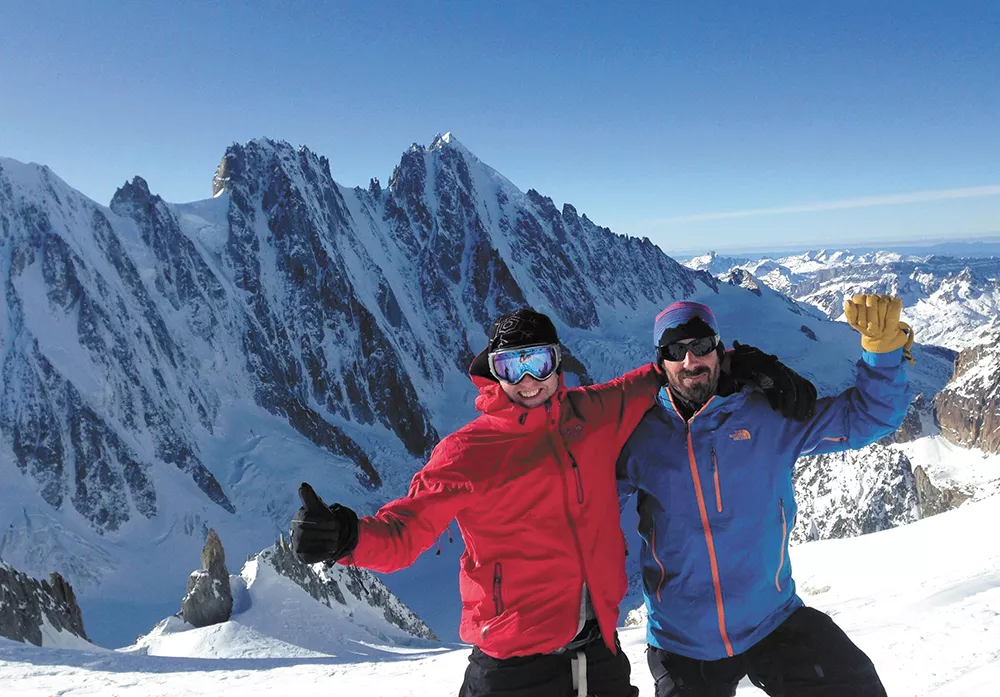 We both successfully made it around the rock, and were psyched to do so. We asked Thor if that was the crux move, and he said, "Weeelllllllll, actually putting your skis on is the crux move." He had this funny way of dragging out the word "well" whenever we asked him a question when we were clearly nervous. Once around, Thor took us off the rope (a bit disconcerting) and Stephen had to downclimb 10 feet to where he could kick in a flat spot to put on his skis. I was taking the higher road with Thor, and had to kick a flat spot into the snow to set my pack. Taking off crampons and putting on skis while perched at 12,000 feet above a very steep run was precarious, to say the least. Stephen was euphoric when he clicked into his skis, despite the fact that we still hadn't even hit the 40-plus-degree slope we were about to ski.
We grouped up and Thor explained the run and the approach. He would go first and then we would go one at a time. As is typically the case when we ski, Stephen skied behind me, since I'm the one more likely to blow up on a ski slope. Thor said he didn't know the snow conditions, so he advised us to take it easy, as it could change. He took off, and the snow actually looked great. He skied down about 1,000 vertical feet and then signaled for me to go. It was a wide slope, but steeper than I expected, and I was nervous when I dropped in. I also didn't expect the snow to be as soft, or for there to be a slough. While they were some of the most magical turns of my life, they were certainly not the prettiest. I fell about halfway down out of sheer nerves. Stephen, as ever, skied it beautifully. We did this for the next 6,000 feet for the longest, most thrilling and exhausting run of our lives.
We landed at the Pavillion restaurant, ordered a beer, soda and plate of pasta. I was soaked from sweat and snow (I fell another time, of course). I felt the effects of the stress and the altitude at that time and struggled to eat my pasta, but was still in awe of what we had just done.
Day 2: It may seem crazy that very little of this story is about the actual skiing, or taking turns, but the ironic part is that was our experience. It was more about the approach than actually skiing, and the same could be said of the second day. We met Thor again at 8 and headed to the Grands Montets ski area, 10 minutes up the valley from Chamonix. We made first bin again and arrived at the top at 9:30. The plan was to ski in the area above the Argentiere glacier. We skinned up the massive glacier in this incredible area where we were surrounded by granite peaks that thrust 3,000 to 4,000 feet above us, rimmed with couloirs and seracs. It was cold and windy, but very sunny. The views were breathtaking. Our guide would point out ridiculously steep couloirs that people would ski. It really is an entirely different world of skiing; one that I'm glad to have experienced, but humbled by as well.
As the sun came up over the ridge, and we worked our way farther up the glacier, it warmed up for us. We skinned along the Argentiere glacier slightly uphill for about 30 to 45 minutes, and then began to climb, up the slope that we were going to ski, to the Col d'Argentiere at 11,715 feet. As we were skinning up and almost approaching the climb, this guy in tights was flying up behind us toward a different route. Thor said, "There's the fastest guy in the world." We thought he was kidding until he told us it was Kílian Jornet, the fastest trailrunner, ski mountaineer and alpine climber in the world. He didn't use the tram. He started skinning from the parking lot.
The skin up was tougher than we expected because of the altitude and the steepness of the skin track, to say nothing of jet lag and the total time and distance (it took us about three hours and our total ascent was around 3,750 feet).
The top of the Col d'Argentiere was magnificent. We were actually straddling the French and Swiss border, looking out into Switzerland.
It was quite windy and cold up top, so we didn't hang around long. Plus, there was some skiing to be done. The snow was much better than we thought it would be, based on our climb up to the Col, with some nice powder. I'm happy to say that I skied much better, with no falls (which was a good thing, considering there were crevasses in the run) and had an amazing 3,500 feet of soft turns.
We're not sure if the euphoria we experienced at the bottom of this run was due to the quality of the skiing, the setting, the satisfaction or just the fact that we knew we were safe, but we were so psyched as we skied back down the glacier and to the bottom of the Grands Montets, for a total run of 7,700 vertical feet. Truly amazing.
As Stephen said, "Thor safely scared the shit out of us." And as I said, "I love being this tired, considering what is causing it." Consider as well that each of these were one-run days. As our buddy John Stifter says: We got Chamified!! ♦