Target's Project 1962 has it. West Elm oozes it. Joybird delivers it, custom-made. And careful shoppers find it in secondhand stores, too. What is "it"? Midcentury modern design, that's what — a style now wildly popular, more than 50 years after its arrival.
"The aesthetic is very simple, clean, modern lines," says Heather Hanley, creative director and owner at The Tin Roof, describing midcentury modern's trademark look. "The movement happened when we were getting to space, in a modern age."
She and her design team have seen the resurgence and increased interest in midcentury modern, so when clients want to incorporate the look in their homes, she takes advantage of the style's lines, clever storage and simple fabrics. "Midcentury modern traditionally has bright colors, like oranges and turquoises, but you don't have to do that to get the look; you can use more natural colors."
"We are so pleased the midcentury is coming back into popularity," say Michael Connerley and Hugh Broadhead, who live in a midcentury modern on Spokane's South Hill, the Farline House. "We spent many years in Palm Springs," adds Connerley. "There is a huge midcentury movement in the desert with an immense appreciation for its style, and we grew to love the clean lines and slick style of the homes."
One thing Connerley and Broadhead have learned is that when you purchase a midcentury modern home in Spokane, there's no shortage of projects, repairs and upkeep to be done, not just to restore or preserve these homes' aesthetics, but also to update the infrastructure to deal with modern needs.
"We've kept our home's footprint original," says Connerley. "When we updated the kitchen, we replaced outdated 1953 appliances with the more functional ones we have today, blending the modern appliances into the existing kitchen. The house is windows from front to back and is quite dramatic on first impression."
For Bo and Molly Cooke, their midcentury modern home, known as the Curtis House, came with a history lesson. Built by M.G. Curtis in 1955, and located on the banks of the Spokane River, the home is an architectural classic and a masterpiece of midcentury modern design. The firm of Vuller Gale, Martell, Norrie, and Davis, Architects and Engineers, were well-known in the region. This home was one of their only residential designs, and the Cookes are just its second owners, purchasing it from the Curtis children.
"When we looked at the blueprints and bones of the home, we decided to restore as much of it as we could while implementing the current technology where appropriate," says Bo. "We wanted to honor the intent of the architect and of the family who built it."
To say the home and yard needed substantial work is an understatement. "It was brutal," Bo says of the scope of the project. "People thought it would take too much to remodel it. It would've been easier to start over and demolish it. We could have done that, but it wouldn't have been as special."
The couple tackled what they could in the reno, including doing their own demo work to open up vistas on the main floor, but much of the project required special expertise and materials. A crew from a Las Vegas that works on casino pools flew in to work on the neglected concrete pool; expansive replacement window glass had to be shipped from California; planks of paneling were carefully removed and matched to integrate the renovations seamlessly into the existing architecture.
Now, with the project completed, the Cookes find they're ready to tackle a new challenge — building a house from the ground up — and they've placed the Curtis estate on the market.
The midcentury modern esthetic of the home is easily notable from the river, with 77-linear feet of floor-to-ceiling windows. Inside, the original kitchen cabinets and counters are still in place, and the extensive wood paneling throughout the house is perfectly preserved.
"The walls are their own art, so we don't have to have art on every wall," says Molly. "There are little hidden treasures throughout midcentury modern, and everything is so intentional. If you don't love this style and value the integrity of how it's been maintained though, it's not for you."
Two people who also found the style enticing are Amy and Glen Duncan, whose home is situated in a much different environment, rising dramatically into a steep hillside in the Rockwood neighborhood.
Three years ago, when the family was relocating from a Seattle Craftsman home, Amy says she had to overcome her initial reluctance to even tour the house, with its somewhat forbidding streetside facade. Once inside, however, the home's charms quickly captured the couple's attention. The Trogdon House, built in 1963, was designed by architects Bill and Dorothy Trogdon in the Northwest regional style for their growing family, which eventually included three sons and Dorothy's mother.
"We were drawn to the openness of the style: the vaulted ceilings, airy spaces, and floor-to-ceiling windows," says Amy. The home, now on Spokane's historic registry, was featured in the July 1966 Sunset magazine. Prominently noted in the Sunset article was the remarkable placement of the laundry area: upstairs, near the bedrooms. Then, as now, the design worked well for a family.
"Nothing feels cramped — it gives you room to breathe," says Amy. "I think midcentury modern is particularly popular at this cultural moment because it provides a sense of simple order in a chaotic and uncertain world."
---
WHAT MAKES IT MIDCENTURY
Clean lines, minimal ornamentation and attention to functionality are hallmarks of midcentury architectural design.
Large windows and sliding doors that seamlessly integrate interior and exterior spaces and allow light to enter from multiple angles are a central feature.
Flat planes, often including a flat or sloping roof, and a strong sense of geometric design are key.
Small changes in elevation between rooms, built-in cabinetry and partial walls enhance the depth of interior spaces.
— ANNE McGREGOR
---
QUINTESSENTIAL MIDCENTURY
George Nelson's Platform Bench (1946) — Recognized as an icon of mid-century design, the simple bench can serve as a table or for seating.







Ray and Charles Eames' Chairs (1956) — The sturdy yet graceful plywood-and-leather lounge chair and accompanying ottoman have never gone out of production. Another iconic piece by the couple (Ray was Charles' wife) was their molded fiberglass chair (1950). The chair was out of production for many years due to environmental concerns with the fiberglass, but resumed in 2001 in the form of molded plastic.



Eero Saarinen's Tulip Table (1956) — The tabletop perched on a graceful stem was designed to reduce the clutter of furniture legs in dining areas. The base is always cast aluminum; the top can be made of wood, laminate, granite or marble. Copies abound; on a genuine table, the top will screw onto a threaded rod from the top of the base.




Isamu Noguchi's Walnut and Glass Table (1947) — With a base constructed from two identically shaped pieces of wood and a sturdy glass top, the table was designed as "sculpture for use." Two of the rarer tables are in New York City's Museum of Modern Art, but the table is easily available for purchase. Production was halted just once, from 1973 to 1984, since the table's introduction.
— ANNE McGREGOR
---
TIMELESS TOUR
Check out some of Spokane's notable midcentury residences: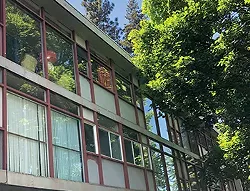 The Studio Apartment Block at 1102 W. Sixth Ave. (1949)
When it was built in 1949, the Studio Apartment block at 1102 W. Sixth Avenue was noted for the cutting-edge, modernist design by architects Royal McClure and Tomas R. Adkison. The entire building is raised on legs to improve sightlines from the six units, which feature floor-to-ceiling windows.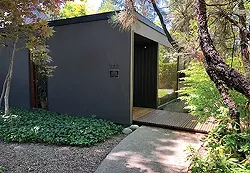 Kenneth and Edna Brooks House (1956)
The plain-looking home on West Sumner is the only midcentury residence in Spokane listed on the National Historic Register. Designed by Spokane architect Kenneth Brooks, it is noted for its minimalist style, as well as being one of the legendary architect's early works. He went on to design the Washington Water Power building (now Avista) as well as several buildings for the 1974 Expo.
Walter and Barbara Foltz House (1959)
The Foltz House's minimalist, linear design, featuring a flat roof, "window wall," facing the backyard, custom-designed teakwood paneling, as well as its "immaculate" preservation were all cited in its 2009 admission to the Spokane Historic Register.


— ANNE McGREGOR