The latest issue of the Inlander is hitting newsstands today. Find it at your local grocery store and hundreds of other locations; use this map to find a pickup point near you. You can also read through the entire print edition here.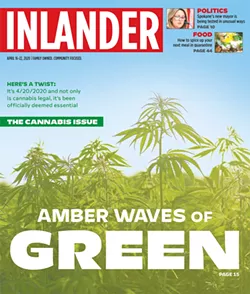 HIGHLIGHTS
Inside you'll find a 20-page guide to cannabis — you know, the stuff that people used to call marijuana, pot, weed, reefer, ganja, dope, herb, bud, grass, Mary Jane... Yes, indeed, the transformation of cannabis has been nothing short of dramatic. For the past six years, people over 21 have been able to casually saunter into local shops and peruse the products of Washington farmers. It's all licensed, curated, tested, labeled and well-lit. And now, in the middle of a coronavirus-related shutdown, it's been deemed an essential service by the state. With our guide, we seek to answer readers' burning questions like, "Will cannabis help with my anxiety?" and "What are the best ways to consume cannabis if I'm trying to avoid smoking during a pandemic?"
• Plus, as Nadine Woodward marks her first 100 days in office, we explore how Spokane's new mayor is being tested in unprecedented ways.
SIGN OF THE TIMES
A Spokane-based artist and illustrator, Hannah Camacho created this artwork seen here. When she's not working her day job in marketing, chasing her kids around or drinking coffee, she can be found trying to demystify the creative process on her podcast (Basic Brainheart). See more of Hannah's work at hannahcamacho.com.
LOOKING AHEAD
On April 30, we have our annual Summer Camps issue to help you plan for sunnier days. For advertising options, contact our sales department.
LAST WORD
Sam Foley writes in this tender essay about quarantining with his girls, ages 8 and 5, and how, when he was tucking them in, "They looked up and Elsa, speaking for them both, said, 'We were just talking about how all we have is each other.' The younger one was nodding."