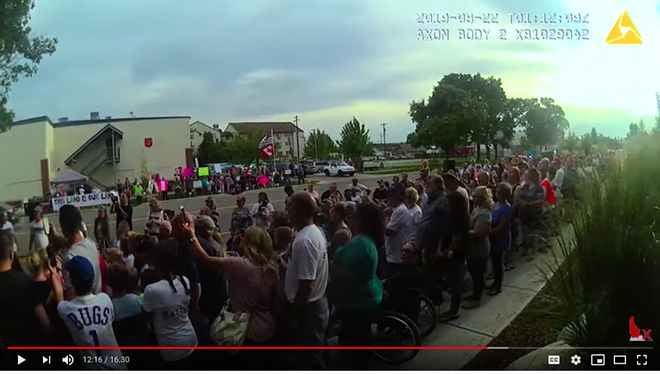 A
s Spokane City Council
gears up to debate changes to city noise rules on March 2, newly released body camera footage shows how Spokane Police officers were unsure about how to apply noise restrictions during an anti-abortion protest last summer.
Casey Whalen with the right-wing North Idaho Exposed YouTube channel posted some of the discussions that officers had during an August protest outside of the Planned Parenthood on Indiana Avenue in Spokane. The discussions are shown over about 16 minutes of clips that have been edited down from more than 40 hours of footage obtained through a records request, the video notes.
That protest involved a large anti-abortion crowd with "the Church at Planned Parenthood" as well as counter-protesters who support the health clinic. The sides were told by police they needed to stay across the street from each other to avoid conflicts.
(Our
cover story
last week focused on another piece of the growing divide between pro-life and pro-choice advocates, with the growing popularity of crisis pregnancy centers that work to prevent women from choosing an abortion.)
Protests have continued to happen monthly outside the facility, and Planned Parenthood has asked the city repeatedly to enforce either the city noise rules or a state law that prohibits interfering with the operation of a health care facility.
Paul Dillon, spokesman for Planned Parenthood of Greater Washington and North Idaho, says he has measured the sound to be above state limits, and that patients and providers have sometimes had to move to another office inside to conduct their work in peace.
"We've had patients not show up, we've had staff members leave early, we have to reroute how people leave the building because it just isn't safe," during the protests, Dillon says. "It's a really toxic recipe, and staff are very concerned. But we're still here, we're resilient, and it's just really unfortunate that we all have to go through this. We shouldn't have to go through this."
However, the Police Department has not issued citations yet, in part because they've been walking a fine line as they observe to see if the law is violated, ensure that no one is hurt and property is not damaged, and at the same time, ensure that First Amendment rights are protected, explains Spokane Police Sgt. Terry Preuninger.
It can also become difficult to narrow down who a citation would apply to in cases with many people present, Preuninger says. Generally with noise violations, there needs to be someone complaining about the noise, then an officer would issue a warning, and if the noise continues, they'd consider issuing a citation, he says.
"If I have a guy in his garage working on his Harley Davidson, and he won't stop revving it up at 3 in the morning, that's simple," Preuninger says. "If I have a protest outside and 200 people on one side of the street, and maybe 100 on the other side, and some are in a casual conversation, while some are banging on drums and on megaphones, I have to determine who it is I'm going to enforce the law upon. Who is my suspect and who's actually committing a violation? Those are some of the challenges you can see with a large group."
Councilwoman Lori Kinnear hopes to clarify how noise issues can be enforced with changes to city code, and in particular, focus on how health care facilities can document noise issues and request civil penalties that could include fines of up to $1,000 for a repeat offender and up to 30 days in jail.
VIDEO
At one point in the edited footage, the body camera video shows officers talking as the August protests appear to be wrapping up. One officer suggests they should study up on the city's noise ordinance because they were asked about it several times that day.
Spokane Police Lt. Dave Overhoff says his understanding after talking to a city attorney was that if an ordinance hadn't been enforced across the board before, the department would have to issue public service announcements that it would be enforcing that rule.
"Here's the problem: Are we just going to do it for this event? Are we going to do it for any other event?" Overhoff asks.
If you drive through the area around Gonzaga University, he continues, you could easily find 25, 30 noise violations on a given night due to parties. Would the department be required to issue citations at each one? They wouldn't have the time, he continues.
Since then, Spokane Police Chief Craig Meidl, who was not available Tuesday, told
the Spokesman-Review
"that the department has had a 'reset' and warned the Church at Planned Parenthood and counter-protesters that the department will actively enforce the city's noise ordinance."
"We will enforce if there is a violation and we are not going to pick one side over the other side," Meidl told the
Spokesman
on Monday.
The changes to the city's noise ordinance as proposed by Kinnear are meant to clarify even further what noise is not allowed near health care facilities, she says.
"The most fundamental thing about it is that it directly relates to health care facilities," Kinnear says. "It does not infringe on the First Amendment or free speech. It talks about making sure that people who go to a health care facility can receive treatment without interference, and that means noise interference."
A health care facility could mean Sacred Heart, Rockwood Clinic, a fertility clinic, or even a dermatologist's office, she adds.
"There's an expectation that you go there and you are treated without having to hear screaming in the background or whatever else is meant to interfere with your rapport with your physician or your health care provider," Kinnear says.
Under the most recent draft of the proposed ordinance changes (attached at the bottom of this post), a first violation of the noise ordinance would be a civil infraction. A second offense within a year would be a gross misdemeanor punishable by a $500 fine and at least 24 hours in jail, with the fine and jail time increasing for further convictions.
The ordinance would also create a pathway for private citizens to file a civil lawsuit in Spokane County Superior Court against someone violating the noise ordinance, with the opportunity to win reasonable attorney's fees and compensation should they prevail in court.
The concern with having to enforce the noise ordinance at every party officers respond to isn't necessarily comparing the same type of situation, Kinnear says.
"When I watched that body cam footage I thought they were conflating the different applications of the noise ordinance," Kinnear says. "Most of the time they're responding to complaints. They're not just saying, 'Hey there's a party. We better shut it down.' That's not the way it works, usually people call and complain."
Dillon also says he thinks that the comparison is not fair. There are specific protections for health care facilities in order to protect people trying to access health care, he says.
"I think it reinforces the need to have additional policies that clarify what the state law is and gives patients and staff who are aggrieved a path to a resolution," Dillon says. "We shouldn't have to pass laws just to have officers enforce the law, but that's what we have to do, that's where we're at."
The private court option under the ordinance would require evidence and witnesses to stand up in court, Kinnear adds. And again, the ordinance does not prevent people from freedom of expression, she says.
"It does not interfere with your right to assemble. It is content-neutral, so it's not a violation of your free speech," Kinnear says. "What you are restricted in is the volume of whatever you're doing."
This story was updated at 6:15 p.m. on Tuesday, Feb. 18 to correct a quote from Paul Dillon to show that staff sometimes leave early, not show up early.