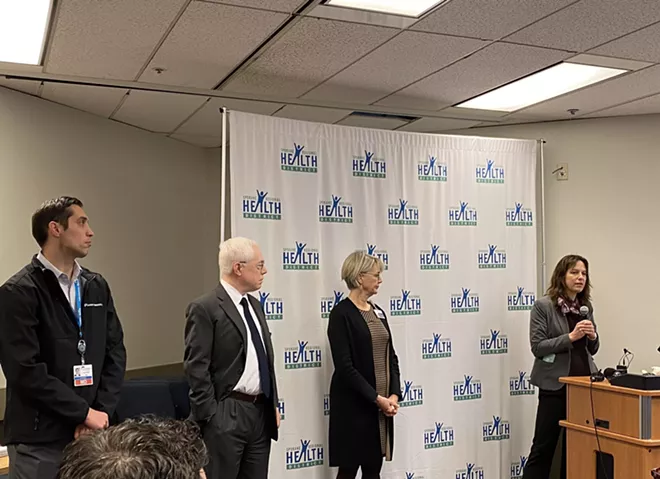 A
s COVID-19 continues to spread
, the largest health care providers in Spokane are encouraging patients to take most visits virtual, calling or texting their doctors before coming in for a visit and utilizing online medical services.
Most providers now offer their own versions of online doctor's office visits ranging from phone calls to video visits, and those services are being offered free or at reduced rates right now.
Kaiser Permanente announced that by Wednesday, all visits would be virtual first. Once calls are taken by a nursing team and/or doctor, some patients could still be told to come into a clinic for assistance, but most can be treated by phone and even have medications mailed to them, explained Dr. David Ward, acting medical director for Kaiser Permanente Spokane.
"By Wednesday, in two days, we will be all virtual first," Ward said at a Spokane Regional Health District press conference Monday morning. "All of our patients have the ability to call teams of nurses and doctors that are standing by 24/7 to take care of all of our patients' medical needs virtually first."
Kaiser's telemedicine services are free for those with Kaiser coverage, said Kelly Stanford, vice president for clinical operations.
That can look like a phone call, texting, or messaging through a patient's medical chart in their online account. For those who do need to come in for care, patients will be directed to the Kaiser Riverfront facility, Ward said.
MultiCare was similarly encouraging people to call first before making a visit to the doctor. The system is also stopping elective surgeries that can safely be delayed in order to conserve the masks, face shields and other "personal protective equipment" that are in short supply around the country, said Dr. David O'Brien, senior vice president and chief executive of the MultiCare Health System, Inland Northwest Region.
"There is a national shortage of this type of protection and we're making sure to conserve as much as we can as the number of coronavirus patients start to increase," O'Brien said at the conference.
CHAS is also limiting its dental appointments in order to conserve personal protective equipment, and the system has set up separate waiting areas for patients with respiratory issues, said Dr. Deborah Wiser, CHAS' chief clinical officer. Patients may be directed to those areas if they call ahead.
MultiCare and Providence are both limiting hospital visitors and screening those who are allowed in for fevers before letting them visit loved ones.
Peg Currie, a registered nurse and chief operating officer of Providence Health Care, said she understood that restricting hospital visits could be difficult for some people, but asked for understanding from the community.
"Visitor restrictions are going to be a little bit dicey for some individuals who think that they really need to come in and see their friend or their grandma," Currie said. "We'd like to ask for some calm regarding that, too. ... We all need to be cognizant that we're all in this together. Staying home is going to reduce the number of cross-contaminated patients in our community."
The overall message Monday morning was that Spokane's health care system is working together to ensure it's ready as more COVID-19 cases are confirmed in the county. As of Monday morning, there were three confirmed cases and one more under investigation, said regional health district officer Dr. Bob Lutz.
Lutz called for increased testing to better understand the scope of the virus' spread in the community, but the other health officials in the room noted that as of today, the number of swabs to take samples is limited in Spokane. They're working to get more this week.
As of Sunday afternoon's report from the state Department of Health, there were 769 confirmed cases statewide, with 42 deaths. Another 9,451 tests had come back negative.