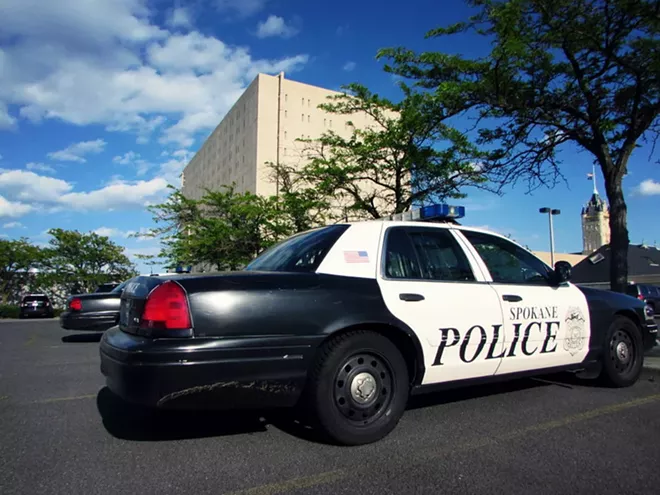 A
nother year
, another report on the Spokane Police Department's (SPD) use-of-force. According to the department's latest breakdown, policing behavior in 2018 appears to match a long-term decline in incidents involving use-of-force against citizens. But nonwhite people are still overrepresented in the numbers.
Last year, Spokane Police officers used nondeadly force 113 times, compared with
109 in 2017
. While 2018 saw a slight uptick from the previous year, it is still below the number of incidents logged in 2013, when 147 nondeadly use-of-force incidents occurred — amounting to a 24 percent difference. Similarly,
in 2016,
108 incidents were recorded, compared to
117 in 2015
.
Nondeadly use-of-force includes actions such as pointing a firearm at a subject, deploying tasers or chemical agents (e.g. pepper spray), baton or knee strikes, and putting someone in a "lateral neck restraint," a technique used to gain control of a subject that is visually similar to a chokehold (one type of the technique doesn't render the suspect unconscious while the other does). Tasers and lateral neck restraints were the most common applications of nondeadly force in 2018, per the report.
The department also stresses in the report that their ratio of use-of-force incidents to contacts with citizens is low: Spokane cops were involved in 170,170 incidents in 2018 and used force in .06 percent of the encounters, per the report. Over 60 percent of contacts involving force stemmed from 911 calls, while 23 percent were officer-initiated. (Domestic violence-related incidents composed the majority of 911 calls in 2018, per the report.)
The law enforcement agency also recorded only one deadly use-of-force incident in 2018, compared to 2017 when seven occurred,
a sizable spike
. In contrast, in 2016, three people were shot and killed compared to four in 2015.
Jacquelyn MacConnell, director of strategic initiatives at the Spokane Police Department, says that while the law enforcement agency is "content" with the numbers, bringing down use-of-force rates is a constant work in progress.
"We can always work on improving those numbers," she says. "The ideal would be to never use force."
The department appears to have a relatively low use-of-force rate compared to a handful of other jurisdictions that calculate their use-of-force rates using 911 calls. For example, the Davenport Police Department in Iowa experienced a
.37 percent call-to-use-of-force-incident ratio
in 2015, while the New Orleans Police Department logged a
.18 percent ratio that same year
. There are also numerous departments that have lower use-of-force rates, such as Durham, North Carolina, which logged a
.04 percent rate in 2016
.
However, despite the largely stable numbers in recent years and the overall downward trend in the frequency of such incidents, racial disproportionality — relative to the demographics of Spokane's population — among the citizens on the receiving end of force remain. In 2018, while 70 percent of those subjected to force were white, another 13 percent were black, and 8 percent were Native American. In contrast, according to the
U.S. Census Bureau
, Spokane is 85 percent white, roughly 2 percent black, and around 2 percent Native American.
Numbers from the years leading up to 2018 show that the demographics of citizens involved in use-of-force incidents have remained largely stagnant. In 2017, 15 percent were black, compared to 18 percent in 2016 and 10 percent in 2015.
"We do understand that there is disproportionality," MacConnell says, adding that addressing the issue is something that the department is "always working on."
Bob Scales, CEO of Police Strategies, a Bainbridge Island-based company that works with police departments around the country (including Spokane) to improve their data collection and use-of-force policies, says that data on who officers arrest is a much more useful metric for determining racial bias or disproportionality in policing practices.
"What you see in every single jurisdiction that has done a study of [racial] disparity based on population, the disparities based on arrests are very large," he says. "The [racial] disparity between arrests and uses-of-force are minimal."
Demographic data on arrests made by the Spokane Police Department were not immediately available, according to MacConnell.
Steve James, an assistant research professor at Washington State University who works on policing issues (such as implicit bias), says that the overrepresentation of minority populations in use-of-force data doesn't necessarily mean that there is widespread racial bias on the part of Spokane Police officers. Rather, he says, it's illustrative of the broader issue of minority communities being overrepresented in contacts with police and in the criminal justice system as a whole, due in part to systemic socioeconomic issues like
disparate unemployment rates
and the
broader racial wealth gap
.
"There are other factors generating those numbers," James argues. "Often there's still a problem but it may be a wider societal problem that law enforcement doesn't necessarily have domain or dominion over."
Around 50 percent of suspects involved in the use-of-force incidents in the 2018 report were intoxicated, while over 30 percent were either suffering from mental illness, substance use disorder, or a combination, per the report.
We've embedded the entire 2018 use-of-force report below.
working on updating its use-of-force policy
after receiving recommendations from the Office of the Police Ombudsman last summer. While the original timeline proposed by Spokane Police Chief Craig Meidl last year was to have the update implemented by fall, that deadline wasn't met.