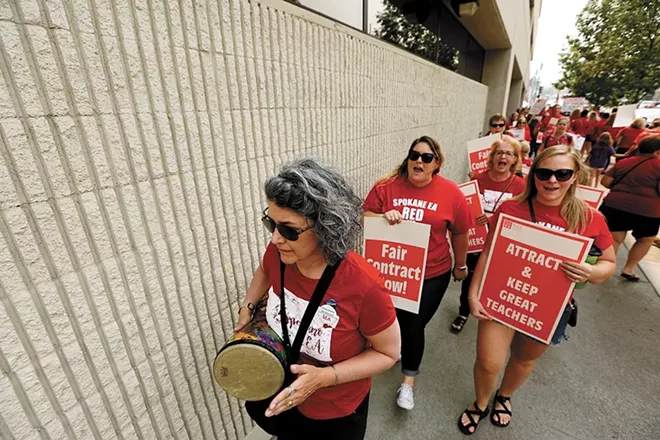 T
he Spokane school board last night approved
a new three-year contract that adds a 1 percent pay raise for teachers and includes language that could allow librarians who have been laid off to return to their positions in the 2020-21 school year.
"It's a very fiscally responsible way to get us on the right path to move forward next year out of this emergency," says Spokane Public Schools board member Michael Wiser.
The board passed the contract unanimously, a day after the teachers union, the Spokane Education Association, narrowly ratified the contract with only 53.5 percent of teachers and classified staff voting "yes."
Jeremy Shay, SEA president, says the vote was narrow because members are "stressed out" about how the budget cuts in schools have impacted classrooms already this year. Those concerns include larger class sizes, staff safety and the reductions in custodians. He's heard that many classrooms are getting cleaned twice a week instead of every night, leaving teachers to sometimes clean up the mess.
"The staffing levels we have right now are not sufficient to do the job," Shay says.
Teachers and classified staff were also concerned that the contract would reduce the number of campus resource officers at football games from four to two.
But Shay says that some of the concerns about a reduction in the workforce this year couldn't be solved through bargaining.
"The district's budget is an annual thing, so they've suspended workload as a way to solve the budget crisis for this school year," Shay says. "So you don't really fix that in bargaining."
As part of the contract, teachers will get a 1 percent increase in salary for the current year, a 1.8 percent increase next year and a 2 percent increase the third year. That's in addition to the double-digit pay raises that were
approved last summer
and that — combined with the state capping what the district could collect in local levy dollars —
led to the budget cuts this school year
.
Shay says a majority of SEA members recognize that those modest pay increases are reasonable given the financial situation.
"If we had been getting increases like that all along, we wouldn't have had such a big jump last year," Shay says.
The contract also includes language on returning librarian positions next school year if the workload suspension is lifted. Librarians were eliminated due to the cuts this school year. But Brian Coddington, spokesman for Spokane Public Schools, says the district will collect input to potentially update the job description of librarians. If the district brings back librarians next year, then the ones who were laid off will have first right of refusal to return to their former job, according to language written into the new contract.
Consistency in student discipline practices is also written into the contract. It will establish an electronic tool to communicate with staff members about discipline needs and there will be a survey to identify areas of focus for professional development to "help determine the direction of training moving forward," Coddington says. Other changes were made to update student discipline policies with state law.
School board member Deana Brower says the contract will help to "create a bright future." Like Wiser, she notes that the three-year contract will generate some certainty as the district attempts to move past its financial problems.
"What I am most excited about is it allows us to move forward within this financial emergency with the best information we have going forward and to come out in the best situation we can for next year and all the years following," Brower says.