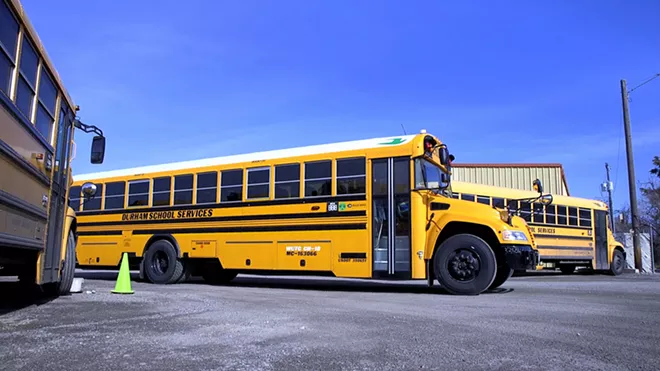 S
tarting next week
, Spokane Public Schools will unveil a new fleet of propane-powered buses that they say is the largest "green" fleet in the Pacific Northwest.
The joint effort with Durham School Services, which provides the school buses, will make up 25 percent of the overall fleet in Spokane Public Schools propane by the end of the school year. District transportation specialist Michael Warnecke says the propane buses are quieter and safer than the other diesel buses.
"There were some other fuels we looked at, but as far as maintenance and being clean and green, this was the best bang for the buck as far as where the technology is right now," Warnecke says.
Ben Knaff, district manager for Northern Energy, which supplies the propane for the buses, says students and parents will quickly notice how quiet the buses are compared to diesel buses. That can make it easier for the drivers to hear what's going on in the back. He says the propane will emit "much safer, cleaner air."
Knaff says the propane-powered buses cut down greenhouse gas emissions by at least 20 percent compared to diesel, and it's cheaper than diesel fuel and gasoline. It's safer because the propane tanks are 20 times stronger than gas tanks and propane has a higher flash point than gasoline, he says. The horsepower will be the same as gasoline engines.
Of the district's fleet of 215 buses, 61 will be replaced with propane, and 25 of those will start running next week. They will be used on special education
routes,
since the quieter buses are more suitable for students sensitive to loud noise, says Santos Picacio, the general manager of Durham.
"If you put a diesel bus side-by-side with a propane bus, it's staggering how quiet these buses are," Picacio says.
Other benefits of propane buses include keeping kids
warm,
since drivers can keep the bus running when idle without diesel fumes filling the air.
It's becoming more common for school buses to switch to propane or other cleaner fuels than diesel. The Environmental Protection Agency
offers money for projects that reduce emissions
and it can offer rebates that fund vehicle replacements.
Durham provides school buses for Spokane Public Schools, Nine Mile Falls District
and
Saint George's School. Picacio says he's not aware of any plans to replace the entire fleet in Spokane yet. But he's glad Durham is able to provide the new buses now.
"We're pretty happy to provide a more eco-friendly option for our city," Picacio says.