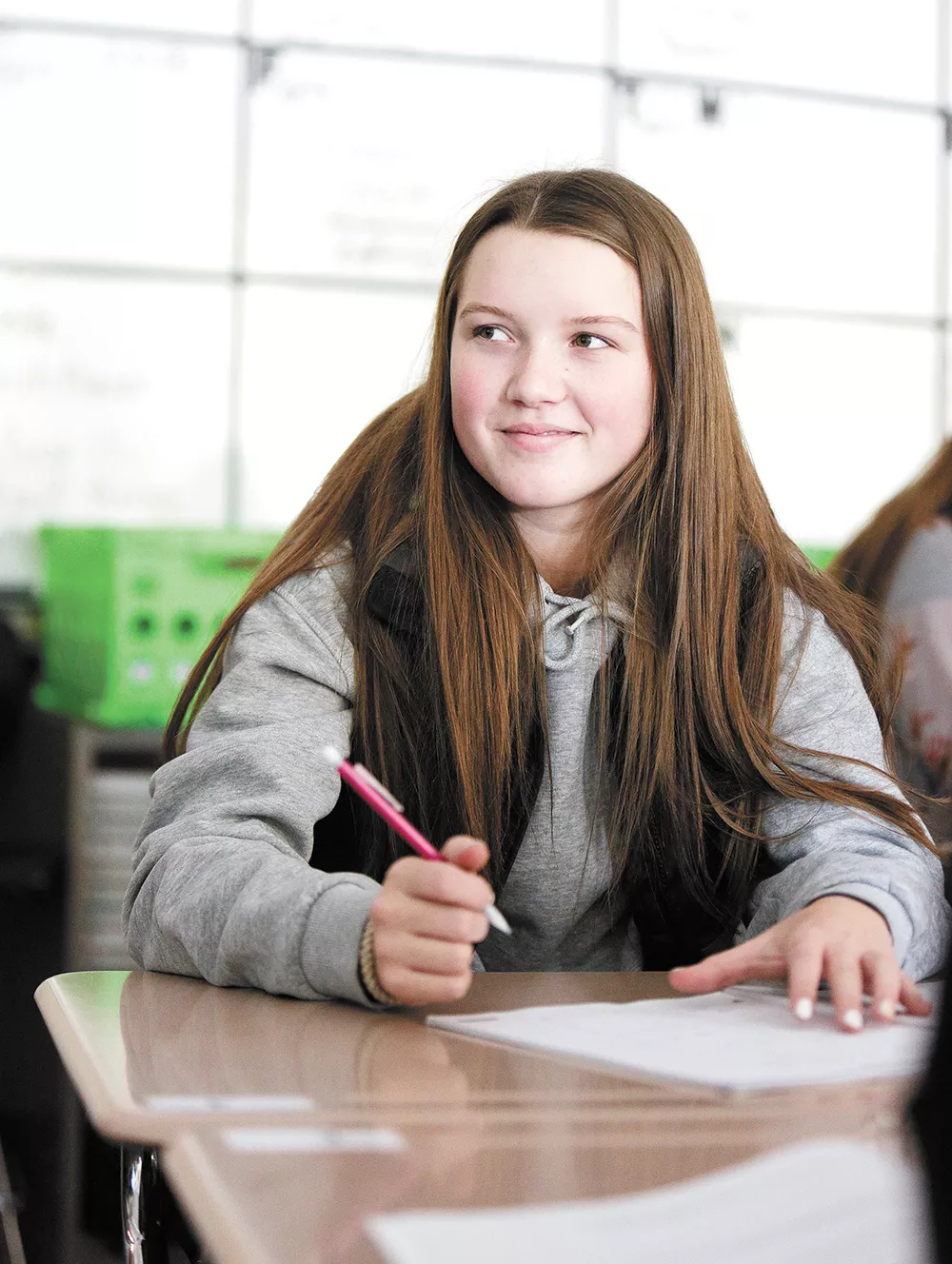 Imagine you're a freshman in high school. You love science, but you've never considered yourself a good enough student to do well in Advanced Placement biology. If you take it and succeed, you get college credit. If you fail? You risk not graduating.
It's a common predicament for Washington students. And if they're not already in an honors-level course as freshmen, many students — more frequently those living in low-income households — will opt against taking the AP course, putting them at a disadvantage in their college endeavours.
Spokane Public Schools wants to change that. It's the only district in the country chosen by the College Board to have all of its comprehensive high schools join a pilot program that will offer what are called "pre-AP" courses to all freshmen. Those are courses designed to give students the skills and tools they need to eventually be successful in AP courses, which studies show have become crucial for students who not only want to get into college, but do well once they get there.
The district thinks freshmen exposure to pre-AP will make it more likely that they'll choose AP in later grades.
"Pre-AP is an opportunity to demystify the AP experience and open the doors for all kids," says Heather Bybee, Spokane Public Schools director of secondary curriculum.
The philosophy of giving all students the chance for AP is already paying off in Spokane, where the number of high school seniors who passed an AP exam in 2018 is nearly twice the national average. Spokane students living in poverty, who would typically have far lower rates of passing AP exams than their peers, have AP pass rates that outpace the national average for all students, says Adam Swinyard, the district's chief academic officer.
"We're having some of the best success of really anybody in the country doing that work," Swinyard says.
ON THE RIGHT TRACK
Chloe Flerchinger, a freshman at Shadle Park High School, didn't know that the English and biology classes she signed up for would prepare her for AP classes down the road.
"They kind of just gave us these booklets and said we were working out of them and they will prepare us for later classes," says the 14-year-old.
But then she noticed that both her English and biology classes taught similar skills. In both classes, for instance, Flerchinger was told to annotate complex texts — highlighting and circling certain words, flagging important information. She realized those kinds of skills might help her later on.
"It's going to help set you up for college classes, having that knowledge of how to take notes and how to listen in lectures," Flerchinger says. "There are some pretty big words and complex sentences that we have to decipher."
As part of the national pilot that Spokane Public Schools is participating in, Shadle replaced its regular English and biology courses with pre-AP ones. North Central, Rogers, Lewis and Clark and Ferris high schools also either replaced or added pre-AP courses for freshmen. It's not the same thing as an honors course for kids who are typically more advanced, but it similarly dives deeper into certain texts and adds foundational pieces — from College Board's pre-AP program — that can lead to success in an AP course.
Chris Dunn, Shadle assistant principal, says the goal is to combat the idea of there being a vast difference between "honors kids" and "non-honors kids." Oftentimes, that can make kids feel like they're marked either for an AP course or for a non-AP track.
"Every kid has a choice to go on and take it," Dunn says. "The idea is that this doesn't automatically track kids and say, 'You're going to take AP bio,' but it would provide the foundational skills for every kid to access AP and be successful when they get there."
NO LIMITS
Spokane Public Schools wants all students to successfully complete some form of higher education, whether it's a technical program, a two-year program or a four-year program.
It's partly why the district has been leading the effort to get kids enrolled in AP classes. Rogers High School, for example, made AP English the default course for all 11th graders. The idea stemmed from a grant the school received two years ago from College Spark Washington, an organization that funds programs across the state for low-income students. College Spark noticed in 2016 that even though 70 percent of Rogers graduates attended college, only 11 percent graduated within five years. The idea was that by exposing juniors to college-level work, they'd be more prepared for college.
Since then, AP enrollment at Rogers has shot up by 134 percent, according to Spokane Public Schools. It coincides with overall growing enrollment and success rates within Spokane. The persistence rate, or percentage of students who stay enrolled in college for at least two years, has shot up district-wide as well, the district says.
It's exactly what's supposed to happen when more AP courses are offered, says Swinyard, the district's chief academic officer. Swinyard credits the leadership of Superintendent Shelley Redinger.
Swinyard says that Redinger preaches the value of high expectations for kids, "and AP has been a part of that work."
But as state graduation requirements become stiffer, won't those higher expectations leave some kids behind? It might be a common concern among parents, but Bybee, the director of secondary curriculum, doesn't think they should be worried. The same supports are built into the pre-AP and AP courses as there would be with any course — teachers will give all their students the tools they need to succeed.
More than the data, Bybee hopes the pre-AP pilot program will shed any perceived barriers that might cause a student not to take an AP class. It's not that every student should take an AP class — though Bybee wouldn't want to put a limit on it — but she hopes every student can reach their potential.
"What we say is that everybody has a skill and a passion that we want to support and stretch," Bybee says. ♦