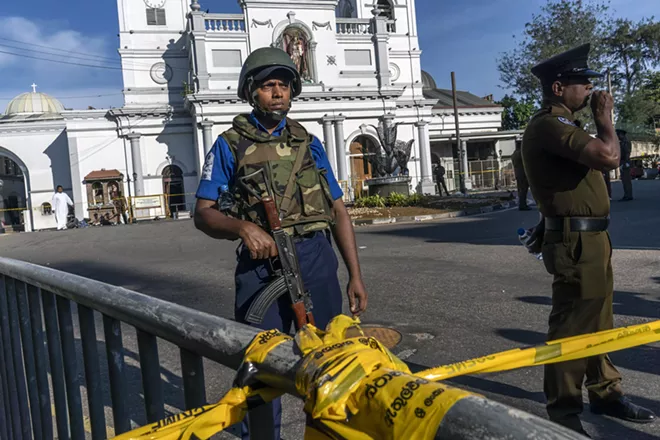 By Jeffrey Gettleman, Mujib Mashal and Dharisha Bastians
New York Times News Service

C
OLOMBO, Sri Lanka
— The confidential security memo laid it all out: names, addresses, phone numbers, even the times in the middle of the night that one suspect would visit his wife.
In the days leading up to the devastating suicide bombings that killed nearly 300 people in Sri Lanka on Easter Sunday, the country's security agencies had been closely watching a secretive cell of the National Thowfeek Jamaath, a little-known radical Islamist organization that security officials in Sri Lanka now say carried out the attacks and may have received help from abroad.
They knew the group was dangerous. They had collected intelligence on the whereabouts of its leaders in the April 11 security memo, which warned of Catholic church bombings. They had been warned even earlier by India that the group was plotting church attacks. They knew as far back as January that radical Islamists possibly tied to the group had stockpiled weapons and detonators.
And within hours of when three churches and three hotels were bombed, Sri Lankan security services swooped down on at least 24 suspects, suggesting that they also knew exactly where the group had been operating.
Why the security agencies failed to act aggressively on the information before the bombings is now an enormous question. It has been further complicated by a feud between the president and prime minister, which left the prime minister ignorant of the information the security agencies possessed — leading to bitter recriminations that have created a new government crisis.
On Monday, several ministers lashed out at President Maithripala Sirisena, who controls the security services, for not acting on the detailed warnings before the attacks.
"We are ashamed of what has happened," said Rauff Hakeem, the minister of city planning. "If the names of the persons involved were already known, why were they not arrested?"
With Sri Lanka's president and prime minister feuding for months, leading to a political breakdown last year, it seems that the president excluded the prime minister from top security briefings and that the prime minister's office had no inkling of the warnings of imminent suicide attacks.
Whether sharing that information would have made a difference is unclear.