I've always loved
The Stranger
— Seattle's long-running alt-weekly newspaper — but knew its complicated relationship status with Spokane.
Dan Savage, former editor-in-chief, once wrote of the city where his husband was brutally bullied growing up: "Spokane is a good place to be from, Terry likes to say — far from," Savage wrote. "Spokane is religious, conservative, sprawling and overwhelmingly white, and it's not an easy place to be gay or African-American or Democratic or Jewish or an atheist or a pedestrian."
I was ready for anything when I heard they were
devoting an entire issue to Spokane
— featuring Rachel Dolezal, of course. As fate would have it, I was in Seattle last week and picked up a copy. So did 87,000 others. Imagine the civic whiplash I experienced as I watched an elderly man on the ferry quietly nodding his head in approval as he read the vivid profile of Spokane City Council President Ben Stuckart's congressional battle for the 5th District, and the earnest questions from Seattleites about whether or not the letter urging
Stranger
staffers to not write about Spokane was actually real. It was memorable, to say the least.
Ijeoma Oluo's no-bullshit interview with Dolezal finally felt like closure. I couldn't put it down. Not to mention the literary tour, food shout-outs and Sean Nelson's record store visits, making him nostalgic for days "when your worth felt less directly tied to your earning potential."
Seattle looking east makes sense since the city became more about the money. SuperSonics, Kingdome, Bill Nye — Seattle is no longer that city. In fact, Seattle today would speak as derisively about that city as many do now about Spokane. Today, they are living with the boom of shiny tech wealth and its consequences: Overdevelopment, paralyzing traffic, greater racial and class divisions, and rising homelessness. Seattle is the ninth most expensive city in the world, with the fifth-highest rent in the U.S., and it's growing faster than anywhere else. In Spokane on the South Hill, I found a spacious two-bedroom apartment for $645 in a 100-year-old place that looked like the White House, and felt like a king with a secret as I watched Seattle — the area where I grew up — develop a future that did not seem available to all.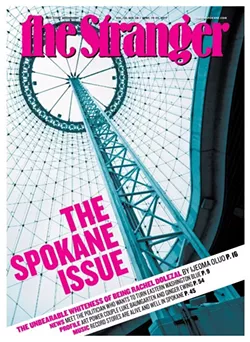 I first fell in love with Spokane as a migrant because the cool stuff wouldn't find you — you had to look for it. Whether it was the Full Moon Bike Club, learning you could bring a catfish sandwich from Chicken-N-Mo to Mootsy's, or wherever James Pants was playing. (Cathay Inn?) There was always much more than "just enough to do to not be bored," as
The Stranger
said in its introduction to the issue, it's just that the cool stuff got cooler. (I'm looking at you,
Volume lineup
.)
But then it hit me: Why does our community care so much about what others think? An insecure significant-other syndrome to Seattle has always cut both ways. You can see it in the online comments to the articles for the Spokane issue, ranging from describing us as "meth head zombies" to us describing them as "pretentious westsiders" and on and on.
However, the articles themselves have a "Spokane really doesn't suck" tone. Shocking.
Let's just learn to accept ourselves as we are — to celebrate our successes and to work on our challenges for improvement, especially around economic justice and equality. When you don't have to look outside of yourself for approval, you become confident, which further expands the possibilities. Dream big.
Spokane has seen, and will see, more change. We have to be ready. I take heart that we're a city of determined changemakers, then and now — from Expo '74 to Terrain. But unlike the old days, maybe it's time to stop acting like we need a stamp of approval for what Seattle says about us. We've moved on.