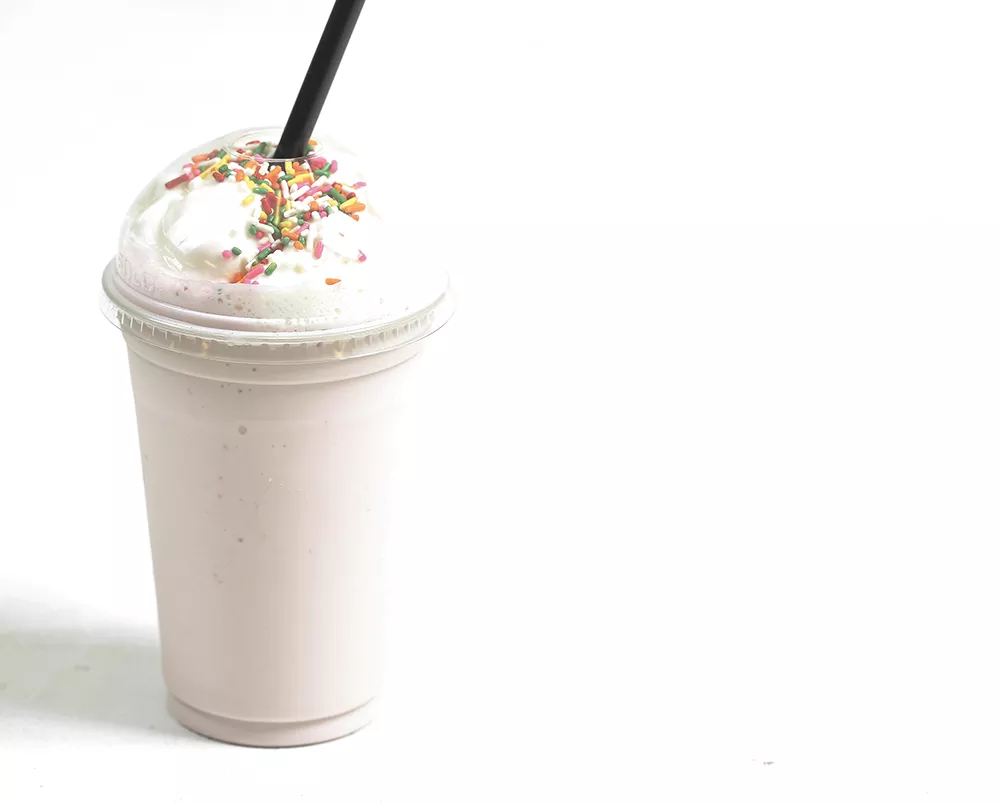 Thanks to the scientific genius that's been applied to blender technology, you can now eat with a straw. You might think that sucking anything through a tube qualifies as drinking, but that would be incorrect. You drink Coke Zero or organic kombucha through a straw. But when we're talking about something like a smoothie or milkshake, or anything else that qualifies as a meal in both calorie content and satisfaction... that's eating, my friend. With that in mind, coupled with the fact that this issue is called Cheap Eats and not Inexpensive Sips, let us agree that eating through a straw is indeed a thing and suck up some great food of the Inland Northwest.
For starters, let's begin with some juice, which in 2016 means you're in for a lot more than a Capri Sun or even some fresh-squeezed OJ. You can now get a day's worth of fruits and veggies crammed into a cup, which is both wildly efficient and often quite tasty. At BEET IT UP MOBILE JUICE BAR, which I visited at its weekly Wednesday afternoon spot at the Kendall Yards Night Market (it's often at the South Perry Thursday Market, too), all of the juices are $7. To the uninitiated, that might sound steep, but when you get something like the Veg Head, you're getting 16 ounces of fresh carrots, celery, cucumber and sweet peppers. Having this in your stomach feels like you've done something good and healthy with yourself.
Now let's step into Smoothie World, which is a lot like Juice World, but with a chance of dairy products. You can start by giving the Karate Chopper 5000 you bought on a particularly impulsive Costco run a break and let an expert do the work for you. There are plenty of quality smoothies out there, but a reliable spot is EPHATA CAFE (1908 W. Northwest Blvd.), where you can get your coffee any way you want it along with ultra-healthy breakfasts, if a smoothie doesn't sound good. But their smoothies should sound good, especially with choices like the Funky Monkey ($4), which includes banana, spinach, milk and cocoa. If you want something fruitier, go with the Hurricane — pineapple, banana, kale and spinach.
On the sweeter side, there's the milkshake. Now, it should be noted that any milkshake worth your precious time should be thick enough to collapse your straw. That's what will happen when you head to BRAIN FREEZE CREAMERY (1238 W. Summit Pkwy.; 1230 S. Grand Blvd.) and pick from any of their many flavors, turning it into shake form for $6. This could be a hearty, chocolate-and-peanut butter concoction, one of their more fruity flavors or even one of their vegan-friendly varieties. Whatever you choose, take a moment while you're sucking that goodness in to appreciate this particular ice cream delivery system. ♦
---
More for your straw
FUSION JUICE
103 S. Howard | 624-4263
You'll find salads and sandwiches at this popular downtown Spokane spot, but as the name suggests, you'll also find plenty of juice options. There also are smoothies, of course, and all of it is done to your specifications with fresh ingredients.
FINE BREWED
507 W. Sherman Ave., Coeur d'Alene | 208-292-4686
This place has the straw figured out, with cold-pressed juices, smoothies and shakes, as well as more solid foods, on the busy café's menu. They also have local beer on tap and a bottomless mimosa deal, in case you want to ditch the straw.
VALENTINO'S PIZZA
219 W. Canfield Ave., Coeur d'Alene | 208-772-0220
No, this beloved restaurant hasn't invented a way for you to drink pizza, but they do have a list of 17 smoothies to choose from. The 24-ounce smoothies all come with a nutritional boost, and the menu lists the calorie and fat content of each creation. ♦
---
A brief history of... THE DRINKING STRAW
Though their contemporary, plastic-constructed appearance may lead you to believe that drinking straws are relatively new on the timeline of utensil invention, they can trace their origins back further than any other utensil detailed here: all the way to 3000 BCE, when the Sumerians used them to sip ancient beer (no joke).
— ISAAC HANDELMAN