There have been seasons when the road to the Rose Bowl ran through the Apple Cup. There have been potential national championships on the line when the Cougars and Huskies meet. And, of course, state pride is always up for grabs.
But never before has an Apple Cup win meant a ticket to the Pac-12 Championship Game. That's what the winner of this Black Friday matchup takes home as the Cougars come off their only conference loss of the season, at Colorado, while the Huskies arrive with just one loss, sights set on a slot in the College Football Playoff.
Everything is on the line Friday afternoon in Pullman; let's take a look back at how the Cougars and Huskies arrived at this point.
WASHINGTON STATE
8-3 (7-1 Pac-12)
May 7: Head coach Mike Leach introduces and endorses Donald Trump at a rally in Spokane.
July 14: The Cougars receive enough votes in both the AP and coaches polls to place them just outside of the Top 25. Pac-12 coaches pick them fourth in the North Division.
Sept. 3: For the second season in a row, WSU loses its home opener to an FCS opponent as Cooper Kupp and Eastern Washington's potent passing offense shreds the Cougars' secondary in a shocking 45-42 upset.
Sept. 10: A late comeback attempt by the Cougars can't get them past Boise State and their Spokane-raised quarterback, Brett Rypien. At a press conference days later, Leach ripped his team. "We have the atmosphere of a JC softball team. That's what we are — a JC softball team." Between off-the-field instances of players arrested for alleged violent offenses and the two losses, there are a lot of restless Cougar fans in the Inland Northwest and beyond.
Sept. 17: The Cougars take our their JC softball bats and destroy neighborhood rival Idaho 56-6. Quarterback Luke Falk is impressive, but the main takeaway was the 228 rushing yards. Suddenly, there is a running game in Leach's Air Raid offense.
Oct. 1: Oregon comes to Pullman and gets beaten up, 51-33.
Oct. 9: WSU heads to No. 15 Stanford as big underdogs. Instead, Falk is dynamite, passing for 357 yards and four touchdowns in a 42-16 win. The Cougar defense shuts down Stanford star Christian McCaffrey, holding the Heisman Trophy candidate to 35 yards.
Oct. 15-29: The Cougars win tight games against UCLA, Arizona State and Oregon State.
Nov. 5: WSU plays something close to a perfect game, routing Arizona 69-7. Falk completes 32 of 35 passes; 14 different Cougars catch a pass. Days later, WSU enters the Top 25 in both polls.
Nov. 12: Cal is no match for the Cougars' River Cracraft, who catches three of Falk's five touchdown passes in the Cougars' 56-21 victory. Unfortunately, Cracraft suffers a torn ACL in the third quarter, effectively ending his WSU career.
Nov. 19: No. 10 Colorado manages to overtake WSU late in the game for a 38-24 win.
---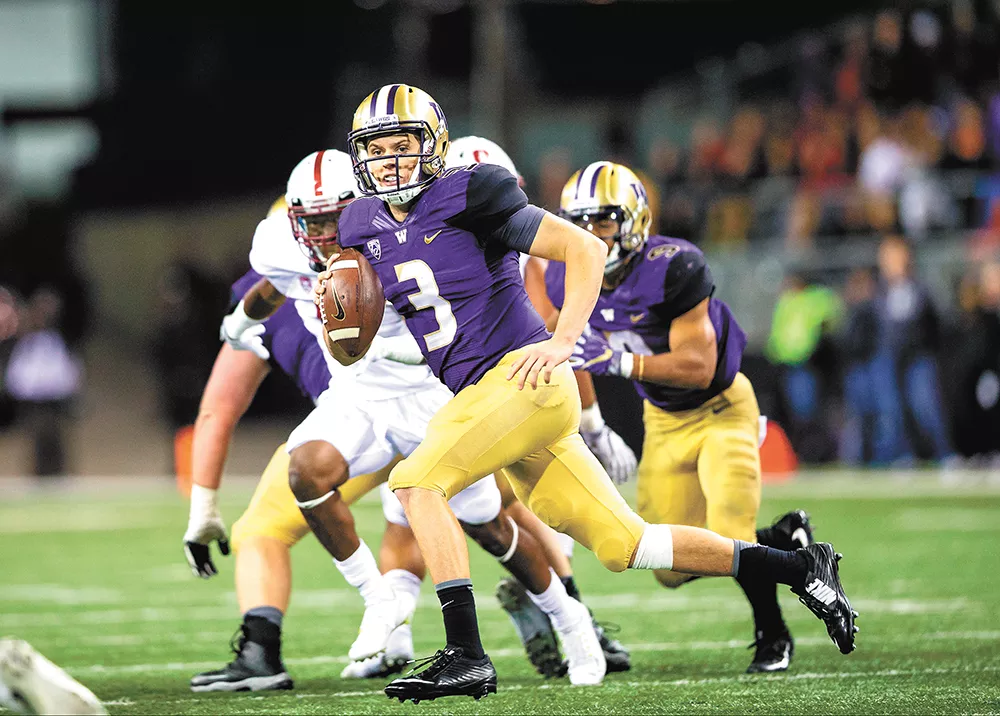 WASHINGTON
10-1 (7-1 Pac-12)
Preseason: The Huskies, coming off a 7-6 campaign in 2015, are looking at a No. 14 ranking in the AP preseason poll. Some prognosticators see them as a potential College Football Playoff party crasher. Quarterback Jake Browning, just a sophomore, is heralded as a Heisman candidate. Defensive backs Budda Baker and Sidney Jones are selected for the Jim Thorpe Award preseason watch list.
Sept. 3-17: UW spends the first three weeks of the season at home on the shore of Lake Washington, blowing out Rutgers (which has not won a conference game this season), Idaho (better than most Vandals teams, but still Idaho) and Portland State (residing at the bottom of the Big Sky). But the wins are convincing enough to boost the Huskies into the top 10 at No. 9.
Sept. 24: Leaving Seattle for the first time, the Huskies encounter a tougher-than-expected Arizona team, but win 35-28 in overtime. Junior running back Lavon Coleman racks up 181 yards.
Sept. 30: Playing on ESPN in prime time on a Friday night, it's Stanford against Washington in a Top 10 matchup. The hype is big, as is the turnout at Husky Stadium. Those who turned in expecting a battle are disappointed, but UW is fine with their 44-6 beatdown of Stanford.
Oct. 8: Oregon and Washington don't like each other at all, and the Ducks carry a 12-game winning streak against the Huskies entering this matchup in Eugene. Browning completes 22 of 28 passes for six touchdowns as Washington races out to a 28-0 second-quarter lead and continues to light up the scoreboard in a 70-21 rout.
Oct. 22-Nov. 5: The Huskies roll over Oregon State 41-17, win a 31-24 slugfest at Utah, then obliterate Cal 66-27. The second College Football Playoff rankings after the victory at Cal has them at No. 4, and thus hypothetically in the four-game playoff had the season ended then.
Nov. 12: USC, as the Trojans are wont to do, serves as the foil to Washington's stroll to the College Football Playoff. USC takes a second-quarter lead and doesn't let go, intercepting Browning twice and winning 26-13. The loss snaps UW's 12-game winning streak that dates back just days shy of a full calendar year.
Nov. 19: All is well in Seattle once again, as UW looks brutally tough on defense and firms up the passing game to knock around Arizona State 44-18. Myles Gaskin is a terror on the ground, running for 127 yards. ♦
---
SHINIEST APPLES
There have been 108 UW-WSU meetings; here are five of the Cougars' greatest games in recent memory
• 1972 No one talks much anymore about how the Cougars' home Apple Cups were played at Spokane's Joe Albi Stadium from 1950 to 1980, with the exception of one season. The last time the Cougars won in Spokane was on Nov. 18, 1972, when No. 20 WSU defeated the 17th-ranked Huskies. It was UW legend Sonny Sixkiller's last collegiate game, and he was sacked six times by a ferocious Cougars defense en route to a 27-10 WSU win.
• 1988 Fittingly, the Cougars earned a trip to the Aloha Bowl in Hawaii, slipping past Washington 32-31 in a frigid, snowy day in Pullman. The game hinged on a heroic fourth-quarter punt block by the Cougars' Shawn Landrum, recovered by Jay Languein, that set up the winning score.
• 1992 For most Inland Northwest residents, the best Apple Cup of all time came in 1992 when the fifth-ranked Huskies, coming off a national title the previous season, walked into a blizzard in Pullman. Drew Bledsoe led the Cougars to a 42-23 win, which included a 44-yard bomb to Phillip Bobo, who caught the ball and slid through the snow in the end zone.
• 2008 This was the Apple Cup neither team's fans really wanted to watch in the first place. The Huskies entered the game without a win and the Cougars had just one victory of their own when the two collided at Martin Stadium. Perhaps because both squads were so foreign to winning, it took two overtimes to find a victor, with WSU kicking a winning field goal for a 16-13 final.
• 2012 In the first year of Mike Leach's Air Raid offense, the Cougars didn't quite click. They had just two wins (and just one FBS win) coming into a meeting in Pullman against No. 25 Washington. No one was surprised when the Cougars were down 28-10 in the fourth quarter, but senior quarterback Jeff Tuel wasn't having it, dicing up the Husky secondary and enabling the Cougars to tie the game on a field goal. Then, it was UW that "Couged it" with a missed 35-yard field goal, sending the game to overtime, where Andrew Furney's field goal won it 31-28, putting some much-needed frosting on Leach's otherwise disappointing debut season.
---
COMPARING THE QUARTERBACKS
Luke Falk
HEIGHT: 6-4
WEIGHT: 203
YEAR: Redshirt Junior
HOMETOWN: Logan, Utah
HIGH SCHOOL HYPE: After throwing for 3,618 yards and 36 touchdowns as a high school senior in Utah, Falk received offers from Idaho and Wyoming, but ultimately was invited to walk on at WSU. In his first start for the Cougars (as a redshirt freshman), Falk threw for 471 yards.
2016 PASSING YARDS: 3,935
2016 PASSING TOUCHDOWNS: 36
2016 COMPLETION RATES: 71.4%
2016 INTERCEPTIONS: 7
BEST 2016 GAME: As if WSU's 69-7 win over Arizona on Nov. 5 wasn't impressive enough, Falk's numbers in that contest were even more astonishing. He completed 32 of 35 passes (that's 91.4 percent, if you hadn't calculated it already) for 311 yards and four touchdowns.
YOU PROBABLY DIDN'T KNOW...His sisters, Natalee and Alexa, perform as a country music duo called Falk.
Jake Browning
HEIGHT: 6-2
WEIGHT: 209
YEAR: Sophomore
HOMETOWN: Folsom, California
HIGH SCHOOL HYPE: Parade, USA Today All-American, Gatorade Player of the Year for California junior and senior year. Holds national high school season and career touchdown records with 91 and 229, respectively.
2016 PASSING YARDS: 2,870
2016 PASSING TDs: 37
2016 COMPLETION RATE: 64.3%
2016 INTERCEPTIONS: 7
BEST 2016 GAME: In a remarkable 70-21 blowout of hated rival Oregon on Oct. 8, Browning tossed six touchdown passes, completing 22 of 28 passes for 304 yards. The six touchdowns was a UW record, which he would match Nov. 5 in another blowout win, 66-27 at Cal.
YOU PROBABLY DIDN'T KNOW...Although one of the top players in the country and a Heisman candidate throughout the season, Browning doesn't use social media and claims to not read any press about his performances.