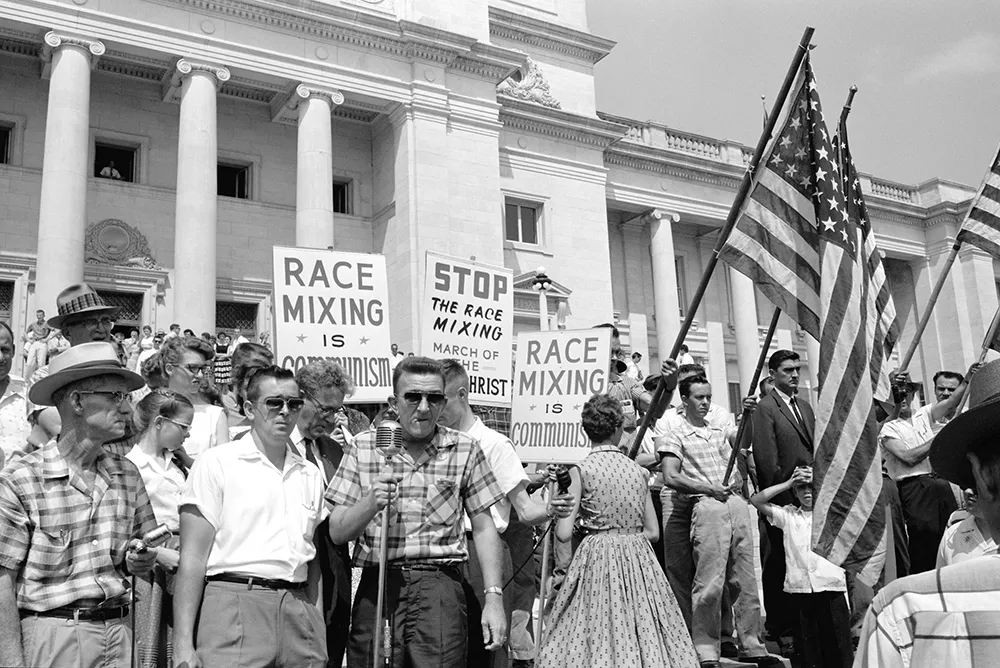 In Stanley Kramer's 1958 drama The Defiant Ones, Tony Curtis and Sidney Poitier play prisoners who escape from a chain gang, still shackled together. They despise one another, but they have to work together if they want to survive. At one point in the film, they're running after a moving train; Poitier hops on, Curtis is still on the ground and is falling behind. Poitier eventually jumps off, sacrificing himself for the good of both of them.
According to the late author and civil rights activist James Baldwin, white audiences interpret this scene as a plea for racial harmony. Black audiences, on the other hand, see right through its platitudes. What white viewers in the '50s didn't understand, Baldwin argues, is that their hatred of black men was rooted in fear. Black people's hatred of whites, meanwhile, was rooted in anger.
We see this footage — and hear Baldwin's words — in the stunning, Academy Award-nominated documentary I Am Not Your Negro, which weaves together old film clips, historical photos, archival news footage and vintage advertisements to contextualize Baldwin's cogent points about the black experience in America. There are no talking heads, no statistics or explanatory graphics on the screen. It's merely Baldwin's prose, read both by the man himself and, in a masterful vocal performance, by Samuel L. Jackson. Think of it as a visual essay, and a profound one at that.
Director Raoul Peck constructs his film around an unfinished Baldwin book titled Remember This House, which was to have focused on the author's close friendships with three assassinated civil rights activists — Medgar Evers, Malcolm X and Martin Luther King, Jr. "I want these lives to bang against and reveal each other," Baldwin wrote to his literary agent. He died in 1987, leaving behind a 30-page manuscript.
The passages we hear from Remember This House are unsurprisingly powerful, as is the footage we see from Baldwin's many talk show appearances and public speaking engagements. Peck is especially canny in the way he utilizes these clips: Notice how, during one of Baldwin's fiery speeches, he switches from black-and-white to color, revealing not a single African American face in the rapt audience.
I Am Not Your Negro turns out to be as much a portrait of racism in America as it is of Baldwin himself. We learn that he renounced Christianity as vocally as he did the NAACP and the Black Panthers. He personally witnessed the respective ideologies of King and Malcolm X, publicly at odds with one another for so long, converge in the months before the latter was killed in 1965. He came to realize that even the most well-intentioned white liberals don't truly understand their institutional privileges. We get only a glimpse into Baldwin's personal life; Peck allows the author's wisdom to define him.
Like Baldwin's best writing, I Am Not Your Negro is angry and impassioned and intelligent, an appeal for unity that nonetheless recognizes, with stark clarity, how little has changed since Baldwin was at his most vocal. "The story of the Negro in America is the story of America," Jackson-as-Baldwin intones near the end of the film. "It's not a pretty story." And that's a bitter pill to swallow. ♦