13
The number of Oscar nominations for The Shape of Water, opening in Spokane this weekend.
This year's Academy Award nominations turned out to be pretty great. Guillermo del Toro's morbid fairy tale The Shape of Water led the pack with 13 total nominations, including Best Picture and Best Director. Along with del Toro, Greta Gerwig and Jordan Peele hit the nomination trifecta: Their respective films, Lady Bird and Get Out, are Best Picture nominees, and their direction and writing is also being recognized, making Gerwig only the fifth woman and Peele the fifth black man to ever be nominated for director. The Oscars air March 4 on ABC. (NATHAN WEINBENDER)
---
FULL STEAM AHEAD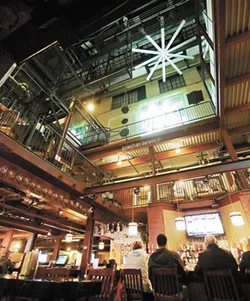 After more than six months of extensive renovations, Spokane's historic Steam Plant has reopened, including its main-level space rebranded as the Steam Plant Kitchen + Brewery. The remodel is the first since it opened as a mixed-use space back in 2001. New interior designs by Spokane's HDG Architecture highlight the space's industrial history, and a new rooftop event space was also part of the project. The Steam Plant's enlarged kitchen allowed for a total menu transformation, and lunch has returned to the venue after a 10-year hiatus. (CHEY SCOTT)
---
ON THIS WEEK'S PLAYLIST
Some noteworthy new music arrives online and in stores Jan. 26. To wit:
MOTOWN: Hitsville U.S.A.: The Motown Singles Collection 1959-1971. OK, not a new release, but if you're inspired by seeing Motown: The Musical at the INB through Jan. 28, this set will satisfy.
CALEXICO, The Thread That Keeps Us. The Southwestern desert dwellers with a globe-trotting sound introduces some sonic chaos to match the world's mood.
STEEP CANYON RANGERS, Out in the Open. The bluegrass aces and Steve Martin collaborators are coming to play with the Spokane Symphony March 3.
TY SEGALL, Freedom's Goblin. The prolific Californian's been called the "boy king of the garage-rock scene." He returns with a double-album. See, prolific!
---
BOOK TO SCREEN
Spokane young adult author Stephanie Oakes got the news last summer, but had to keep mum until last week that her award-winning debut novel, The Sacred Lies of Minnow Bly, is being made into a 10-episode TV series. It'll stream on fledgling Facebook Watch, and is being produced by a duo known for their work on True Blood. Filming is likely to take place in the Northwest (the book is set in the Montana wilderness), Oakes tells the Inlander, and casting will start soon. Minnow Bly, inspired by the Grimm fairy tale The Handless Maiden, tells the riveting story of a young girl who escapes from a cult after having her hands cut off. (CHEY SCOTT)