CAN TV SOLVE AMERICA'S POLICING PROBLEM?
A new show hosted by The Daily Show alumnus Wyatt Cenac is trying to break the mold. No studio audience. No laugh track. No blaming President Donald Trump for all of the county's injustices. Instead, Cenac's Problem Areas, which premiered April 12 on HBO, will spend 10 installments using on-the-ground reporting from places from Birmingham to Oakland — as well as experts like cops, journalists, activists and politicians — to dive deep into the problems with policing in America. Cenac aims to break free of the satirical newscast mold and play it straight in order to understand the problem, and maybe find some solutions. (MITCH RYALS)
---

BEST OF BROADWAY NEW SEASON ANNOUNCEMENT
WestCoast Entertainment announced its 2018-19 season Monday for its Best of Broadway shows and the mix of familiar faves and exciting Spokane premieres should please Inland Northwest theater lovers. Visit wcebroadway.com for ticket information. Here's the schedule:
Broadway touring shows:

Finding Neverland
, Nov. 15-18
Waitress
, Dec. 12-16
Disney's The Lion King
, Jan. 23-Feb. 3, 2019
School of Rock
, May 8-12, 2019
Les Miserables
, Aug. 6-11, 2019
Special engagements:

A Magical Cirque Christmas
, Nov. 20
Legally Blonde The Musical
, March 21, 2019
Stomp
, April 2-3, 2019
---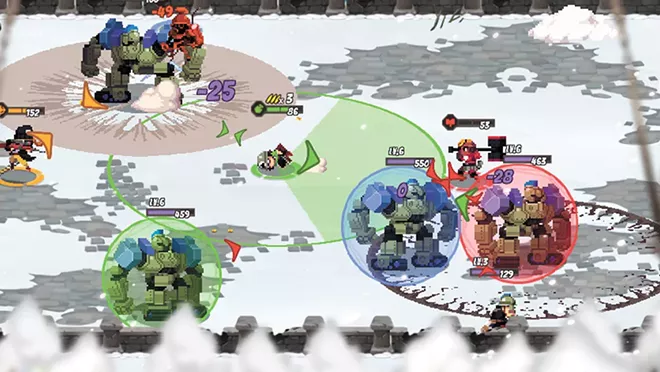 FULL METAL FUN
It's been a while since a video game got so meta its puzzles started spilling out of the screen into physical notes, diagrams and drawings in my attempt to solve its mysteries. Such is the fantastic new game Full Metal Furies by Cellar Door Games. Where to begin in singing its praises? The playable characters (tank, fighter, engineer and sniper) are all female — a rarity even in indie games. It's also sincerely sassy, snarky and comedic in its character dialogue. Best of all, Full Metal Furies is cooperative for up to four players (you can also play solo) and has scaleable difficulty with both normal and story modes, the latter to appease filthy casuals like me. Available on Xbox and PC via Steam ($20). (CHEY SCOTT)
---
SEXY OR SCARY?
Haus of Voodoo's horror-themed drag show Something Wicked This Way Comes at the Pin! on Friday the 13th was a grotesque experience to say the least. Now, I've had a great time at many drag shows in the past, so I thought I knew what to expect. But was I prepared for drag queen Monikkie Shame to start stapling dollar bills to her face? No, I was not. Was I prepared for another performer to explode fake pimples all over their body, landing goo on members of the crowd? HELL NO. It was hard to watch, but I just couldn't look away. Horror achieved. (ERIC SCHUCHT)

---
ON THIS WEEK'S PLAYLIST
Some noteworthy new music arrives online and in stores April 20. To wit:
A PERFECT CIRCLE, Eat The Elephant. A nation of TOOL fans scream, "Why, Maynard, why? Finish the TOOL album already!"
BISHOP BRIGGS, Church of Scars. She did the cover of INXS's "Never Tear Us Apart" for 50 Shades Freed, so she's got that going for her.
OLD CROW MEDICINE SHOW, Volunteer. A great live band, OCMS marks their 20th birthday with a new set. (DAN NAILEN)