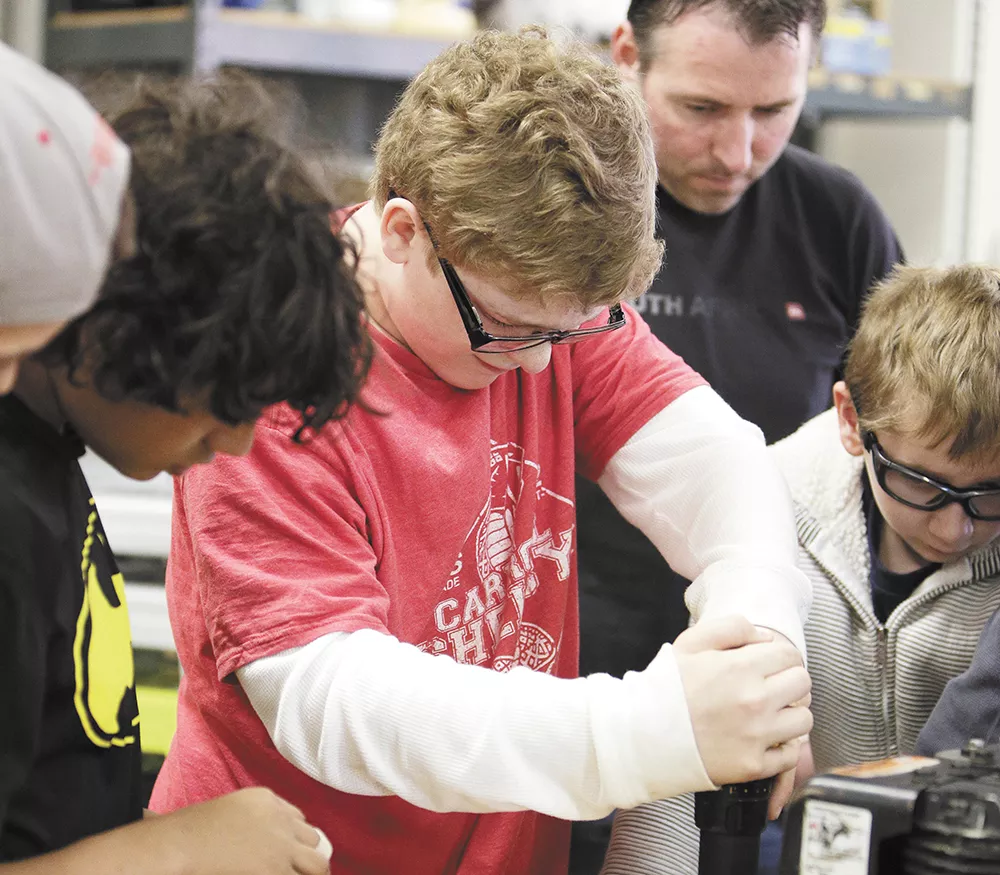 It's the week before spring break at PRIDE Prep, and the classrooms are disappearing. Except you can't really call them classrooms. Inside a former warehouse, they're more like class spaces with no walls — the only barrier between them are whiteboards on wheels.
When it comes time for the roughly 150 middle school students to present their end-of-the-term projects, as they will on this Thursday night, those movable whiteboards can come in handy. In a span of less than an hour, all of the class spaces are gone, transformed into one makeshift public exhibition hall. The whiteboards form rows inside the former warehouse so the students can present what they've learned.
This is all by design. As a former Garry Middle School principal, Brenda McDonald envisioned a new, more proactive way to help the kind of kids who used to come into her office. Many were bored, skipped school, and were unable to find a classroom environment that would support them. Others simply weren't being challenged, or only cared about passing state tests. Teachers, she says, were frustrated that they couldn't be creative in getting through to these students in the classroom.
PRIDE Prep, which McDonald founded and opened last fall, fulfills her vision. As one of Spokane's two charter schools, it's project-based, which means the students apply various subjects with the goal of finishing one product. It's a model she argues more closely mirrors the working world. She rented out this spot on Sprague Avenue that allows for easy transformation into whatever is needed each school day.
Yet just months after opening, PRIDE Prep, and the other eight charter schools in the state, were already in danger of having to shut down entirely. The Washington State Supreme Court ruled that charter schools, under the law that voters statewide passed in 2012, were unconstitutional. The ruling forced PRIDE Prep and Spokane International Academy, the other local charter school, to join the Mary Walker School District in Stevens County and become Alternative Learning Environments — a technicality that allowed them to stay open for the year while state lawmakers figured out if the state's charters should be saved, and if so, how to save them.
The legislature eventually passed a bill that shifts the funding source for charter schools, after Gov. Jay Inslee announced last week that he would neither veto nor sign the bill. His inaction means it becomes law, and charter schools are once again legal in Washington — for now.
In a state where public schools have been ruled to be criminally underfunded by the state Supreme Court, critics say charter schools only add to the funding problem. Proponents say that charter schools can be part of the solution by providing public education alternatives for kids and parents not being adequately served by the public school system.
Meanwhile, though the school's status has been in limbo, the politics haven't fazed the teachers or students at PRIDE Prep as it continues its mission of hands-on, project-based learning.
For students like seventh-grader Mary, this charter in Spokane stands out.
"This school isn't like all the other charter schools. This one's unique," she says. "I went to three different charter schools in Arizona and none of them were like this school. All of them tried to say they were different, but they all just acted like the normal public school system. This one actually tries to break away from that and actually focus on what the kids need."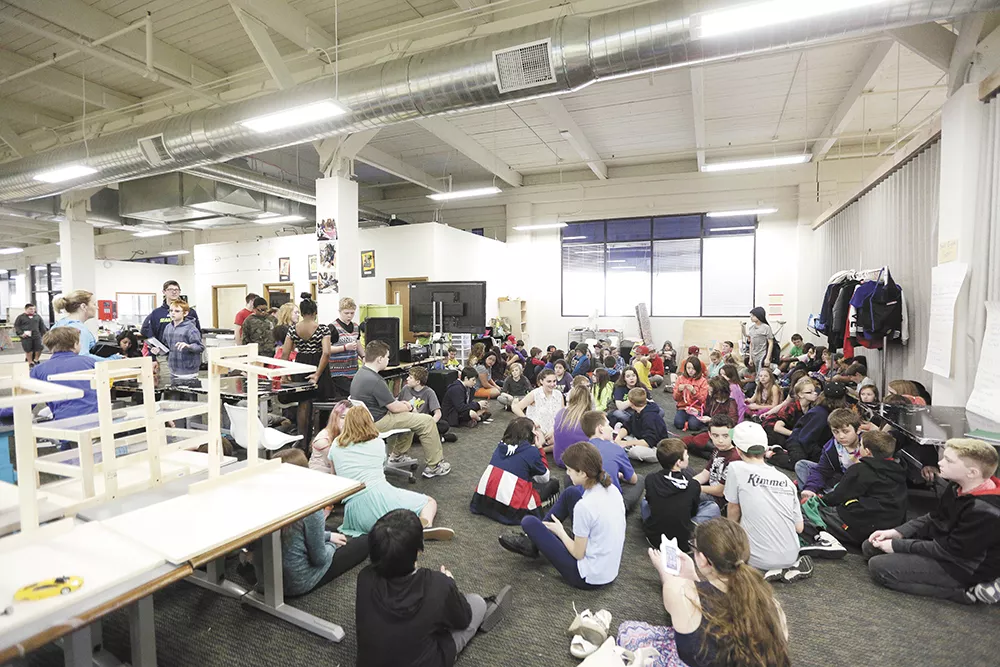 To function the way PRIDE Prep wants to function, the physical structure of the school must be flexible and ready for constant change, says teacher Matt Miller. That flexibility also must translate to the hierarchy of the organization itself, which is why Miller wouldn't necessarily limit himself to the title of "teacher."
"We don't go by titles like that," he says. "We blur the lines and say: We're mentors. We're advisors. We're co-learners. We're all of these things."
But basically, he's a teacher. He used to teach in the traditional public school system, but eventually got sick of the constant reform efforts. He helped come up with the design for PRIDE Prep, building on what he says are some basic assumptions: that people are diverse, that they learn through experience, and that they learn better with a teacher or mentor learning along with them. The traditional school systems, he argues, are limited by their structure.
"We do what we do because we have all these classrooms and we can't do anything about them. We do what we do because we have this set of books and we're wedded to them," Miller says. "[At PRIDE Prep], we're not."
The middle-schoolers recently worked on a project about natural disasters. They learned the science behind why they happened, how they damage structures and the social impact. They built model buildings and tested if they would collapse in a mock earthquake. Most did, so they made new ones.
McDonald says the school attracts all ranges of kids, whether they struggled in public schools or weren't challenged enough before. Each kid has a learning plan developed specifically for them. If the school had to shut down, she says, some kids would simply not be able to return to a traditional setting.
Jada, 12, says she is among that group.
"If it shut down, I don't really know what I would do, because I don't really want to go to Chase [Middle School]," the seventh-grader says. "I would have nothing to do. I wouldn't enjoy school like I do now. There's no one that would help me there like they do here."
When the state Supreme Court ruled charters unconstitutional, shutting down seemed a likely possibility. So charter advocates across the state went to Olympia to urge lawmakers to save their schools.
A group of several teachers and about 25 students from PRIDE Prep were supposed to go as well, but their flight was delayed, and by the time they would have arrived, the rally would have been over. Sean Hopf, one of those PRIDE Prep teachers, says he would have shared how well his students were doing after many had failed in the traditional system.
"Change our funding, whatever, call us a different name, I don't care," Hopf says. "I want their logical reason, other than people saying 'Well, the teachers' unions don't want to lose their influence, they don't want their positions threatened.' Well, OK, but what about the kids?"
Jenny Rose, president of the Spokane Education Association, says it's about more than that. Lawmakers should be worrying about funding for all kids, not the 1,100 in Washington charter schools, she says. Even if basic education in the state was fully funded, she argues, taxpayers would still have no control over charter schools because they don't elect their school boards.
Spokane Public Schools was the only district in the state to authorize local charter schools instead of the state Board of Education, though the district board did not directly oversee the charters. When the charters were ruled unconstitutional, the district had to distance itself from the charters. So the schools became Alternative Learning Environments.
The funding for ALEs works a bit differently, says Washington State Charter Schools Association spokeswoman Maggie Meyers, and the state provides less money per student. Donors, including philanthropists, have made contributions to charters to make up the difference statewide, but that would not have been sustainable if lawmakers took away all funding, she says. (PRIDE Prep has not received any money from philanthropists since the Supreme Court ruling, says McDonald.)
Rose argues that schools like PRIDE Prep should and could be a part of Spokane Public Schools anyway, overseen by the board.
"I think Spokane Public Schools could have done the same thing, I truly do," Rose says.
Says McDonald, "Yeah, but we don't. For whatever reason, we don't."
Steven Gering, Spokane Public Schools' chief academic officer, says the district has so far decided to be involved with its local charter schools, regardless. The district can now reauthorize the two charter schools, thanks to the bill that passed the last week. The district's involvement, he says, has so far helped create more unity with the charter schools, a bond not seen in many other places in the state and nation.
McDonald agrees that it's a somewhat unique relationship.
"We believe in Spokane that we owe the community great schools and a system of great schools, and we're a piece of the puzzle," she says. "So it's a much different relationship here in Spokane than it is anywhere else in the state and, quite frankly, anywhere else in the country." ♦