Geologists walked around northeast of the Ferry County town of Republic, scoping out every outcrop of rock they found. They looked at the water flows, every type of mineral and rock in that outcrop, the cracks in the outcrop, the magnetic fields, and at the presence of magnetite, a mineral frequently found with gold. They methodically took hundreds of soil samples for analysis.
And by last October, the clues showed that the geological conditions were ripe for a sizable gold vein 3½ miles from the Kinross Gold Corp.'s gold processing plant just east of Republic.
Maybe.
"There's no such thing as a sure thing," says Mark Kolebaba, president of Adamera Minerals Corp. of Vancouver, B.C., which is hunting for a potential site for a new gold mine in Ferry County.
Now, Adamera will drill holes to collect underground rock samples and do more tests. Kolebaba figures Adamera might know by August whether there's enough gold at that site to justify mining for it. Several other sites are being examined around Ferry County, but Kolebaba speculates that it will take at least two years to determine whether there are sufficient gold deposits at those sites' locations to justify mining.
The success of this hunt for a new gold vein is of huge importance to Ferry and eastern Okanogan counties. It could spell the difference between being a robust place or flirting with becoming a borderline ghost town.
The area's only functioning gold mine — the Buckhorn mine 45 miles northwest of Republic in neighboring eastern Okanogan County — was originally scheduled to close at the end of last month because its gold was almost exhausted. That closure has been delayed until an unspecified time in 2016 that depends on how much economically mineable gold remains, says Deana Zakar, spokeswoman for Kinross, which runs the mine plus a facility next to Republic that extracts gold from ore. Environmental monitoring and fix-it work will continue after the closure.
A critic of the Buckhorn operation, David Kliegman of the environmental watchdog organization Okanogan Highlands Alliance, argues that Kinross is hazy on a mine closure date because a definite date would trigger a legal requirement that it has to start mapping out a mine closure plan. Such plans — which address items such as water quality in the future — are expensive and complicated to tackle, he says.
"The mine will continue to leach contaminants beyond the mine's boundaries. This is a problem for the counties and the regulating agencies," Kliegman says. He adds that the alliance does not oppose gold mining as long as health and environmental safety measures are sufficient.
Meanwhile, as a result of the upcoming mine closing, Kinross expects people to leave the area, a smaller payroll circulating money through the local economy, less taxes being paid to local governments, and the number of school children to drop. Ferry County has slightly more than 7,500 residents and the neighboring Omak area has about 8,200 people.
"The reality is that the clock is ticking, and we're going to have to deal with this," says Ferry County Commissioner Nathan Davis.
That eventual closure will eliminate 225 direct jobs — 142 jobs with $13.6 million in annual wages in Okanogan County and 83 jobs with $7.9 million in annual wages in Ferry County, according to Kinross figures. When the economic ripple effects are accounted for, the predicted job losses increased to 460, with $30 million in lost annual wages, in the two counties. The drop in payroll will translate to $5 million in lost sales for local businesses, according to Kinross.
"Main Street — half of those businesses will be barely able to get through winter," Davis says.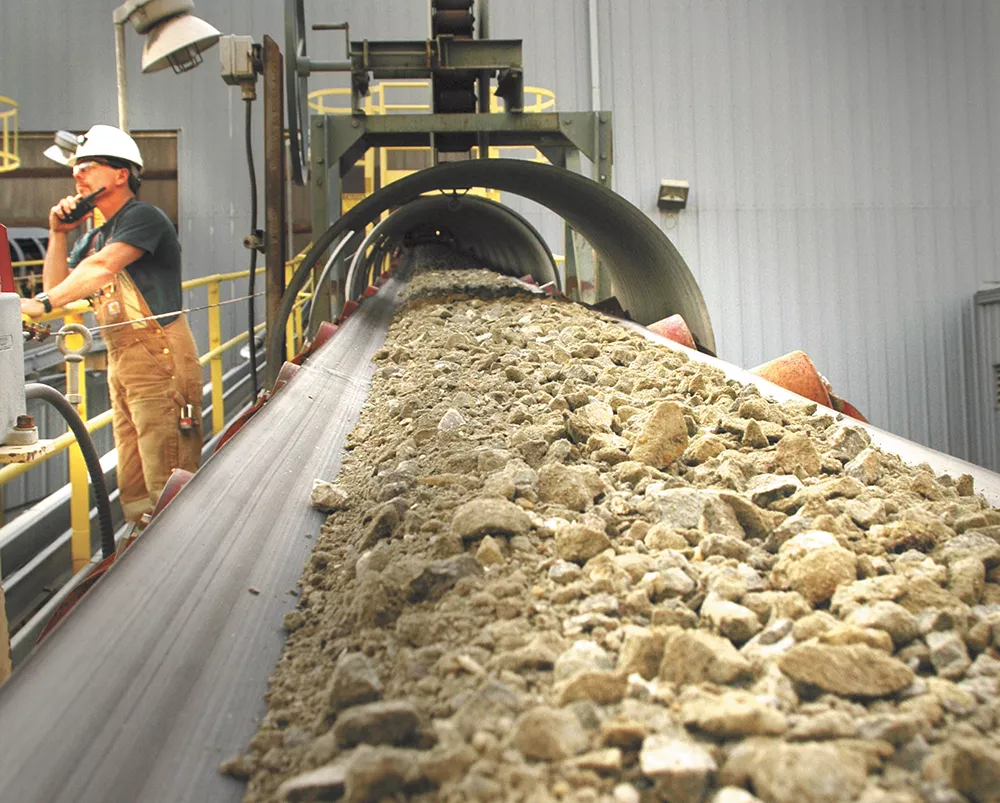 The effects on Ferry County will be worse. The 170 direct and ripple-effect jobs lost in the county would equal 10 percent of that county's workforce. Ferry County posted an 8.8 percent unemployment rate in October — the highest in the state. "We always had high unemployment. But it could go to the next level, I'm afraid," says Davis.
"That's akin to Boeing losing 40,000 to 50,000 people in the Seattle area," said Lt. Gov. Brad Owen in a late 2014 meeting in Republic, Ferry County's main town of about 1,000 that was founded in the 1890s by gold prospectors.
Republic Chamber of Commerce President Jim Milner says that emotions around the town cover the spectrum from panic to quiet concern to a belief that the likely economic blow won't happen. "We're kind of in limbo so far," he says.
In addition to the impending mine closure, the area also was hit hard by the summer wildfires that destroyed 76,549 acres in the Kettle River area alone. "It's hard to say definitely how much of our problems are coming from the mine closure and how much from the fires," Milner says.
Ferry County's economy has always been based on natural resources — timber, cattle and gold mining. But timber mills have closed and federal regulations have cut back on cattle ranching, leaving gold mining and tourism. "We've got to look at diversification," Davis says.
Ferry County has been working with Washington State University on recruiting businesses. But its isolation is a two-edged sword: It's far from major transportation routes. On the other hand, it could appeal to businesses and people who want a laid-back, rural lifestyle rather than an expensive, Seattle-like traffic nightmare, says Davis.
Davis says the county has feelers out to Spokane-based Ag Energy, which is developing a charcoal-like biomass heating source and soil supplement called "biochar" made from farm field stubble; it could potentially be made from forestland stubble. It can be burned for heat, or it can be added to soil to retain water during rains, and release that water into the ground during dry spells, while also combating acidity within the soil.
Kinross and the locals contend that the feared economic crisis could have been headed off with timely exploration for a new gold mine site. Shortly after beginning to mine the Buckhorn site in 2008, Kinross began work on getting approval of a "plan of operations" from the U.S. Forest Service, the U.S. Bureau of Land Management and the Washington Department of Natural Resources to allow exploration for a new mining site.
In early 2014, Kinross decided to withdraw its proposal for an exploration plan of operations because of business-related cost-effectiveness reasons.
At the time, state legislators and some local officials voiced frustrations about federal permitting processes that are complex and take years to complete.
Kliegman downplayed legislators' and local officials' concerns about the lengthy state and federal permitting processes, saying everyone knew back in 2008 that the Buckhorn mine had an estimated seven-year life, giving them plenty of lead time to hunt for a replacement site.
"The boom-and-bust cycle of mining in the West is a well-known quantity. ... That's the nature of the beast. For politicians to cry foul, that's disingenuous," Kliegman says. ♦