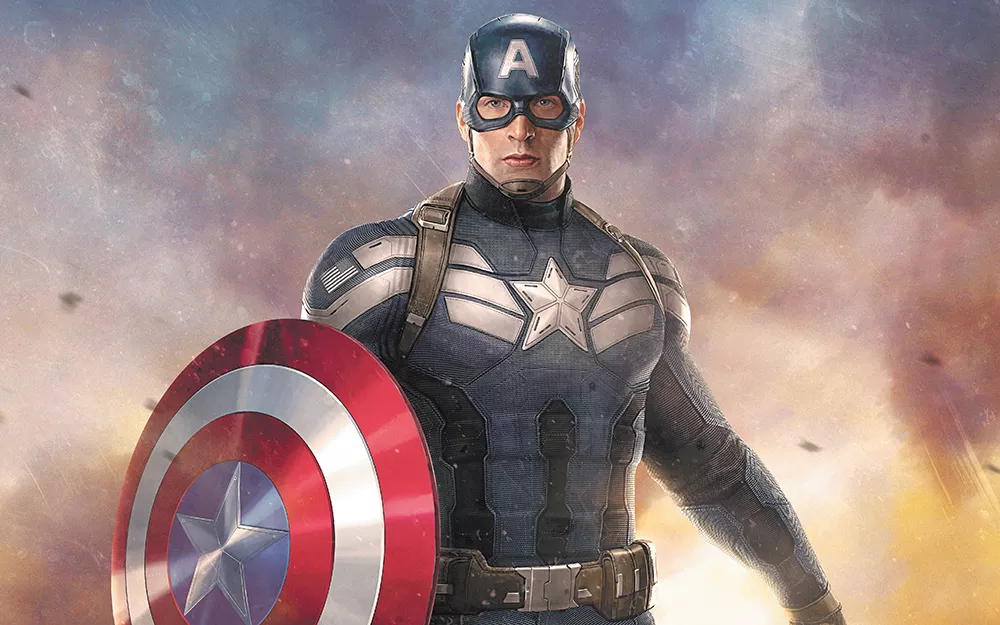 Late last year, the full cast list for Captain America: Civil War was released to the media, and to call it "overstuffed" would be too generous by half. Hell, you could pretty much make three Ocean's Eleven remakes — Ocean's Thirty-three! — from the celebrities in this movie.
Aside from series regulars Chris Evans, Scarlett Johansson, Sebastian Stan and Anthony Mackie, Civil War also stars Avengers mainstays Robert Downey Jr., Don Cheadle, Jeremy Renner, Paul Bettany and Elizabeth Olsen. But wait, there's more: Paul Rudd has been pulled in from last summer's Ant-Man while William Hurt has been extracted from Marvel's semi-abandoned Incredible Hulk. Martin Freeman and Daniel Brühl play new characters. Two young actors who will soon be spun off into superhero franchises of their own — Chadwick Boseman as Black Panther and Tom Holland as Spider-Man — require introductions, too. I could list even more celebrity names, but you get the point.
It is just short of miraculous, then, that Marvel Studios screenwriters Christopher Markus and Stephen McFeely, in combination with directors Joe and Anthony Russo — the same team behind the excellent second installment in the series, Captain America: The Winter Soldier — manage to give every one of these characters a moment or two to shine, even if a few of them feel less necessary to the plot than others (Holland's Spider-Man is great fun, but he doesn't impact the events of Civil War much at all). Nobody can walk out of this movie saying they didn't get their money's worth. At two-and-a-half hours, Civil War is full of tiny character moments, car chases, explosions, surprises, angst, romance, and quite possibly the best, most exuberant superhero battle ever put to film.
The story hinges on a disagreement between superheroes — Iron Man (Downey) and Captain America (Evans) take opposing sides when the United Nations demands authority over superhero actions. Downey is, thankfully, much gloomier than he was at the start of the Iron Man series; he's seen some shit, and it's exacting a very large toll on his newly rediscovered conscience. Evans is, as always, sublime as Captain America, though it's a shame that he doesn't have much room to grow or change in his own movie, what with all the glorified cameos and all.
Civil War has many more highs than lows, but it does suffer from a few grating flaws: the score is entirely forgettable, for one thing, and the action sequences in the first half of the film are jittery and difficult to follow, though perhaps the unnecessary 3-D print I watched added to the visual confusion. And after two films, Sebastian Stan's Winter Soldier remains little more than a greasy-haired MacGuffin, a cipher for Captain America to pursue and feel conflicted over.
Aside from those (relatively minor) problems, Civil War makes for a magnificent fireworks display to kick off the first week of summer blockbuster season at the multiplex. And it hints at the weirdness that is soon to come in the Marvel Cinematic Universe. Some of the best parts of Civil War are those moments when the series stops explaining itself to new viewers and simply revels in the comic-bookishness of it all. When Paul Bettany's purple-skinned synthezoid the Vision floats around in a dad sweater and button-down shirt, it's a genuine nerdy joy, and the sort of thing that viewers could not be expected to swallow in the more realistic first "phase" of Marvel films leading up to The Avengers. But now the bizarre sight of the Vision pondering the concept of what exactly constitutes a pinch of paprika seems perfectly normal in this context. It's OK, the movie assures us, we're all comic book nerds now. ♦