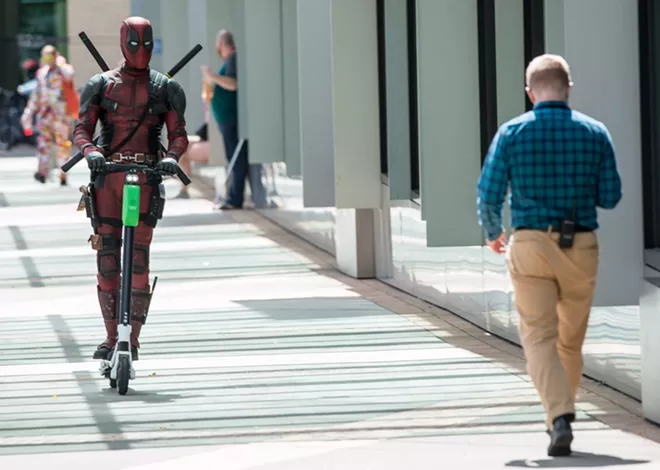 W
ith colder weather
starting to creep up on Spokane, you may be wondering when the Lime bikes and scooters will start disappearing, and whether they'll stick around, so it seemed like a good time for a quick Q&A.
The city's pilot project, which started in September, is
set to end Nov. 16
, so you may want to use up any remaining credit on your Lime account by then, or plan your visit to another area that has Lime, says Brandon Blankenagel, a senior engineer with the city working on the program.
That said, there's a separate pilot that Lime is conducting with Gonzaga that is scheduled to last longer, so there'll likely still be some bikes around for a while, regardless of how the city moves forward.
What happens if you're in the middle of a ride when your account runs out of credit?
"I actually just did that last week," Blankenagel says. "They will use whatever method you originally paid for your credit with to finalize the payment on that ride."
How many rides have people taken?
So far, the scooters have been massively popular, with 27,358 people taking 85,933 scooter rides in Spokane as of the end of Sunday, Oct. 28.
Next most popular have been the electronic-assist bikes, which have seen 17,177 rides by more than 6,500 people, and lastly the normal pedal bikes, with 8,132 rides by more than 4,200 people, according to data the city has compiled.
There may be some crossover of the actual number of people who've tried out the program, as some may have tried out more than one of the three options, and not everyone who's tried it in Spokane is from here, Blankenagel notes. Several visitors to the city have responded to
the city's survey asking for input on the project
, which will remain open until the bikes and scooters are off the streets.
What happens next?
On top of the survey, the city's also been soliciting input at various meetings with the public and a stakeholder group that will help draft rules for a permanent program if the city opts to allow one to stay, Blankenagel says.
That group includes representatives from the city's permitting, planning and engineering departments, Spokane Police, the health district, people who helped draft the city's helmet law, Friends of the Centennial Trail, potentially Washington State Parks, Spokane Transit Authority and more.
Over the next few months they'll look at where bikes and scooters should and shouldn't be allowed, how to address helmet regulations, what type of permitting or franchise fee might be required of companies like Lime that want to earn money in the public right-of-way, and more, he says.
Some of that work may include seeing if the city needs to pass new rules or update old ones pertaining to bikes and scooters.
Then the city will work with City Council to look at what should be adopted.
What has the feedback been like so far?
There've been a few major messages, both good and bad.
Starting with the bad:
"Scooter and pedestrian interaction is scary, and speeds on sidewalks are high," Blankenagel says. "That ends up being a complaint we hear in every venue."
Other common concerns include whether scooters should be on the road or sidewalks, in parks or in certain parts of town, and what should be done about people not wearing helmets.
On the good side, "Everybody's having fun," Blankenagel says. "It's being used very widely."
The city is also hearing good feedback about how the program seems to be adding to the liveliness of downtown, he says.
How many injuries have there been?
There have been several injuries for people using the devices, but the city doesn't plan to pull a complete ER report until the end of the program, Blankenagel says.
Some bikes and scooters have been damaged or broken... does Lime want to stay here?
While Lime doesn't provide city-by-city data on vandalism, spokeswoman Katherine Mackinnon shares that across Lime's markets nationally, vandalism effects less than 1 percent of the company's products.
As for Spokane's outlook, Lime is enjoying the city and hopes to continue with a partnership here, she says.
"It's been a great partnership," Mackinnon says. "The conversation is very much underway with the city."