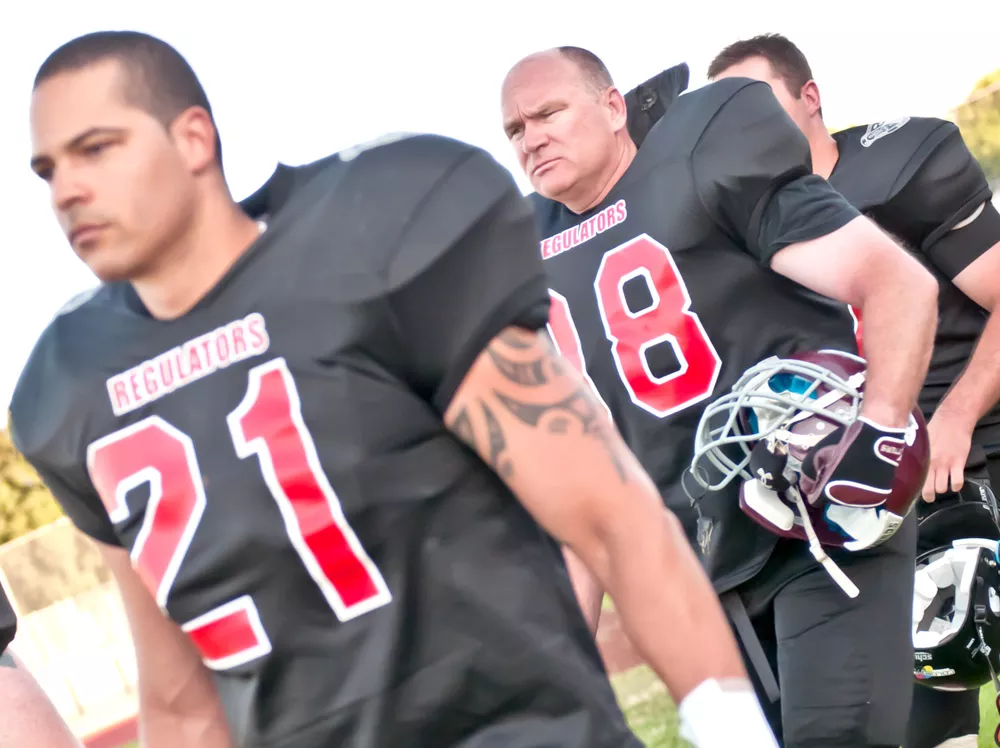 Big No. 98 wears a large, articulated knee brace on his right leg. He's a defensive lineman, but even during offensive series, he keeps his maroon helmet on, which has a decal of a sheriff's badge atop a pair of crossed six-guns. He breathes deeply through his nose to catch his breath. From the sideline, he stares intently at the field and does squat jumps to keep his joints loose.
Local cops swapped one uniform for another this weekend, and traded in their guns for an oblong leather ball and cleats. The Spokane Regulators — a conglomeration of local law enforcement — formed last year as part of a Spokane County Sheriff's Office program designed to provide a team-based outlet outside of work. It's a release from the stress of the job and a respite from what can be intense public scrutiny.
These guys aren't feeling as young as they used to, though. Even the young ones. Still, they play gutty football. "Bend but don't break, right?" Spokane officer and strong safety Darrell Quarles says.
On field, quarterback and Valley Deputy Cole Speer hits wide receiver Jared Thomas on a long fly route down the right sideline. Thomas makes a diving catch, sliding to a stop at the 18-yard line.
One play later, running back and corrections Lt. Phil Tyler doesn't look to be going anywhere, but he finds a seam and hits it, his compact frame exploding through a narrow gap. Tyler gains 12 yards before being hogtied and brought down. The drive stalls there, eight yards from a touchdown.
Thomas lines up to take the field goal. Big No. 98 — Sheriff Ozzie Knezovich — runs in to block for him. Knezovich was a lineman at Wyoming and Weber State in the early '80s. Now, held together with athletic tape and braces, he looks a little like Robocop.
Thomas' kick is good, and the Regulators pull even with the San Bernardino Enforcers, law enforcement folks from Southern California. The crowd — some 800 people packed into the narrow bleachers at West Valley High School — erupts.

Local law enforcement hasn't gotten much good press lately. A spate of shootings last fall — in which cops shot six people and killed four — ignited public distrust. The death of Wayne Scott Creach, a Spokane Valley pastor, at the hands of Sheriff's Deputy Brian Hirzel drew special scrutiny.
Here, though, it's all cheering. Things get especially loud in the third quarter, when Speer — the QB and first responding officer to the Creach shooting — throws a dart to Ryan Pederson. Pursued by three defenders, he streaks 70 yards for a touchdown.
The Regulators lead by as many as six points, but a handful of short-circuited offensive drives leaves the defense running on empty. Stumbling off the field in the fourth quarter, Jon Cantrell, a cop in Coeur d'Alene, gasps, "[The offense] better stay out there for more than three plays."
They don't. Soon, officers start dropping like flies.
Quarles — who had anchored the secondary — goes down with a cramped hamstring, then heads back in. Bodies litter the sideline, stretching, trying to stay loose. Big No. 98, Knezovich, hobbles off twice, once to have his ankle re-wrapped and again to have his hamstring massaged. The third time he goes down, it takes two men to carry him off. Ankle again.
"I'm done," he says with a this-hurts-like-hell laugh.
The San Bernardino Enforcers pull ahead 12-9 on a fourth-quarter drive and field goal. Spokane has three chances to answer, but they can't, and the game ends there.

Coach and Sheriff's Detective Marty Pannell — who strode the sidelines in a short-billed fedora like Tom Landry and mirrored trooper's sunglasses — had articulated two goals for this game.
First, he wanted the offense to find a rhythm. Second, he wanted people to stay healthy. "We've all got to work tomorrow," he said.
Lt. Tyler, though, didn't quite make it. "I actually just got out of the doctor's office," he says. "Little sprain of my wrist and a little stress fracture in the ol' foot."
Tyler is a man with a broad smile who laughs freely. He gets quiet, though, when talking about how trying the last year has been for himself and those around him.
He found the game a great boost of morale. On top of raising money for the Wounded Warriors Project, he says, "it made us feel whole."
"I personally left there feeling very good," he says, laughing again, "even though we lost."
And also despite the broken foot.