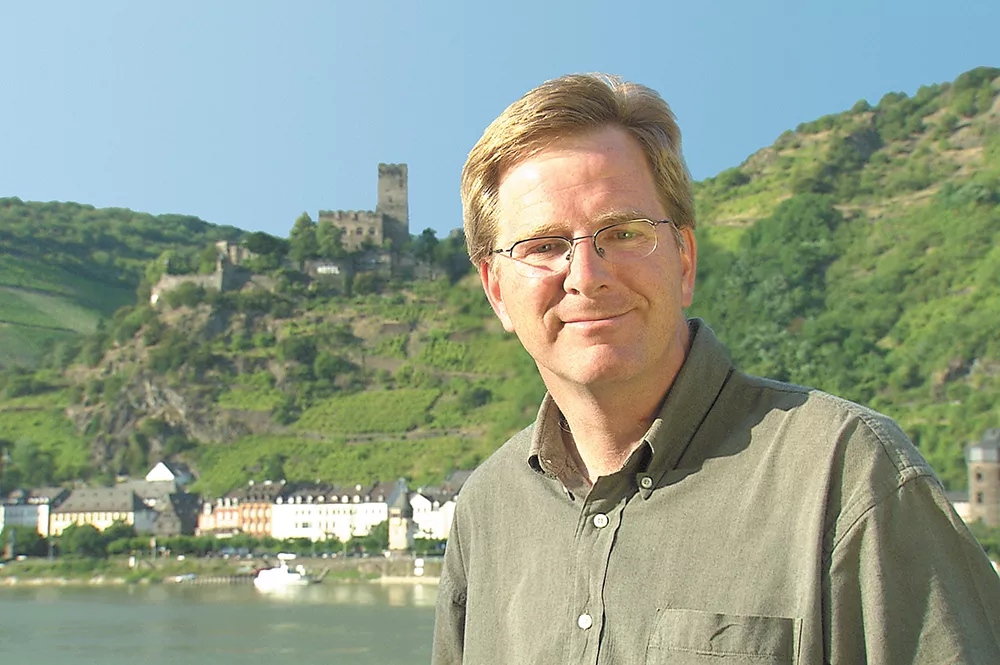 Rick Steves is an American from the Seattle area who has made a living on his expertise regarding European travel. It's not a bad gig, and one that most college kids wish they could make their own upon venturing abroad for the first time. Now the owner of an ultra-successful tour company, the producer and star of a public television show and the author of a tall stack of guidebooks, Steves also has become a political force in recent years.
He's coming to Spokane Valley to discuss his most recent television special, Rick Steves' The Holy Land: Israelis and Palestinians Today, a documentary that took the host into the contentious region to meet people on both sides of the conflict. Getting to the bottom of one of the world's most complex geopolitical problems is a little ambitious, but Steves is an ambitious — and endlessly interesting — guy.
Here's just a sampling of his résumé.
He convinces nervous Americans to see the world
For a guy who dresses like a 1990s sitcom dad, Steves has surprising star power. His followers, who can be seen toting his signature line of backpacks and roller bags, call themselves "Rickniks" and are mostly folks in, at or approaching retirement age, setting out abroad for the first time thanks to inspiration from Steves' shows, books and guided tours.
But he still gets people out of their comfort zones
In the early days of his tour business, Steves would all but require his clients to stay in simple hotels and avoid resort culture. "Spending money only builds a thicker wall between you and what you came to see," he once told a New York Times reporter.
He's a diplomat
On his approach to staying neutral about the content in his Holy Land special, Steves says, "Good travel is about opening one's self to empathy. I envisioned writing things in a way where if you took me out of context in a little snatch of the show here and there, you might think I was pro-this or pro-that. That's what happens when you learn to empathize with people. 'Rick Steves is having dinner with our enemies!' Out of context, it can be made to look like bias... One very clear lesson from all this travel: There are good people — very good people — on both sides of the divide."
He's a perfect advocate for ending marijuana prohibition
In 2012, Steves came to Spokane's Bing Crosby Theater in advance of Washington's vote to legalize marijuana. "I've never promoted marijuana. I'm promoting getting pragmatic and looking at harm reduction and getting the crime out of the equation," he said from the stage.
Steves, who sits on the board of directors of the National Organization for the Reform of Marijuana Laws, has been talking about marijuana for decades and has been able to put an everyman face on the issue. He was able to reach the people who want to hear from the nebbish public television host and successful businessman in khakis, rather than the tie-dyed dude from the local head shop. ♦
Rick Steves: The Holy Land • Sat, Nov. 22, at 2 pm • $10/KSPS members, $15/nonmembers • CenterPlace Regional Event Center • 2426 N. Discovery Place Dr., Spokane Valley • ricksteveholyland.eventbrite.com