Had a great chat with local author Jack Nisbet the other day about his new book (see page 29). For a photo, I told Chris Bovey, our art director, that one idea could be to get Jack's picture in front of his favorite ponderosa pine. His favorite? Yeah, Jack's the kind of guy who, I was sure, would have a favorite ponderosa.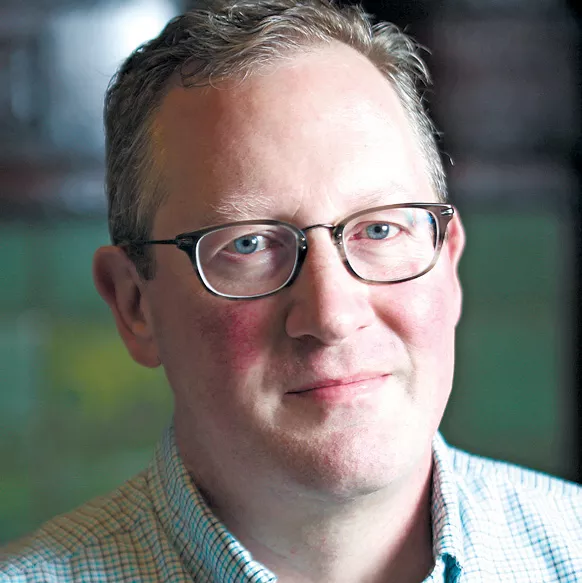 "Yeah, I've got a couple," Jack laughed when I asked him about it.
I know, talking ponderosa pines — pretty nerdy stuff. But I have a favorite, too, right on the upper, natural part of Lincoln Park, just as you walk around the south leg of the loop. It's tall, perfectly symmetrical and bursting with sharp, green needles in every direction. To me, it's a symbol of the Inland Northwest — a little prickly, sure, but built to survive ice, heat, even wildfire.
Jack brought up a 350-year-old specimen he likes on the High Drive bluff, and that got me remembering the bluff, and being a kid and how cool it was to have that escape just a few blocks from my lower South Hill home — hiking down the hillside, checking out the giant anthills, wandering along Hangman Creek for hours.
Lincoln Park, near where my wife and I lived for our first decade back in Spokane, is special, too. We loved walking Jake, our lab, up on top. He could never resist a jump in the pond. That beautiful parcel, with amazing views, was donated to Spokane by the Huttons, who lived just down on 17th. Now it's a park we all enjoy.
I put my name in for consideration to join the Spokane Park Board recently, and that got the memories flowing — playing on the swings with my grandma Alice at Coeur d'Alene Park in Browne's Addition, climbing up the basalt faces of Cliff Park, ice skating at Cannon Hill, trying (unsuccessfully) to catch turtles on the edge of the pond at Manito Park. Then, for the past couple of years, working along with a group of fellow citizens to envision the next chapter in Riverfront Park.
I was confirmed as a volunteer member of the Park Board this week. I will keep this work separate from my day job here at the Inlander, and I thank my staff, and my partner and brother Jer, for allowing me to devote this time to our city. To me, the mission is profound. I'm excited to join with fellow citizens already serving on the board, especially to help follow through on the vision for Riverfront Park that our community has embraced. ♦