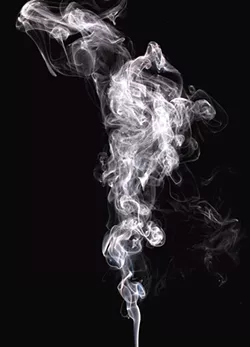 In October, not long after she dropped her son off at Mary Walker High School, Sheila Goforth got a call. It was the school. Her son was being kicked out, she was told, because he reeked of marijuana.
Goforth rushed back to the school, located about 40 miles northwest of Spokane, and picked up her son. She expected the smell to fill up her car, but it didn't. She couldn't smell anything, she says, and her son insisted he hadn't smoked.
She went back into the principal's office, demanding some proof. It was only anecdotal: He was acting high, they said. It smelled so strong that they had to spray the room, they said. He was suspended and missed a week's worth of school, Goforth says.
"To me, it's wrong to be kicking kids out for smelling like weed," Goforth says.
Still, schools in Spokane and across Washington have been known to suspend or expel kids for just that, even with no other evidence that the student actually had smoked. Just last year, the smell of weed on one of Goforth's other sons led to his expulsion. A couple of years ago, two girls, who were juniors at Mary Walker High School, were suspended after another student on a bus said they smelled like weed, according to their father. (Mary Walker school officials did not return multiple calls seeking comment.)
At Wenatchee High School in 2015, a ninth-grader was suspended for five days for smelling like a marijuana plant, even though his mother explained that he smelled that way because she legally grew marijuana in the home. When challenged about the policy, one Wenatchee school official reportedly said, "We decided to err on the side of caution."
For schools, that balance has been complicated by marijuana legalization in Washington state. Cannabis remains illegal for anyone under 21, and schools are obviously dedicated to maintaining a drug-free environment. Yet the legalization of the drug means students may have a legitimate excuse for emitting the scent of marijuana; it's possible it came from home, or somewhere else.
"When we're talking about ruining somebody's education or incarcerating them," Goforth says, "you would hope they would have something a little harder to go on."
When Mark Sterk learned that marijuana was legalized for people 21 and older in Washington, he — like many others— was concerned about the effects on youth. But Sterk, Spokane Public Schools director of campus safety, says it hasn't been as bad as he thought.
"We feared it was going to be a bigger problem," Sterk says. "My sense is that it has not been."
In fact, data suggests marijuana in schools is less of a problem than before. Overall, Spokane Public Schools appears to be suspending fewer kids the last couple of years for marijuana than the two years immediately following weed hitting the legal market. Through 45 days this current school year, 49 students have been suspended or expelled for a marijuana incident. That's lower than the average of 75 students suspended on average through the first 45 days of the 2014-15 and 2015-16 school years.
Part of that is likely related to Spokane Public Schools' emphasis on reducing student suspensions and expulsions, overall. But students are still saying they use marijuana less than before. The latest Washington Healthy Youth Survey reports that teen pot use among Spokane students is the lowest it's been in at least a decade. (Statewide, the numbers were mostly unchanged.)
Campus resource officers don't respond to every marijuana incident. So far, Sterk says his campus resource officers dealt with students suspected of using or possessing marijuana 36 times this year. Some of those students had weed on them. Others, he says, "smelled of the drug and were exhibiting signs of intoxication."
"If there's odor, that's reasonable suspicion to believe that the kids are smoking marijuana, or may be in possession of marijuana on school grounds," Sterk says.
That frequently results in a search, in which the school finds drug paraphernalia on the student. Sterk says students usually aren't arrested, unless it's a repeated offense. But even from just the odor combined with other signs, administration could suspend a student.
Nathan Olson, spokesman for the Washington Office of the Superintendent of Public Instruction, says the state agency doesn't dictate if it was appropriate or inappropriate to suspend a student because an administrator smelled marijuana. Districts, however, must have due process procedures available for parents to appeal a suspension.
Legalization of marijuana in Washington didn't really change anything for schools in Washington, Olson says. It's still illegal for minors, "no different than any other drug," he says.
But would a school suspend a student for smelling like, say, cigarette smoke? Vanessa Hernandez, youth policy director for ACLU of Washington, isn't so sure.
"I think, for most schools, the standard on tobacco usage is different than marijuana," she says.
Goforth doesn't have many good recommendations for what a school should do if a teacher or administrator smells weed in a classroom. She remembers the principal at Mary Walker asking her that very thing.
"That's a tough question," she says.
She says she doesn't want to come off like she supports teens using marijuana. If one of her kids is caught with a pipe or weed, she doesn't fight it. She only asks that there's enough proof before someone is disciplined. While Goforth doesn't smoke herself, she sympathizes with the kids who show up to school smelling like weed because of something their parents did, legally.
Rosey Thurman, a staff attorney for Spokane Team Child, a youth legal advocacy organization, says she hears about that happening in Spokane frequently — though less often recently.
"In this day and age, with marijuana being legal and adults being able to smoke it, how can you really say sniffing is enough?" Thurman says.
Hernandez thinks schools should use the opportunity to educate kids about marijuana and its effects on their developing brains. Schools can talk to a kid about marijuana and its effects, much like they already do with tobacco, she says.
"Obviously we don't want young people using or abusing marijuana," she says. "But suspending or expelling them from school doesn't address that issue. It doesn't prevent marijuana use."
Goforth says she's glad that this time, her son wasn't completely kicked out of school for smelling like marijuana.
"He really doesn't want to leave school," she says. "He wants his diploma." ♦