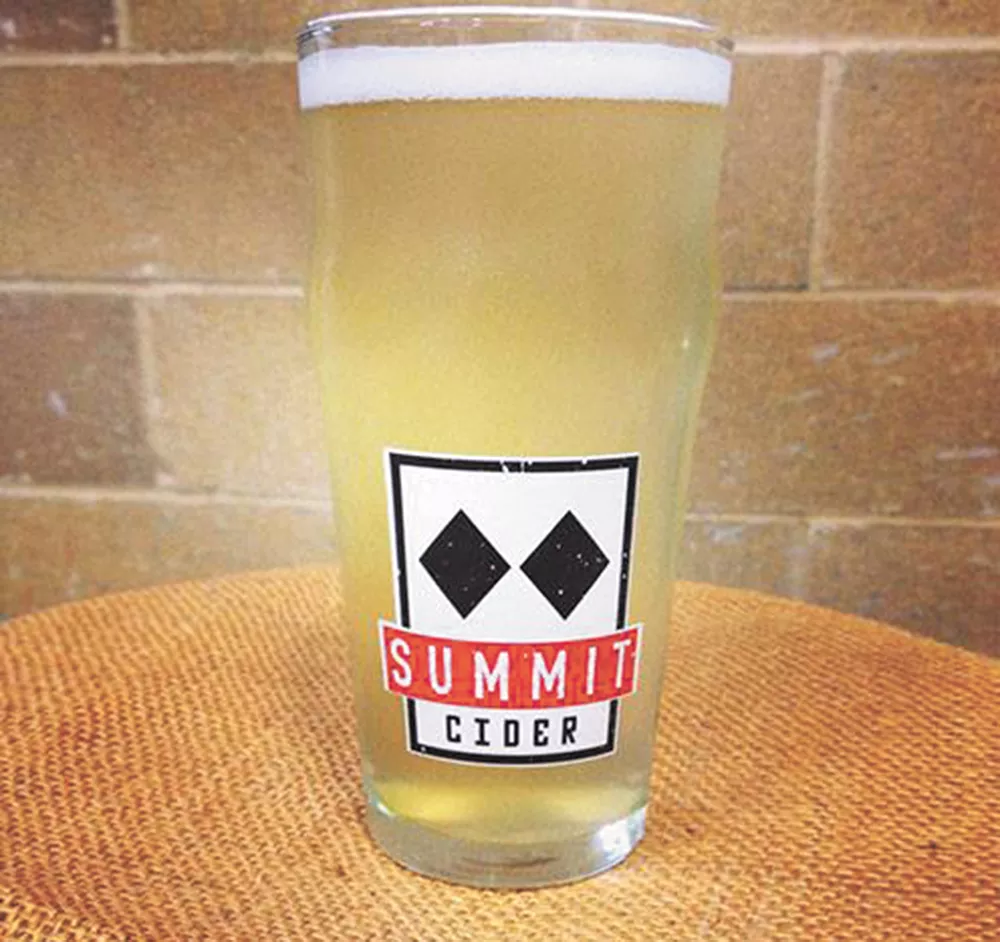 Even though they're not at the apex of their journey, Summit Cider's Davon Sjostrom and Jason Fletcher are well on their way.
Already, Slate Creek Brewing, Capone's (downtown Coeur d'Alene and Hayden), Bardenay, Downdraft Brewing, 315 Martinis and Tapas, Paragon Brewing, Pucci's and Taps (both at Schweitzer), Syringa Japanese Café & Sushi Bar and Daft Badger Brewing carry Summit Cider.
The only place you couldn't get Summit Cider — until recently — was, oddly enough, Summit Cider. That's because the swarm for their Corduroy and Fall Line ciders left little time for finishing the tasting room. Still smelling of fresh paint, the industrial park location (adjacent to Coeur d'Alene Cellars) seats 15 to 20 people with a view to operations.
What makes Summit Cider unique is its hybridization of beverage benefits. It combines the brighter flavors of wine with the quenching mouthfeel of carbonation.
"Our process is just like wine, but we carbonate it," says Sjostrom, who shares a science background with Fletcher. Sjostrom graduated from the University of Idaho with a degree in plant sciences, and Fletcher was an environmental science major at Sonoma State University in California.
Fletcher hears that beer brewers equate their process to being a chef. Making cider, by comparison, "is like being a chemist," he says. The duo even refers to their kitchen as the laboratory.
Unlike a brewery with multiple tanks and yards of pipes, their cider involves two tanks. One contains a fresh-pressed blend of five varietals from Wenatchee and Yakima apple growers. The other tanks are the fermenters, and — who says science guys can't be sentimental? — each is named after the owners' grandmothers: Beverly (Sjostrom) and Margaret (Fletcher).
Sjostrom, who has been gluten-free for five years, hated what was on the market. He tried cider, but found commercial brands high in sugar, which obscured taste. In one bottle of Angry Orchard, for example, there are 24 grams of sugar (and 210 calories). By comparison, says Sjostrom, their cider has about 4 to 5 grams.
"What most people are doing is all these crazy flavors," he says. "What we want to do is cider that's just cider." ♦
Summit Cider • 3884 N. Schreiber Way, #201, Coeur d'Alene • Open Thu-Sat, 4-10 pm • facebook.com/summitcider • 208-590-7475