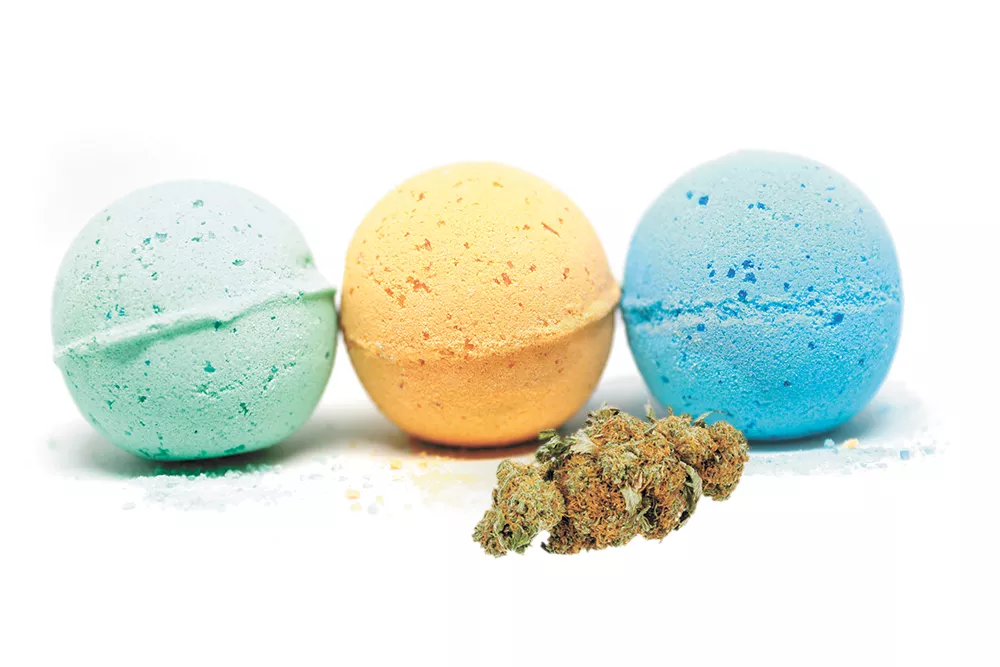 We've come a long way since the olden days before legalization, when basically the only product on the market was the flower you got from a dealer. There are now countless crazy ways to consume cannabis, some of which are so far removed from the original plant that it feels weird to say they're weed products.
Here are three available locally for those who want to try something new.
Bath Bombs
After a long, stressful day at work, almost nothing is better than relaxing with candles and a hot bath, especially when you put some weed in your bathwater.
Satori on the South Hill sells Honu brand bath bombs that are just like the fizzy, colorful and scented ones you'd find at, say, Bed Bath & Beyond. Except, of course, these ones don't stop at Lavender, Hibiscus or Oatmeal Mint. They've got 100 milligrams of THC in there, too.
Like THC- or CBD-infused creams or salves, these products are meant to help ease pain and inflammation. Unlike the creams and salves, though, a bath bomb is able to surround your entire body with relaxation-inducing THC. It takes the spa-like feel of a traditional, essential oil-infused bath bomb and kicks it up a notch without actually getting you high.
Herbal Supplements
If you're looking to combine the naturopathic aspects of cannabis with the traditional medical staple of taking pills, Greenhand on Monroe has you covered.
Fairwinds AM Relief Capsules are formulated with a mix of 7 milligrams of CBD, 5 milligrams of THCA and 2 milligrams of THC designed to amplify the therapeutic effects of CBD without giving users an overwhelming high. They also contain herbs like boswellia, turmeric and willow bark that have long been used in folk and naturopathic medicine.
Transdermal Patches
At this point, I shouldn't be surprised by any new method of cannabis consumption I find on the market. Honestly, though, I was rather shocked when I first came across this product from Mary's Medicinals at Royal's Cannabis.
As I looked into it, however, it didn't take long to realize this novel product is actually quite smart.
Transdermal patches have long been used for smoking cessation and birth control because of their ability to slowly deliver a controlled dosage over a long period of time. Mary's Medicinals applied that to the therapeutic use of cannabinoids. These patches deliver 14.1 milligrams of CBD and 0.92 milligrams of THC over an extended period of 10-12 hours. ♦