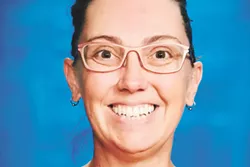 Class of 2020: I want to share a few thoughts with you on your unique graduation.
For a number of years, when educators have talked about preparing you for your future, a common refrain in our conversations was that you need to be ready for jobs, careers, and activities that we haven't even conceived of yet. We wanted to give you resiliency skills that could transfer to many different jobs.
This was a mighty task for any number of reasons. It's difficult for us as adults to imagine the unimaginable.
I do not know what opportunity or growth will come of this truly unprecedented experience. Certainly, I do not fully know what it has taken from any person. But what I do know is that this spring is one of those inconceivable futures that we've been trying to prepare you for.
In addition to all the other changes to life, work, and travel, the final events of senior year of high school have lived in limbo, been completely canceled, or altered almost unrecognizably. I have spoken to many seniors in the past several weeks and I can feel their anxiety, frustration, sorrow. You have lost many of the fun and important moments that mark this rite of passage.
The transition you are making from high school to college, from childhood to adulthood, is one in which the transition period has been stretched out and has become far more disorienting than these transitions usually are. This disruption of normal life, disruption of the scripts for what comes next, breaks complacency.
However, I am certain that the COVID-19 global pandemic has given something to you as well. This is a very bold statement, I know, but hear me out.
Social complacency is much like consistency, of which Ralph Waldo Emerson said, "A foolish consistency is the hobgoblin of little minds, adored by little statesmen and philosophers and divines." I would never, ever have wished this opportunity for personal growth on you, for it is similar to other shifts in life that you shouldn't have to face for many, many years. But now that you are here, welcome to the start of navigating adult life.
The adults all around you are trying quite hard to find our way through to the other side of this uncertainty. You are seeing the ways that society itself shifts and recovers from dramatic events. You have probably seen some of the ways we get in our own way. You've seen how we get in each other's way. You've seen how we've revived old rivalries and repeated misunderstandings instead of seeking out a common humanity.
Just like I don't know exactly what COVID-19 has taken away from your graduation, I can never fully know what it might give to any of you. You'll have to learn how to be resilient, to cultivate the skills necessary to thrive in this time of uncertainty and change. Thinking about the very imperfect adult world you are entering, it is your unique gifts that make me certain that, just by being who you are, you are making this world a better place.
You are so deeply loved and passionately admired, graduates of the class of 2020. It has been an honor and a privilege to have taught your peers and I look forward to the unique mark you will each make on this world! ♦