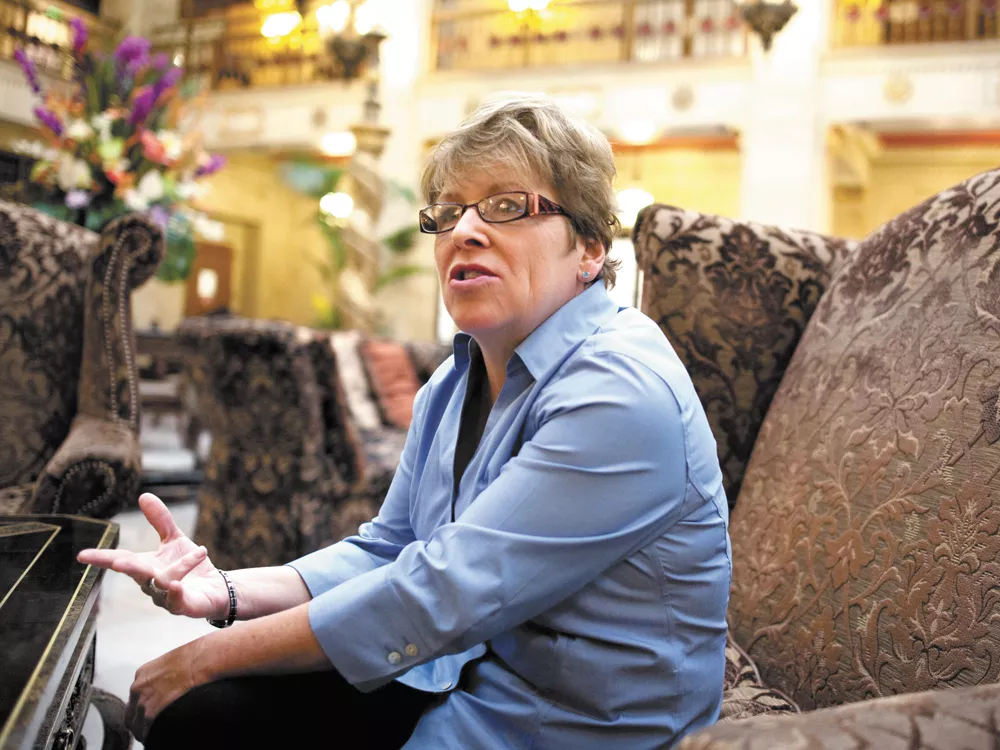 Despite her opting not to run for re-election this year, it's safe to say Democratic Majority Leader Sen. Lisa Brown is keeping busy. In fact, Brown is about to meet with some Gonzaga University students — she teaches there — about a leadership trip she took with them to Zambia earlier this year. That's not her only recent jaunt to a far-flung locale. Brown — who was first elected to the Washington House in 1992 and the Senate in 1996 — also spent time in Azerbaijan, a former part of the Soviet Union, for a women's leadership conference.
But right now, Brown, 56, is sitting in a plush chair in the Davenport Hotel and talking not about her future, but the state's. She agrees with outgoing Gov. Chris Gregoire's assessment that neither Democrat Jay Inslee nor Republican Rob McKenna has a serious plan to balance the state's budget.
"I think the challenge is going to be a lot more difficult that even the two gubernatorial candidates realize, just because of the hard work that has already gone" into cutting the budget in previous years, Brown says.
"It's hard to convince people of that if they haven't been through the process," she adds.
The next governor must contend with a projected non-education spending shortfall of $1 billion for the 2013-to-2015 budget. And the state Supreme Court earlier this year directed the Legislature to spend more money on education, which some estimates say would cost between $500,000 and $2 million more per year.
"The demands on state governments, the things people want and need, have expanded, and the resources that we give to state government have basically stagnated, or even declined in relationship to the economy," Brown says.
"We have a very unique and unequal and frankly disastrous tax structure," she adds, rattling off each component.
For one, Brown says, there's the fact that Washington doesn't have a statewide income tax. There's the widely accepted belief that the state's tax on corporations punishes small businesses. And there's the fact that Washington has one of the highest sales taxes in the country, which hits low-income people harder than others.
"But to change a tax structure, you don't do it by just making these little marginal changes, like closing loopholes here and there," she says.
While these problems aren't new, Brown says something like a grand bargain is needed. Democrats and Republicans — spurred on by a governor and community and business leaders — would have to get together to fix several of these problems at once.
Instead, the outgoing majority leader would like to see an income tax on people earning a lot of money, like $250,000 or $500,000 per year.
"It would be a flat 1 or 2 percent of their income," she says, adding it would be dedicated to funding education. Brown says a grand bargain could also end up lowering the sales tax.
But last year's legislative session wasn't exactly the blueprint for a bipartisan love-in. Three centrist Democrats at one point switched over and supported a Republican budget bill. While Brown says the outcome of the budget wasn't bad, she was disappointed by her fellow party members.
In fact, she met with Sen. Jim Kastama that very morning, talking about one of the bills he was most interested in and talking about they could work on it, Brown says. Kastama was one of the Democrats who switched in favor of the Republican bill later that day.
"I was disappointed, for sure," she says.
What does the outgoing legislator view as unfinished business?
Brown says she would have liked to make paid family leave — which passed in 2007, but was never funded — become a reality. That law would have paid workers $250 each week up to five weeks to take leave from their jobs to care for a seriously ill family member or a new child. It would have been funded by a 2-penny tax on employees.
"I think there's ... this missed opportunity when it comes to support for working families in general," she says, adding it would create more stability for children in low-income working families.
What will Brown do next? She says she has some options to explore, but adds that she wouldn't want to take a position working for the state under Democrat Inslee — at least not right away. After years of being so involved in the political process, Brown says she might end up more a frustrated "backseat driver."
"I think I need to take a little time off," she says.