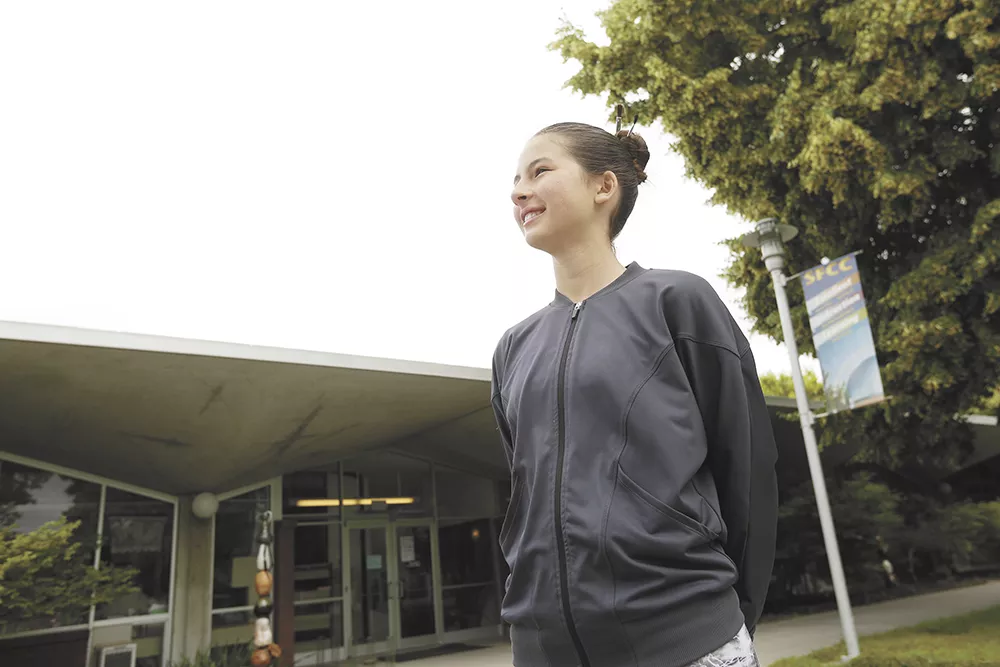 Malika Halvorson has it all figured out. First, she'll attend Spokane Falls Community College. Then she'll transfer to the Art Institute in Seattle. After graduating, she'll move to Japan to teach English and earn her Master's degree, so that one day she can realize her dream of producing comics and cartoons.
There's just one problem: She's 12.
Malika is a prodigy. That's something her mom, Melissa Halvorson, knew ever since Malika could count to 20 in three languages at 18 months old. And Malika learned how gifted she was as soon as she started school.
"Whenever I was in school, I would always catch on a lot faster than everybody else in my class," she says. "I would catch on to everything."
So quickly, in fact, that seemingly no school in Spokane has been able to keep up. Now, after feeling bored and unchallenged everywhere she goes — either public, private, or homeschool — Malika wants to test her limits in college.
But while she feels ready to attend college, the college may not be ready for her.
Malika tried to register for classes at Spokane Falls Community College but was turned down, even though she scored high marks in the math portion of the placement test and nearly perfectly in the English portion. There is no age limit for enrollment in Washington community colleges. To be considered, underage students must have authorization from their school district, which Malika has. But she also must be approved for admission by the school, and thus far SFCC has not felt comfortable allowing a 12-year-old on campus.
It's a rare situation with seemingly no easy answers. And as Malika and her mom figure out where to go from here, local schools and community colleges are reconsidering how best to handle young prodigies.
"They want her to fit into a category that she doesn't exactly fit into," says Melissa Halvorson. "But then what? Is she gonna get bored? I don't want to see her throw her dreams away, which I don't think she would do. But what happens if she has to sit around? What would a 20-year-old do if they couldn't pursue something they wanted to pursue?"
In their home in west Spokane, Malika shows off a watercolor painting she made in between art classes in school. Next, she pulls out her book of anime drawings, Japanese-style animation.
"I just really enjoy the feeling that you can see in all of the characters. When you draw something, you really put your feeling into it," she says. "I like seeing how they come out, and the emotions that they hold."
When she's not drawing, she's usually reading. She finishes at least five books a week. Sara Devins, a former longtime teacher at Hutton Elementary who taught Malika the final three weeks of sixth grade as a substitute, says she formed a bond with Malika after discussing books with her. Devins would recommend a novel, and they would go over the material while other kids were at recess.
"Malika was very sophisticated, and she grasped concepts and subtexts," Devins says. "I found her to be energized and excited about learning — unusually so."
In elementary school, Malika wanted to skip grades, but school officials advised against it. Instead, she would ask teachers from those higher grades to give her extra homework.
Debra DeWitt, principal at Libby Center, which is home to multiple programs for gifted students in Spokane Public Schools, says she noticed that the district was reluctant to let kids skip grades when she started working for SPS a couple of years ago.
"When I brought it up, I received gasps, like 'We don't do that!" DeWitt says. "It's very common in many other places, it's just not a practice that's happened here very often."
Malika has checked out programs for gifted students in Spokane Public Schools, but none fit her, she says. Now she is being homeschooled by her mom, herself a single mother of two children pursuing a college degree.
"There's a lot of bright kids out there. There's a lot of intelligent kids," Melissa says. "But I feel like there's a different level of motivation [with Malika] — she has goals and dreams and she's willing to pursue and work towards things."
What's always been unique about Malika, her mom says, is how she always wanted to share her knowledge with other kids at a young age. She was always teaching, always trying to help her friends. That spirit — along with a fascination with Japanese culture — is what motivates Malika to teach English in Japan and try earn her Master's by the time she turns 21.
But she'll have to get into college first.
The decision whether to admit Malika into SFCC ultimately is in the hands of Darren Pitcher, SFCC vice president of student services. He points out that there are other things to consider when it comes to a 12-year-old going to college, including that child's safety on an open-access campus.
"We just don't treat our student body like a K-12 school does," he says. "I need to make sure this student has a certain maturity level, to make sure this student can handle themselves in a variety of situations."
Glen Cosby, VP of student services at SCC, says it would be difficult for him to conceive a situation in which a 12-year-old takes college courses on campus. An exception would more likely be made for a math prodigy who has exhausted all the math curricula in high school.
"College is intended for adults," Cosby says. "Material covered in classes can sometimes deal with ideas or topics not suitable for children. It might be traumatizing for a person who, developmentally, is not in that stage of life."
Community Colleges of Spokane is now considering updating its policy so that an underage student must fill out a form outlining their educational goals. They would also need include a letter of recommendation with their application. (Pitcher says this potential policy update was not in response to Malika.)
DeWitt, with Spokane Public Schools, says that even though she has never seen a student Malika's age attend college in Spokane, it is more common in other states. It can be done, she says, as long as everyone is careful.
"This is just something that has to be really carefully monitored if this student does end up going to SCC or SFCC," DeWitt says.
Devins, the former Hutton Elementary teacher, says the social situation for young students wanting to go to college should certainly be considered. But if enthusiasm is any indicator, then she says Malika could handle college material.
"If someone's excited and wants to learn and feels like they can," she says, "why would you stop them if they are competent and capable of doing the work?"
Even though Malika wasn't able to take college courses this summer as she had hoped, she won't let the summer go to waste. There's more learning to do. She and her mom are taking an online math course together.
Pitcher, as of press time, says he will continue to work with Malika and her mother on the best option for her, and he is still considering her application. Although he initially said he could not envision a 12-year-old on a college campus, he says that many questions he had regarding her maturity and plan of action were answered when he met with Malika last week. The situation is not cut and dry, he said.
Malika is not interested in returning to a classroom with people her own age.
"I don't want to do that," she says. "I want to advance further." ♦