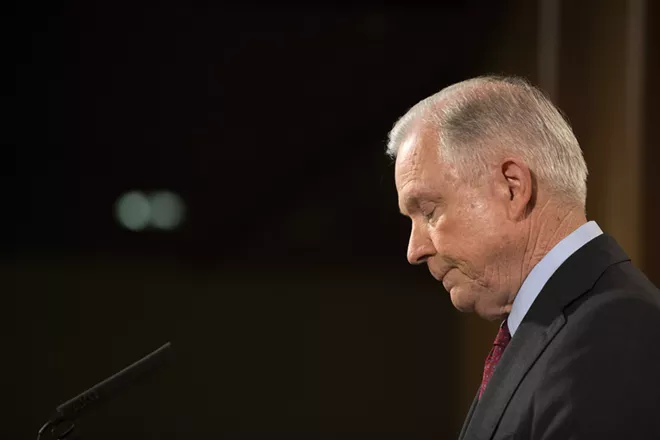 By EILEEN SULLIVAN
© 2017 New York Times News Service
WASHINGTON — President Donald Trump continued his attacks on Attorney General Jeff Sessions on Tuesday, reviving his campaign call to investigate Hillary Clinton's "crimes" as he slammed Sessions' inaction.
His two early morning tweets were the latest in a string of attacks on Sessions that began when he told The New York Times in an interview that he
never would
have appointed Sessions to be attorney general if he had known he would recuse himself from the Justice Department's investigation into the Trump campaign's ties with Russia. The recusal was the first in a series of steps that led to the appointment of a special counsel to oversee that investigation.
One of Trump's top advisers acknowledged that the president likely wanted Sessions out of the attorney general's office.
The adviser, Anthony Scaramucci, hired last week as White House communications director, said he did not want to speak for Trump, but given the level of public tension between the president and his attorney general, it's "probably right" that Trump wants him out of that job.
"He's obviously frustrated," Scaramucci said in an interview with the conservative radio host Hugh Hewitt.
On Monday, Trump called Sessions "beleaguered" in a tweet, raising questions about whether Sessions would resign. Sessions, one of Trump's earliest campaign supporters, has previously shown no indication that he was considering resigning.
Trump was critical Tuesday about what he called Sessions' "VERY weak position" on an investigation into Clinton's use of a private computer server. The FBI investigated and closed the inquiry without charges in 2016.
Scaramucci told CNN on Monday that Sessions and the president needed to "sit down, face to face, and have a reconciliation and a discussion of the future."
If Sessions were to resign or be fired, Trump could appoint a successor during the congressional recess who would not face Senate inquiries into his or her position on recusal and could take over, at least temporarily, without a confirmation vote. That could allow the president to assert greater control over the special counsel investigation into his campaign's contacts with Russia.
In another tweet Tuesday, Trump attacked the acting FBI director, Andrew McCabe, for what Trump described as his role in the investigation into Clinton's computer use.
In criticizing McCabe, Trump revived reports that McCabe's wife accepted contributions from a longtime Clinton supporter in her bid for a Virginia state Senate seat.