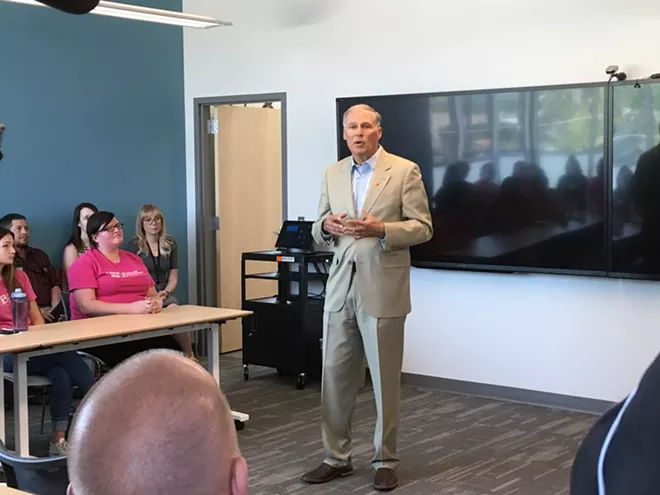 T
he Department of Health and Human Services
today issued its
final rule
changing the way that clinics receiving federal Title X money may operate.
Opponents to the changes say it is effectively a "domestic gag rule" that will harm patients, as it will limit doctors' abilities to refer their patients for abortions, and no longer require that doctors give their patients information about all their medical options. Globally, the gag rule has prevented billions of dollars in U.S. aid from going to nongovernmental organizations that use outside money to provide abortions or referrals for abortions.
"This will leave people without health care. In Whitman County, like many rural counties in the U.S., Planned Parenthood health centers are the only places that provide uninsured people or people with low incomes the reproductive care they need," said Karl Eastlund, CEO of Planned Parenthood of Greater Washington and North Idaho, in a statement. "That means people who can't afford health care or can't find another reproductive health care provider will be left with nowhere to turn."
Title X is a program meant to prevent unintended pregnancies and promote reproductive health by providing low income patients with educational information, access to family planning methods such as birth control, screening for cancer and sexually transmitted infections and diseases, and more.
Under the new rule, doctors accepting Title X money won't be able to refer patients for an abortion elsewhere. Abortion is already not covered by any federal funding, but the Trump administration wanted to make the separation even stronger.
With the new rule also requiring physical separation (on top of currently required financial separation) between facilities that receive Title X money and those that perform abortion, thousands of patients in Washington could be impacted.
Back in September, we looked at the
potential impacts of the
then-proposed rule change. At that time, Lacy Fehrenbach with the Washington State Department of Health said that nearly 90 percent of Washington state's more than 91,000 Title X clients are served by providers or clinics that also provide abortion with non-Title X money.
"We have heard from our clinics that for most of them, meeting the physical separation requirement would be extraordinarily difficult," said Fehrenbach, director of Family and Community Health Improvement for DOH. "We expect many of them would drop out of the program if they were required to physically separate their programs. It could be hugely disruptive to our state if the draft rule goes forward as proposed."
Proponents of the rule change say that abortion isn't a valid form of health care or family planning, and HHS says the change "protects Title X health care providers so that they are not required to choose between participating in the program and violating their own consciences by providing abortion counseling and referral."
While doctors receiving Title X funding will be allowed to still provide nondirective abortion counseling if they choose to, medical professionals say that not providing patients with complete, medically accurate information is against medical ethics.
Gov. Jay Inslee has said he would have the state fill the Title X funding gap rather than have clinics stop offering services the way they have been.
"The president is directly interfering in the doctor-patient relationship. He is forcing doctors, nurses and community health centers to deny treatment referrals and fully legal medical services to their patients, whom they took an oath to serve. This is unacceptable and wrong," Inslee said in a statement Friday. "We are currently reviewing the final rule and evaluating our options. It is clear the Trump administration has given our state no choice but to explore all possible avenues, including legal options, to ensure all women have access to the family planning and healthcare services they need."
The rule change seems largely targeted at Planned Parenthood. Planned Parenthood of Greater Washington and North Idaho operates 11 clinics throughout Central and Eastern Washington, and Planned Parenthood health centers served 80 percent of the more than 82,000 Washington state contraceptive clients who received Title X services in 2015, according to a report compiled for a Washington State Senate committee in 2018.
While proponents for the rule change have claimed that other health clinics could pick up those patients, that's not true, according to the report and health officials.
To take on just the role of providing contraceptives to low-income people in Washington would require other clinics to increase their caseloads by more than 400 percent, the report concluded. That doesn't factor in cancer screenings, testing and treatment for sexually transmitted infections and diseases, or other preventative measures covered by Title X.
"Our experience and conversations with [Federally Qualified Health Centers] is they could not afford to take on those potentially 80,000 clients that receive services from a provider that uses non-Title X money to provide abortion," the Department of Health's Fehrenbach said in September.