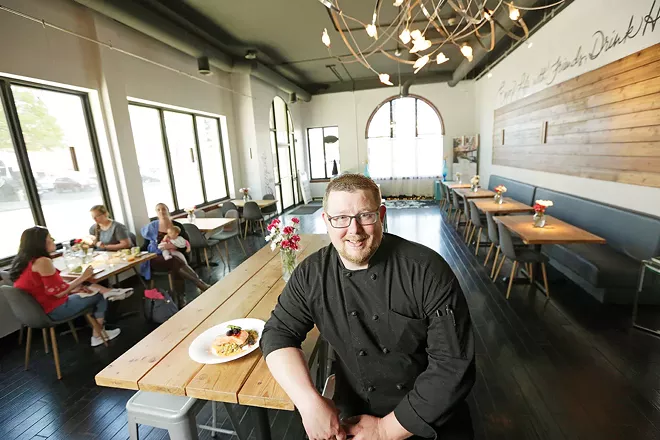 If you've attended a wedding, large party or corporate function in the Spokane regional area over the last three years, you've likely tried chef Steven Swanson's cooking but don't know it. That's because Swanson is a very low-key guy who has nonetheless earned his chops at some big name places, including Everett Golf and Country Club in Seattle and locally at Twigs Bistro and Martini Bar and the Coeur d'Alene Resort before joining Spokane's Nectar Catering and Events.
Swanson has been with Nectar since 2016 and is integral to Nectar's continued expansion, including Wine Wednesdays — a thematic lunch buffet and wine flight at Nectar's historic 1889 Stevens Street location.
"I'm excited to see chef Steven get the credit he deserves because he's such a humble man," says owner Josh Wade, who started Nectar Tasting Room in 2011 and has since rebranded to Nectar Catering and Events, with locations in downtown Spokane and Kendall Yards. A new spot in Spokane's Perry District will be opening later this year. All together, Wade says Nectar caters about 700 events a year, including 250 on-site at their Spokane locations.
Born in Arizona and raised in Newport, Washington, chef Swanson originally wanted to go into engineering. His grandmother was a chef, he says, and his father was a pretty good cook, so when Swanson got tired of working in a lumber mill and at other odd jobs, culinary school is what appealed to him.
"It teaches you the basics, and you get out of it what you put into it," says Swanson, who attended Spokane Community College, moved to Arizona and then ended up on Washington's west side, where he specialized in menu development, before returning home to Newport where he now lives.
Swanson says he's partial to barbecue and fried chicken, but also into experimenting with Spanish and Moroccan food. He chose to share a recipe that highlights local salmon and berries, with the unexpected addition of exotic flavor from harissa, a Tunisian spice blend that Swanson makes himself.
The biggest difficulty with fish for home cooks is overcooking, says Swanson. To get it right, he uses a thermometer when cooking fish for events. However, he notes that Nectar doesn't serve fish for off-site events, because even spending time in a warming oven can overcook the fish. So if you're preparing the recipe, plan to serve the salmon as soon as it is cooked. As for the salmon skin, Swanson is partial to leaving it on. "I think people are afraid of the skin. When it's seared properly, it's good." And while the beurre blanc sauce is an indulgence, "it sounds a lot more intimidating than it is." The acid in the wine helps cut the richness of the butter, while the harissa adds just the right little kick.
---
TRY IT YOURSELF
This complex-sounding and impressive-looking entree is surprisingly easy to prepare and perfect for a special dinner for two. Do-ahead tip: prep the berries and hash first, then start on the sauce, with a separate pan for the fish. Be ready to serve the meal when the fish is finished.
Seared Salmon
2 5-oz. portions salmon
Salt, pepper to taste
2 tablespoons olive oil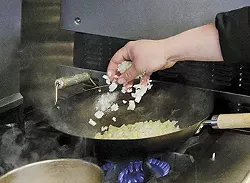 Season salmon with salt and pepper.

Heat medium sauté pan to medium high.

Add oil, followed by salmon with skin side up.

Sear for two minutes, flip and cook one minute longer.

Remove from heat and set aside.
Harissa Beurre Blanc
1 tablespoon diced shallots
6 oz. dry white wine
1 tablespoon harissa (Tunisian spice available at Yoke's or online)
1 lemon, zested
4 oz. butter, diced and kept cold
Add white wine, shallots, harissa and lemon zest to small pot set at medium heat. Reduce sauce by half.
Turn heat down and whisk in butter one cube at a time until each cube is dissolved. Do not let the sauce get too hot or it will separate or "break."
Add a splash of cream to help keep sauce from separating or if you need to keep it warm for any period of time.
Macerated Berries
6-8 blackberries (or 1/4 cup blueberries)
1/2 a vanilla bean
1 tablespoon sugar
Rinse blackberries with cold water and drain.
Slice vanilla bean lengthwise and scrape seeds into bowl.
Add berries and sugar lightly mash with the back of a fork to soften berries and release their juice. Set aside for plating.
Sweet Potato and Fennel Hash
6-8 ounces sweet potatoes, diced small
1 small fennel bulb, diced small
1 yellow onion, diced small
1/2 ounce basil, sliced thin (chiffonade)
2 tablespoons olive oil
To large sauté pan, add olive oil and heat to medium high.
When pan is hot (but not smoking) add fennel, cubed sweet potatoes and diced onion. Cook for four minutes stirring once or twice.
Remove from heat, season with salt and pepper to taste and toss in basil.
To serve: Scoop the hash onto a plate and place salmon skin side down on top. Top with beurre blanc followed by the macerated berries. Serves two.
SHARED BY CHEF STEVEN SWANSON,
NECTAR CATERING AND EVENTS