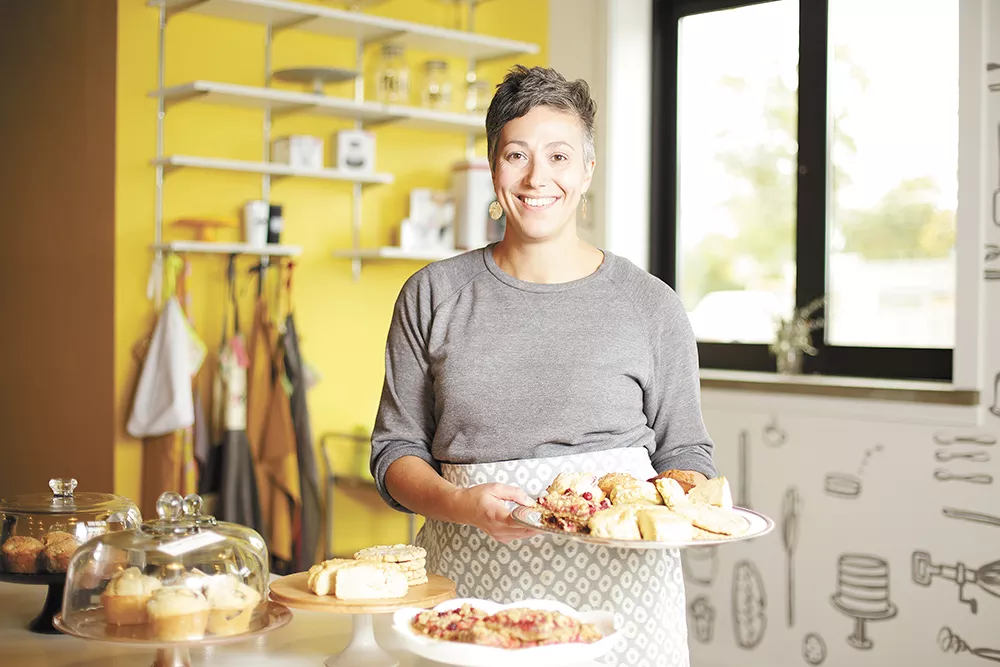 When Mika Maloney transitioned from a shared kitchen into her own space for Batch Bakeshop two years ago, she had a lot of ideas for using the building.
"I always wanted it to be this flexible space. I knew I would want to do classes and events," she says. "I was also interested in adding a retail component, a place for people to come in."
For the past two years, Batch has done the latter, but not the former. This month, that changed. Although Batch will continue in the current location, it will no longer keep regular storefront hours.
"Once we hit the two-year mark, I started to feel more confident in knowing what is and isn't important to me," says Maloney. "It was hard to be honest about this with myself because it sounds so darn cute, but having a storefront where people can come in on a regular basis and get a cup of coffee and a baked good sounds nice, but it's not a thing that I love, and so cutting back on that became pretty clearly the way to make room for other stuff that was more exciting and interesting."
Maloney is jumping into her new projects with both feet. The "Eat Dessert First" cookbook club, scheduled for the first Wednesday of the month, will mainly be a demonstration class, pulling out Maloney's favorite recipes, or ones that might be particularly challenging. The $60 class fee includes the cookbook (there are discounts for purchasing in quantities of six and 12 months).
Although the focus will be on desserts, half of the year's cookbooks will focus on baking (this year's selections include Genevieve Ko's Better Baking, Uri Scheft's Breaking Breads, and perhaps especially exciting for fans of The Great British Baking Show, former contestant Chetna Makan's The Cardamom Trail, among others). The other months will be more general cookbooks like Jessica Koslow's Everything I Want to Eat and Martha Stewart's Vegetables. Maloney is planning to offer an online community to alumni from the classes, where they can troubleshoot recipes and share successes.
For those who want to get even cozier with the kitchen, Maloney is planning six hands-on workshops for the year, focused around somewhat seasonal themes. On January 9, she kicks them off with a "healthy snacks and power treats" class that will cover date and nut energy bites, chocolate-coconut truffles, honey cayenne turmeric syrup and carrot-apple bran muffins. Other classes this year will focus on brunch, decorating cakes with natural materials, fruitcakes, pie crusts and edible gifts. Each hands-on class will run you approximately $40, and participants will leave with a big batch of whatever they make in the class.
Although food is an important passion in Maloney's life, she's also hoping to tap into her interests in art and crafting for some evening workshops.
"I have this Pinterest board of stuff I want to make that should be easily accomplished projects, but I never get to do any of them," she says. "I want to attend a class where I'm spending 30 or 40 bucks and I get a kit of stuff that's ready for me to make. I think there's some appeal, similar to painting and wine classes, in that it's a creative outlet and a different way to go out with friends."
Maloney will facilitate some of the classes (Easter baskets, herbal-infused oils and smudge sticks are already on the calendar) and will also invite other experts to lead workshops. While she's hoping to be able to serve alcohol in the next year (and make it a component of her classes), she also wants to make sure some classes are alcohol-free, to give people an enjoyable environment that isn't focused on drinking. Although the storefront is no longer open, Maloney doesn't see that as a failure.
"I do feel like people might interpret this as this big thing, but for me there were all these different things that we were trying and doing, and this was never meant to be the big focus," she says. "For me, closing that aspect of it to free up more capacity for the other things doesn't feel like a loss." ♦
Register for Batch's classes and workshops at batch-bakeshop.com/classes.