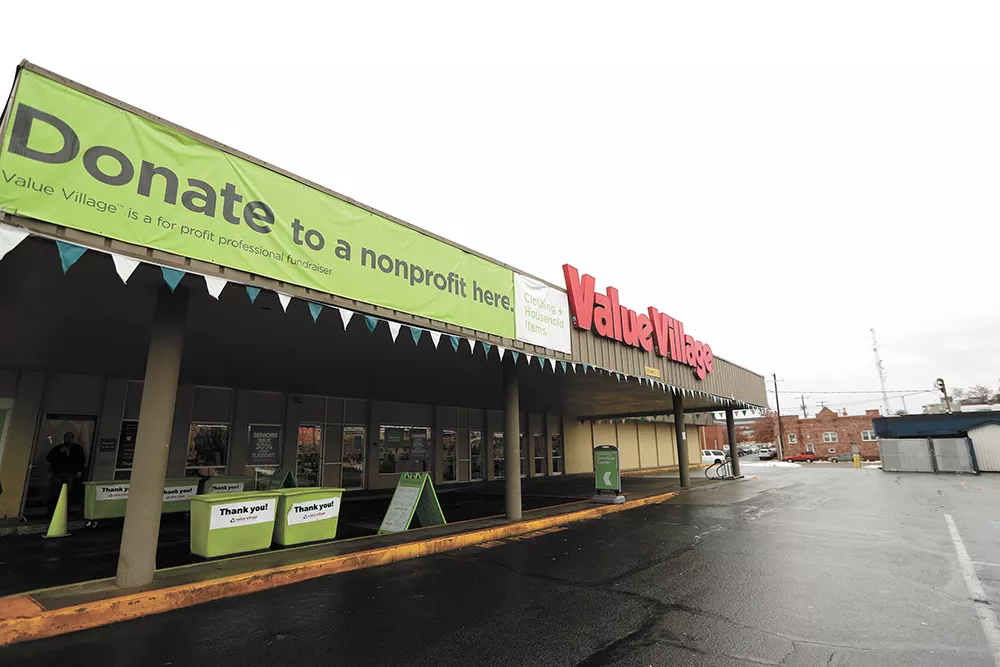 On a recent Friday afternoon, the Value Village thrift store on Boone Avenue in Spokane is hopping. A steady stream of drivers offload donations from their cars while customers comb clothing racks and shelves of appliances for potential deals. Outside, on the store's facade, a massive green sign features giant text stating "Donate to a nonprofit here," while interior signage nudges customers to "tidy up" their homes by donating to the store. In return, customers can "feel pretty (dang) good about" their deed, the signage declares. The store feels like a Goodwill and peddles do-gooder vibes left and right.
But, unlike Goodwill, Value Village isn't a nonprofit. It's a for-profit business that rakes in an estimated $1 billion annually and was sued in 2017 by Washington state Attorney General Bob Ferguson, who alleged the company used deceptive marketing. And last November, a King County Superior Court judge agreed with Ferguson, ruling that Value Village and the Bellevue-based company that owns it, TVI Inc., misled the public by giving the impression that the business is a nonprofit and that in-store purchases benefit charities.
Value Village is appealing the ruling. But outside of the Value Village on Boone last week, shoppers were surprised to hear both about the lawsuit and the thrift store's business model — anecdotal evidence seemingly supporting the judge's conclusion in the case.
"I assumed that when I shopped here, it was going towards work programs, housing programs, all kinds of social assistance," says 36-year-old Bryn Kimberly, adding that she has been going to Value Village "forever."
When asked if she thinks Value Village's marketing is deceptive, she says "yeah!" and points to the "Donate to a nonprofit here" sign above the store's entrance.
"You assume [purchases are] going to help people in the community," Kimberly says.
Her sentiment basically sums up much of Ferguson's argument in the original lawsuit. In the original 37-page filing, the attorney general calls out Value Village for "hiding its for-profit status behind a veneer of charitable goodwill," slamming its marketing and advertising practices as "deceptive" and misleading.
The company, which operates 20 stores in Washington state and 330 stores worldwide, sources its retail products "almost exclusively" from solicited donations accepted on behalf of one of Value Village's contracted "charity partners," such as Northwest Center and Big Brothers Big Sisters of Puget Sound, who are currently paid at a per-pound rate for said donations. However, despite advertising claiming that Value Village paid its charity partners every time customers donated, the company "paid nothing for a large sub-set of non-clothing donations" like furniture until 2016, the lawsuit claims.
"For years, well-intentioned donors in Washington and elsewhere believed that their donations provided a financial benefit to charities, when in reality, they did not," the lawsuit alleges.
While Value Village has since changed its contracts in Washington state so it also pays charities for hard goods like furniture, the sums were still fairly meager. A 2015 contract with Big Brothers Big Sisters of Puget Sound pegged the payment rate at roughly 4 cents per pound of soft goods and 2 cents per pound of furniture and other large items, according to a 2017 news release from the Attorney General's office.
Additionally, the lawsuit claims that Value Village's "deceptive advertising" — like its in-store announcements and store signage — creates an impression that products bought at their stores "resulted in a charitable benefit" to other organizations. But Value Village's charity partners don't receive any money from in-store purchases. Value Village keeps all of it.
The lawsuit goes on to cite a state-commissioned consumer survey that found that three-quarters of individuals who had either shopped or donated at Value Village or were thinking about doing so believed that the company was a charity or nonprofit.
"By creating the deceptive net impression that Value Village itself is a charity or nonprofit and/or that purchases and donations significantly benefit its charity partners, Value Village downplays its for-profit status," the filing reads.
In his November 2019 ruling, King County Superior Court Judge Roger Rogoff upheld the allegation that Value Village created the "deceptive" impression that it is a nonprofit through its own "'do-good, feel-good' descriptions of its own business operations" and its "constant conflating of itself with the charity suppliers with whom it contracted for supplies of used goods to sell in its stores." Rogoff also found that said marketing created the perception that in-store purchases benefited charities.
"By inundating consumer[s] with its connection to charities without clear explanation of its position as a business who gave nothing to charities, TVI Inc. was deceptive," Rogoff writes.
Additionally, the state won its claim that two Value Village stores in the Spokane area falsely advertised that donations to those stores benefited the Rypien Foundation — a Spokane-based nonprofit that serves families dealing with childhood cancer — between 2014 and 2015. In fact, Value Village strictly had an arrangement with Rypien to pay them a flat fee of $4,000 per month to use its charity logo during that time period.
Rich Medway, Value Village's general counsel and chief compliance officer, writes in a statement that the company will appeal the counts they lost on. (The company ultimately beat the state on four out of seven total claims, such as an allegation that they created the perception that only certain charities were benefitting.) A motion filed by the company in the state court of appeals on Jan. 7, 2020, argues that Value Village is protected by the First Amendment, stating: "Representations about charitable solicitations are fully protected speech."
"Value Village won the majority of claims in this misguided lawsuit, and we have been fully transparent with customers about our relationship with our nonprofit partners," Medway writes. "We are appealing the court's ruling with respect to the other claims, which hinges on a handful of signs we voluntarily removed from our stores years ago."
When asked by the Inlander for more specifics about the changes to Value Village's signage referenced in Medway's statement, company spokeswoman Sara Gaugl sent a written response vigorously defending the company's marketing practices.
"Our stores have signage that has always clearly explained our business model for customers and Value Village has always been transparent in describing our model in our marketing campaigns," she writes. "Like most businesses, we are constantly updating our signs in our stores. The court did not find any consumers who were deceived by any signage. We have a unique business model we are proud of, and we take every effort to explain it."
Laura Smith, legal director at Truth in Advertising, a Connecticut-based nonprofit advocacy organization, says that the lawsuit and the recent ruling hinge on "net impression theory," a concept adopted by the Federal Trade Commission that says advertisers are responsible for both literal and implied messages in a given ad, all of which compose the "net impression."
"The courts and the regulators will look at the impression made by the advertising as a whole," she says. "[Value Village] seems to be quite sophisticated in their marketing. It's an example of how advertising can be literally true but still deceptive.
"There seems to be no question that they were involved in deceptive marketing," Smith adds. "This is clear-cut deception."
The 2017 lawsuit isn't the first time Value Village has tussled with state officials in Washington and elsewhere. In 2014, after pressure from state officials, Value Village finally formally registered as a for-profit fundraiser in Washington state, forcing it to disclose certain internal records. A year later in 2015, the Minnesota Attorney General sued the company over similar allegations of consumer deception, resulting in an eventual $1.8 million settlement.
Back at the Value Village store on Boone, Bonni Barcus, 62, says that she didn't know about Value Village's business model or its legal battle with state officials. And the new information is going to make her think twice about shopping at Value Village.
"It'll color my world. I'll start going to Union Gospel Mission because I like them, too. I know 100 percent of their stuff goes back to the community," she says, adding, "That's what I thought was going on here." ♦