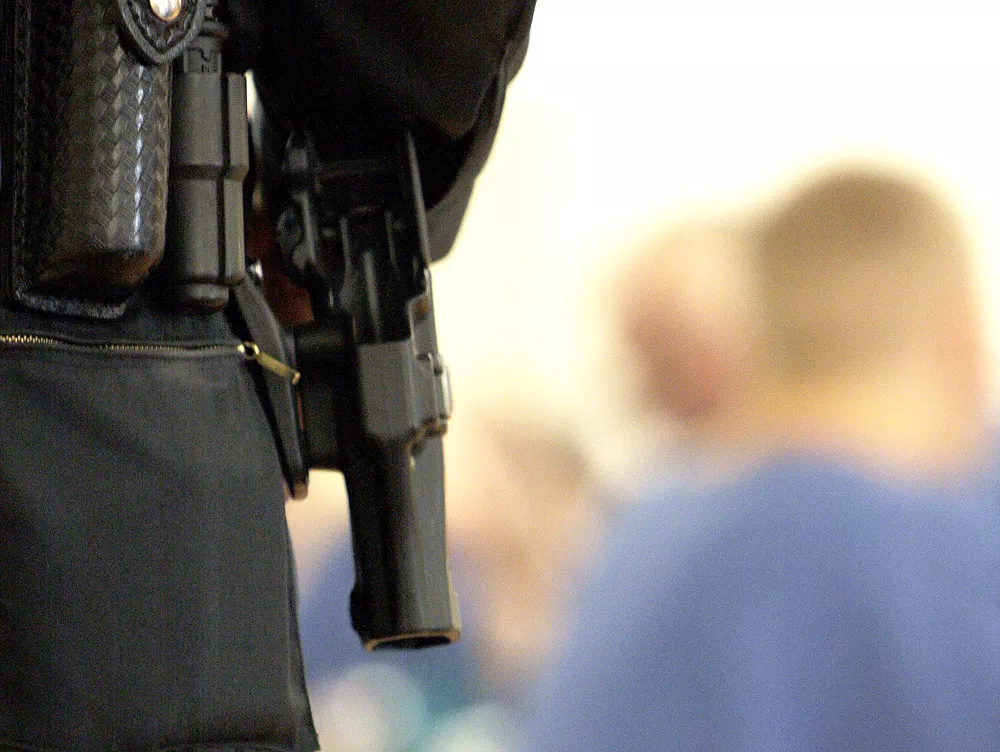 His father, shot in the chest at close range, died in moments. But, Alan Creach says, months have passed and the family still has no answers to questions of whether a sheriff's deputy was justified in the shooting of 74-year-old pastor Wayne Scott Creach.
Three weeks after the shooting, police dropped off a 733-page investigative report for Alan Creach and other family members.
On the same day, Sept. 16, the hefty report plus 11 CDs and a large-scale drawing of the shooting scene was turned over to Spokane County Prosecutor Steve Tucker to determine if the deputy, Brian Hirzel, would face any charges.
In the seven weeks that have elapsed since then:
Sheriff's deputies have been involved in two more shootings, one fatal.
A Washington State Patrol detective serving warrants in a drug case shot and wounded a pregnant woman in a central Spokane apartment.
Alan Creach was accused by a sheriff's spokesman of "trying to add more zeroes" to a potential settlement by speaking to the media.
Tucker moved the due date for his decision from before the Nov. 2 election to sometime after. (The latest, via chief deputy prosecutor Jack Driscoll, is: "two or three weeks, or longer.")
Late last week, a local television station uncovered Spokane Police e-mails describing a "cage fight" between department brass and detectives to move the Creach investigation along to Tucker's office even if it wasn't complete.
And Sheriff Ozzie Knezovich held a demonstration for local media to illustrate how little time deputies have to make decisions when faced with perceived threats.
These are all sideshows, Alan Creach says, and they distract from his family's central question: What happened to our dad?
"I don't think it's reasonable to ask this family to sit around and wait until Tucker rules," he says. "I don't think it's fair to ask the Zehm family to sit around and wait until Tucker rules. Because Tucker hasn't ruled yet."
Otto Zehm died after a fight with Spokane police in March 2006 after he was mistakenly suspected of robbery. Tucker has never issued a finding in the death, which has been taken into federal court by the FBI and the U.S. Attorney's Office.
"Are we supposed to wait indefinitely?" Alan Creach asks.
The Shooting
Wayne Scott Creach, owner of the Plant Farm nursery near Fourth and Evergreen in Spokane Valley, was checking on a suspicious car parked on the property around 11 pm on Aug. 25. He carried a .45-caliber pistol and a flashlight.
The car turned out to be an unmarked patrol cruiser. Hirzel was inside completing an accident report when, he has stated in interviews with detectives, he saw an armed man approaching.
As he walked toward the car, Creach — who, Hirzel told investigators, was not pointing the gun in his direction — did not respond to repeated commands to drop the gun.
Hirzel, his weapon already drawn, got out of the car and, pointing his gun at Creach, issued commands for the older man to keep his hands in view and to get down on the ground.
"He said that he didn't have to or that he wasn't going to. I mean he said both of those things, not or, but both of them," Hirzel later told investigators.
Hirzel drew his baton with his left hand and delivered a backhand strike to Creach's outer left knee. Creach buckled, Hirzel said, but remained standing.
Hirzel says Creach then reached behind his back and began drawing the gun from his waistband. Hirzel fired one shot from about four feet away, striking Creach in his bare chest.
"A terrible wall"
Alan Creach says his mother was sitting at a window in the adjacent house, and she heard "a stream of words, six to eight words is how she described it to us later, of surprise and dismay almost immediately cut off by a gunshot."
His mother swept a curtain aside, Alan Creach says, "and the first thing that struck her was light coming toward the window, so we know the officer had lit Dad up when he shot him. And we know by the original orientation of the body that Dad was blinded by the light."
The spotlight on Hirzel's car, the position of blood spatter, gravel imprints, the entry angle of the bullet, ambiguous bruising … Alan Creach says his family still has plenty of questions remaining.
He is not surprised by the revelations last week that Spokane Police Chief Anne Kirkpatrick appeared to be pressuring detectives to speed the investigation over to the prosecutor's office.
Kirkpatrick is out of the office until Nov. 29 and did not respond to a message forwarded by her staff.
"We knew early on it was going to be rushed through," Alan Creach says. "In my discussions with Brian Hamond, the lead detective, I convinced him to hold [the handoff to the prosecutor] off two times or three.
"Then on Sept. 16, Lieutenant [Dave] McGovern and a major [Scott Stephens] came out to the house and threw the 730-page report down on the desk and said, 'Here it is. No questions,'" he says.
But they do have questions, and in recent weeks, the Creaches have hired an investigator.
"Right now, we are looking for facts and we are really running into a terrible wall," Alan Creach says.
"Search for Truth"
"No one has ever come up to me and said, 'Alan, your dad got exactly what was coming to him.' No. Everybody has been sympathetic," Alan says.
So he says he is frustrated that law enforcement and community leaders aren't "coming to the family and saying, 'This is wrong, and we will do our best to make it right.'"
He says the family and the investigator it hired have been frustrated in attempts to gain access to evidence. In some cases, such as seeking a forensic exam of the patrol car, they found their chance was lost because the car was almost immediately placed back into service.
In other cases, "I have been told by numerous leaders that if you want that stuff, you can't get that stuff until a suit has been made," Alan Creach says. "We are searching for truth. We are trying to do this in a reasonable manner … but they tell me you have to sue. I have a problem with that.
"You have the sheriff putting on his little display about not being able to draw his gun fast enough when attacked with a knife. The problem with this new training the sheriff thinks he is going to roll out as a model for the state — you [law enforcement] hesitate and you die — comes at the expense of everyone else in the community," he says.
"We are trying to save lives in this community," Alan Creach adds. "If we can say to police, 'Let's make some changes and then maybe this life was not lost in vain' — but we have not had a single community leader say, 'We are behind you on that.' It's still duck and run.
"The No. 1 law enforcement official in this community has put this case on hold. I don't think it's reasonable to play politics with my dad's death."