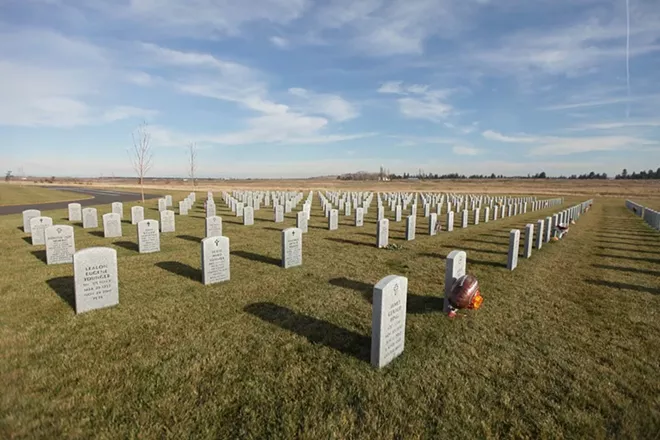 W
ashington could become the first state
to offer people the option to have their remains turned into soil through a process called "recomposition" if a bill going through the Legislature passes.
As things stand now, there are really only two options for dealing with human remains in Washington: cremation or burial.
If legislators pass
Senate Bill 5001
, Washington would also allow for recomposition and join a growing list of states offering a sort of water cremation.
That option, called alkaline hydrolysis, is already in use for animals at facilities like
Loving Paws Pet Loss Center
, which opened in Spokane Valley in November.
The process involves placing a body in a cradle and then into a machine where a water-and-lye mixture is run over the body until it is reduced to bones, explains Craig Bergmann, owner of Loving Paws.
"Over the next approximately 20 hours, depending on the size of the animal," Bergmann says, "it gently breaks it back down to the bones of the animal. Then at that point it's the same as with fire cremation: The bones are broken down to a powder form."
Also sometimes referred to as "aquamation" or "biocremation," alkaline hydrolysis is already legal in 16 states, including Oregon and Idaho.
Loving Paws is the first to offer the service for pets on the east side of the state, and Bergmann says he's had clients from Idaho and Montana.
The machines he uses are made by a company that also provides models intended for human bodies in the states that have legalized it. He may soon get one large enough to handle horses that have been euthanized.
"We're really trying to give people more options," he says.
U
niquely, the bill
moving through Olympia would also legalize recomposition, essentially a process to decompose the body into soil, with straw and wood chips aiding the natural process.
Some have called it human composting, but proponents have opted for recomposition as a term that perhaps better recognizes the sacred process of dealing with a loved one's remains, explains Katrina Spade, CEO and founder of
Recompose
, a business that hopes to become the first to offer the service in the state.
If passed, Washington would become the first place in the country to legalize that method of disposition.
"We are really excited about it," says Spade, who's been working with funeral directors across the state and lawmakers to help push for the bill's passage.
Through the Urban Death Project, which Spade also founded, Recompose helped sponsor a pilot study that was conducted with Washington State University to test the process, already common with livestock.
"That has been practiced for decades around the U.S. as a really safe way to recycle farm animals back to the land," Spade says. "But we had to prove it was also safe for humans."
The study was conducted with WSU professor Lynne Carpenter-Boggs, Spade says, and the work met all thresholds set by the Department of Ecology and the Environmental Protection Agency, including not surpassing limits for pathogens or heavy metals.
The pilot involved six bodies, donated by people who wanted to help show the process would be a safe choice, Spade says. She got to meet some of them before they passed away, and was thankful they chose to help.
Other than offering more choices to people, the method is also intended to be a more environmentally sound option.
"If you think about it, cremation uses quite a bit of energy," Spade says. "You're burning fossil fuels and in order to burn the body, they have to reach a certain temperature to do that process."
With burial, there are considerations for the creation of caskets, concrete grave liners, and upkeep on a cemetery that theoretically continues forever, she says.
Recomposition on the other hand, is a lot less energy intensive, using one-eighth of the energy of cremation, according to the Senate report on 5001.
"We're seeing a savings of over a metric ton of carbon per person who chooses it, so that's a pretty significant savings," Spade says.
There's been little pushback on the bill so far.
The Washington State Funeral Directors Association weighed in mostly to request the bill include language that regulates those offering recomposition in the same way as other funeral homes, says Rob Goff, the association's executive director.
"As far as the form of dispositions, no, we're not opposed to that," Goff says. "But we want to make sure that everybody is following the same prescribed rules that the law requires."
Spade says Recompose is working with funeral directors to make sure the process is as streamlined as possible and suitable. While Washington state is the first goal, she hopes to see the process approved nationwide in the future.
"T
he reality is we want to make this accessible to people all over the country," Spade says.