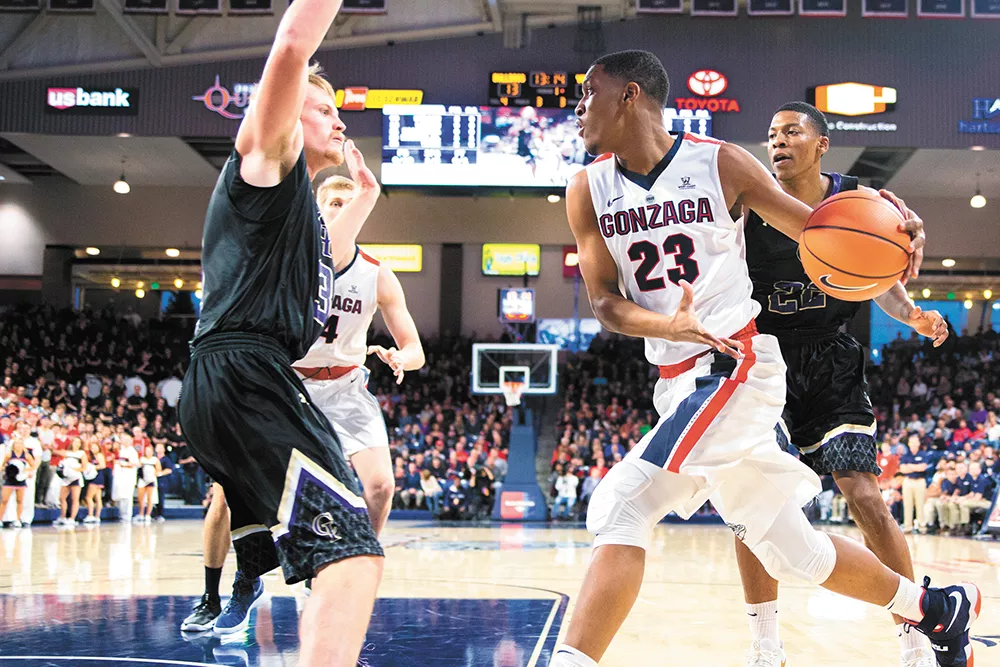 The Zags could go deep in the tournament again if...
Gonzaga is peaking at the ideal time for another late run into March. They've raised their defensive intensity to the point that opponents have shot a combined 38.8 percent over the last 10 games. Gonzaga, meanwhile, has shot 44.5 percent from the perimeter the last three weeks. If they maintain those averages, we're looking at a real threat.
This year's team doesn't appear to have the depth, defense or efficiency of last year's team. But no team in the tournament looks as good as the 2016-17 Zags.
A big first step will be shaking off the inevitable rust of not playing for nine days after winning the WCC tournament in Las Vegas on March 6. The Bulldogs' high seeding of late has helped them immensely by getting the kinks out against inferior competition early in the tournament.
Last year's squad benefitted a great deal with the emergence and introduction of freshman big man Zach Collins on a national stage. The Zags have three guys who could break through in a similar way with sophomores Killian Tillie and Rui Hachimura and freshman Zach Norvell.
Tillie's streak of three-point shooting in Las Vegas continuing into the NCAA tournament would be crucial in opening up opportunities for the ever-consistent Johnathan Williams III down low. Hachimura could be the instant offense off the bench who could quench opponents' runs and pin fouls on front courts that don't match the Zags' depth. And Norvell could be the offensive guard who seems necessary for any team looking to advance.
The Zags could make an early exit if...
Guard play is always crucial in the tournament, and the Zags will need to look at their upperclassmen ball handlers and "Microwave" Norvell to assert themselves if they want to play into the second week of March Madness. Gonzaga's midseason sputters came when their guards weren't aggressive and were missing shots.
Gonzaga is 2-2 when allowing opponents to shoot 50 percent or better. Those two wins came in overtime against the North Dakota Fighting Hawks and a nine-point win against San Francisco. The Zags are the 222nd-ranked three-point defense in the country, and a high-powered shooting opponent could doom the Zags' hopes.
Someone will also need to step forward as the steady hand when the going gets tough. Last year's multifaceted team had plenty of options to make you think there wasn't a de facto go-to guy on the squad. But Nigel Williams-Goss still led the team in scoring in four of their six postseason games. The Zags' depth will be an advantage, but hoping for a hot hand late might prove hairy. Who will be this year's go-to guy when the going gets tough? ♦