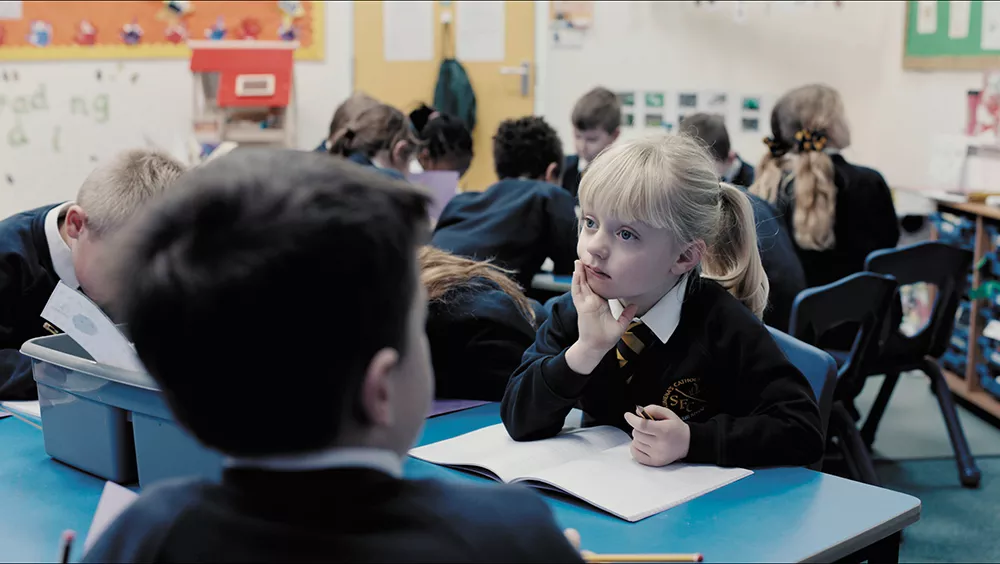 If you're participating in your office's Oscar pool, there's one surefire way to give yourself an instant advantage every year: Know the short films.
This year's nominated live-action and animated shorts hit theaters this weekend, and even if you aren't a gambler, there are some great examples of short-form storytelling worth checking out. Here's a rundown of the films and what's most likely to win, though take our predictions with a grain of salt: These awards don't always go to the most obvious candidates.
(Note: The animated films should be suitable for older kids, although a few contain some potentially disturbing images. The live-action package is ostensibly R-rated.)
ANIMATED
DEAR BASKETBALL Kobe Bryant is now an Oscar nominee. Wrap your mind around that one. The L.A. Lakers legend wrote and narrates this sweet and inspirational short (illustrated with mostly black-and-white pencil sketches), in which he muses on the sport he loves and grapples with the end of his long career. Minor, but well-done.
GARDEN PARTY What begins as a comedy about mischievous frogs indulging in the luxuries of an abandoned mansion turns far darker when we discover exactly why it has been left to nature. Rendered in a photorealistic style — everything from leaves floating in a pool to the glistening skin of the amphibious protagonists looks like you could reach out and touch it — this is an unexpectedly morbid cartoon that probably could have used a stronger punchline.
LOU Disney-Pixar got some flak when it put that half-hour Olaf the Snowman short before Coco, though they deserved plaudits earlier in the year for LOU, which was paired with Cars 3. Here, some objects in a lost-and-found bin come to life and reckon with a schoolyard bully, who must change his ways in order to retrieve a misplaced toy. Not one of the great Pixar shorts, but a fine example of the studio's trademark blend of wordless slapstick and genuine heart.
NEGATIVE SPACE This French-American co-production, built around a poem by Ron Koertge, is a stop-motion meditation on a man's troubled relationship with his late father, as examined through the fine art of efficient suitcase packing. It beautifully juxtaposes fantastical imagery with the bluntness of real life, a wistful memory shot through with dark irony.
REVOLTING RHYMES Based on a Roald Dahl book and inspired by the angular drawing style of illustrator Quentin Blake, a fractured fairy tale that finds the Big Bad Wolf settling scores with Red Riding Hood, Snow White and the Three Little Pigs. The longest of the five nominees, it's not as subversive (or, really, as revolting) as its title suggests, though Dahl fans will enjoy his clever turns of phrase.
What's going to win: It wouldn't be surprising if the Academy honors Bryant, the only recognizable name in the category, but anything with the Pixar logo attached to it has an automatic leg up on its competition. Lou, then, is probably the favorite to win. It's also quite delightful.
LIVE ACTION
DEKALB ELEMENTARY A seemingly normal morning in an elementary school administration office is disrupted when a man walks in with a semi-automatic weapon. Inspired by a true story, the film is told in real time and photographed in a matter-of-fact style, as the office secretary tries to lend a sympathetic ear to the gunman.
THE ELEVEN O'CLOCK The only comic short in the live-action lot, in which a psychiatrist is informed his newest patient has a delusion that leads him to believe he's also a psychiatrist. A battle of wits ensues. Built upon a screwball concept you might expect from a Monty Python or Kids in the Hall sketch, although you'll probably be able to see its punchline coming.
MY NEPHEW EMMETT The Emmett of the title is Emmett Till, the black teenager who was beaten and lynched in 1950s Mississippi after he whistled at a white woman. Director Kevin Wilson Jr.'s film limits its focus to Till's elderly great-uncle Mose in the day leading up to the tragedy, and he structures it as a mood piece that communicates dread and pain through moody, evocative photography.
THE SILENT CHILD A young teacher (played by writer Rachel Shenton) is hired by a British family to look after a deaf 4-year-old girl, and she begins teaching the girl sign language, much to the chagrin of the harried mother. Although it takes a few unexpected turns and has two wonderful central performances, this story would be more powerful with a longer run time.
WATU WOTE (ALL OF US) Another fictionalized version of real events, this one set in Nairobi in 2015, when a busful of mostly Muslim passengers protected the identity of a Christian woman upon being hijacked by jihadist militants. A harrowing snapshot of spontaneous violence that espouses a message of tolerance while avoiding mawkishness.
What's going to win: The voting body tends to favor shorts that either end with a nifty twist or veer into outright sentiment. In that case, The Silent Child, with its heartbreaking final scene, probably has the edge; it also plays like a trial run for the expanded feature we might get later. (The Eleven O'Clock, the punchiest and shortest of the five, could be the spoiler.) The best of the bunch, though, is the stark DeKalb Elementary, a simple but perfectly modulated piece of storytelling.♦