We are not running Bloomsday this weekend. When I moved to Spokane four years ago, a friend who grew up here made sure I knew about two things that were perfectly Spokane: Bloomsday and the Garbage Goat. The Garbage Goat made sense; not all cities have sculptures that eat trash. I wondered at Bloomsday. What was special about a running race? Isn't there something like that everywhere?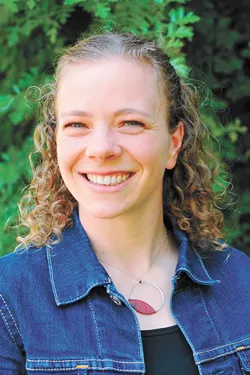 But in May 2017, I signed up for my first Lilac Bloomsday Run. I needed something perfectly Spokane. I felt raw after that long winter — a record-setting season for snowfall, months of snow cover, the usual cold and dark. It had been 10 years since I'd lived somewhere with significant snow, and I didn't readjust well. I also felt incredibly isolated. After almost a year in town, my efforts to connect with people had been slow to bear fruit. I joined a CrossFit gym, and just as I was starting to get to know people, it closed. I wasn't a churchgoer. The winter, with all the snow and ice, made me loathe to brave the roads unless it was really essential, so I stayed at home. It wasn't a recipe for making new friends.
When I signed up for Bloomsday, I wanted to rub elbows with my neighbors. I wanted to soak in the warmth of spring. I wanted to feel like I belonged to something.
I waited for the race to begin alongside tens of thousands of others on the closed streets in downtown Spokane. Beach balls bounced around the crowd. I had been told to wear an extra long-sleeved shirt I didn't want to keep — a Bloomsday tradition — and I waited for just the right tree. I looked for a branch that wasn't too high, not too full, where my shirt could hang with the others, where it would adorn the tree but not be a burden to it. I threw my shirt onto a branch already decorated with jackets and warm-up pants and T-shirts that would be donated to charity. In this gift, I understood that this wasn't just another running race. That I was part of something unique.
I soaked up live music. There were cover bands playing Otis Redding and Green Day and "La Bamba," the bands cheering for runners between songs. Radio stations had their speakers blasting, DJs clapping us on. People played guitars for us on their tiny wooden porches.
I noticed the poster slogans. Pinned to one man's back: "36 in a row, and oh soooo slow." Held by a spectator: "Keep it up! (But call your doctor if it lasts more than four hours)." Another, "Good job, random stranger!"
Firefighters and nuns and Goth kids and people using canes handed out water.
Then there were all of us Bloomies. Gray-haired ladies wearing matching neon green stretch pants power-walked past me. Kids, so many kids, running and walking and sprinting — and finishing the whole 12K. Couples, kissing while waiting in line for a mid-race bathroom break. People running for refugees, "for Sam," for themselves, to not quit.
I walked the last hour with Nicole. She drove five hours from Montana with her dad for the race. She was on her third Bloomsday but didn't really train for it. In the past week, she'd finished finals for her junior year of college, been promoted at her job, and celebrated her 21st birthday. Bloomsday topped it off.
She told me about the timed portion at Doomsday Hill. "You want to run it?" she asked.
"Sure!" I said. "Why not?"
I did my best, weaving around those who were walking, doing what I could to keep up the pace. I forced my legs onward as my muscles burned and my lungs heaved. I got a high-five from EWU's eagle mascot, Swoop, at the top of the hill.
After Nicole and I finished the race — our times logged together, the Monroe Street Bridge crossed — we said goodbye. I rested alone near the convention center, away from the crowds and festivities. I soaked up the shade, giving my knees and hips a break from gravity, listening to the soft roar of the Spokane River getting ever closer to the falls just around the bend. People walked steadily by, all of us marked with our matching turquoise finisher shirts.
After the race, I returned to my familiar loneliness, but it had a fissure. I saw people wearing their turquoise shirts at the grocery store, or in restaurants, or out jogging, and I knew that we were in the same place at the same time. I thought, "Hey! I did that with you!"
We are not running alongside each other this May. We are not singing and cheering and sweating on the same streets at the same time. We are separate in our houses, confined not by the isolation of winter but by our collective care for one another.
For me, this isolation feels so different from three years ago. While my gym is closed, yet again, this is temporary, and we are connected by the same at-home workouts, by virtual yoga, by our efforts posted on social media. I am now a member of a church, but while I have not attended an in-person service for weeks, I see faces through video conferences. I am separate, but collectively. We are all pausing at the same time. We are holding each other in this.
And we'll see each other at Bloomsday in September. Until then, good job, random stranger! ♦
Erin Popelka is a reader, writer and the founder of Must Read Fiction, an online community of readers. Her short stories and essays have appeared in The Threepenny Review, Berkeley Fiction Review, and Main Street Rag, among others. Find her at erinpopelka.com.