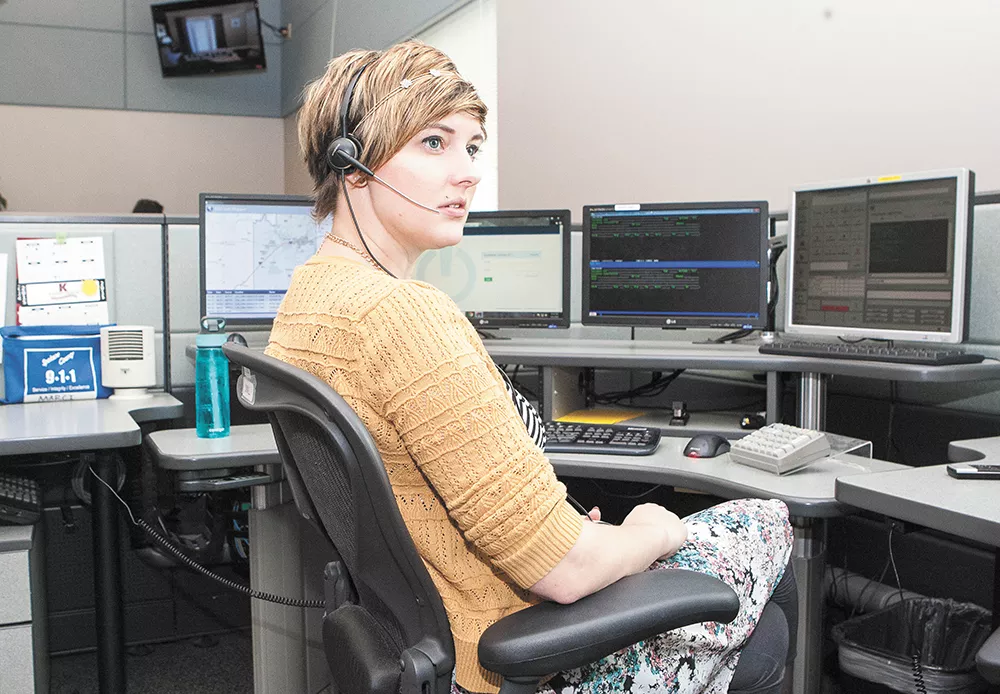 Marci Prettyman's phone rings all day long. Some of her conversations last only a few seconds, some can take a several minutes, but all are urgent.
Here's one now:
"911, what are you reporting?" Prettyman says into her headset. A computer shows her a phone number and a rough estimate of the caller's longitude and latitude, depending on the signal strength if they're calling from a cellphone.
"Yeah, hi. There's a lady passed out in the grass," says the voice on the other end of the line.
"OK, and where are you?"
Prettyman's fingers chatter across her keyboard for a quick Google search to confirm the man's answer. Then she asks him again.
"Yeah, that's right," he says. "I don't think I can stay long enough for the ambulance, though. I have to leave."
"That's OK, I don't need you to stay. I'm going to get some information from you real quick, OK? What's your phone number?"
She repeats it back to confirm.
"Do you see any weapons?" Prettyman asks. This tells her if she needs to alert law enforcement or just send an ambulance.
"No. There's something around her neck, but I don't really want to touch her."
"That's OK, I don't need you to," she says. "Does it appear like she's been assaulted at all?"
"No, I don't think so. I think she might be coming down off drugs."
"OK, please stay on the line, I'm going to have you talk to the paramedics. They'll ask you for your location one more time, OK?"
The whole conversation lasts a minute or two. Her voice is sweet, but firm. By the time she hangs up, the phone rings again.
Prettyman is approaching her three-year anniversary with Spokane County 911, which means she's considered a "lifer" as far as the emergency telecommunications service is concerned. It takes patience and superb multitasking skills to do the job well. It also takes a thick skin. The job of listening to Spokane County's worst situations all day is too much for some. A third of the people hired in the past year are already gone.
This Monday, Spokane County 911 will start accepting applications for call receivers once again. They usually post job openings four or five times a year. It takes three weeks for a training supervisor to weed out applicants with a series of tests and interviews, including a polygraph test, a psychological evaluation and a background check.
Of the 494 people who applied in 2014, 12 made it through to the polygraph and psychological exams. Ten were hired.
Even after a call receiver is hired, they don't field a real emergency call for nearly three months.
"Training in the 911 telecommunications world has evolved a lot," says Amy McCormick, operations manager at Spokane County 911. "When I started in 1986, you got two hours of training, if that. You walked in and they said, 'Here's the button you push, here's the phone, and here's a pencil.'"
Now, new hires go through a six-week classroom training course in which they're given scenarios involving each of the 100 different call types identified in the training manual. Trainees are also coached on how to handle difficult or hysterical callers, and drilled on policies for different jurisdictions.
Karen Crawford, an operations supervisor, remembers answering a call from an old man late at night. He asked her how to make hot tea. It was a slow night, and there were no other calls waiting, so she walked him through the steps. Apparently, Crawford says, the man's wife had recently passed away and she used to make him tea every night.
"Call receivers have to be patient and realize that every story may not be as critical as some, but that person truly believes they have an emergency," Crawford says. "We have to treat each call like it's an emergency."
Prettyman usually works the graveyard shift, from 11 pm to 7 am. The former nurses' aide at Holy Family Hospital is used to working through those hours, and says she prefers the types of calls typical for that time of night — noise disturbances, suspicious people, drug activity, drunk callers and sometimes suicides. People can get lonely at night, she says.
One in particular sticks out in her mind.
A mom found her son after he'd hung himself. The woman was distraught, but Prettyman's tone and reassurances that help was on the way settled her a little.
"My job at that point is to remain calm for her," she says. "Just letting them know you're doing something for them helps them settle down."
Prettyman says she does her best to compartmentalize the scenarios she hears at work so they don't affect her at home. After listening to a particularly difficult situation, if call volume is low, she'll put her phone on hold and step into the hallway. She might talk about it with a co-worker and ask if she could have done anything differently. She writes constantly in her journal, too.
"Every day I'm hearing the worst day of someone's life," she says. "You do become a little calloused, and it can be hard to see the world in a positive light."
However, Prettyman says she appreciates the effect some of the really serious calls have on her. It shows her she's still in touch with her emotions.
It's been established that first responders to the scene of a crime or accident can develop PTSD, but little research on 911 dispatchers exists. One 2012 study in the Journal of Traumatic Stress found that 911 dispatchers can suffer from serious mental health consequences as a result of their jobs.
"Our sample reported just as much emotional distress and reaction to [traumatic] calls as police officers have," researcher Michelle Lilly told the Chicago Tribune.
Although it's a stressful and largely thankless job, there are rare moments of gratitude. Crawford, the operations supervisor, tells of a letter Spokane County 911 received from a 15-year emergency medical services worker and recent caller. The man called 911 in a panic as he flew down Interstate 90, climbing up over 75 mph. The accelerator in his minivan was stuck, and he began to panic as he pressed the brakes with all his force. The call receiver calmly suggested he shift into neutral. The van began to decelerate; the call receiver likely saved the man's life. ♦