Naysh Fox sounds like a kid who can't believe his luck. Even at 26, the actor's effervescent tenor and genuine sense of wonderment recall a young boy who's just been handed the keys to his very own toy store.
And who can blame him, given that his latest gig is the lead in the musical Pippin?
Actually, to peg Pippin as a musical risks understatement. While it has songs by Stephen Schwartz and Bob Fosse-inspired choreography, the show has more in common with a Cirque du Soleil performance than Oklahoma! Its dazzling acrobatic routines, illusions and stunts have forced Fox, who's been hailed as the proverbial "triple threat" (that is, a performer who can sing, dance and act with equal aplomb), to broaden his skill set even further. The rehearsal schedule alone is testament to how demanding Pippin can be.
"We start at 9:30," he says. "Then we do circuit training, where we go over to the acro[batic] space and do a regimen of sit-ups and pull-ups, spider crawls, things with TRX straps. We do that circuit about three times. Then we do a series of abs and some stretching. From 10 until 1, we'll run a huge number, trying to make changes or see where our holes are. We come back at 2 o'clock after lunch, and it's either running music or learning different acro tricks. We have an hour for dinner, and then from 7:30 to 8:30 it's usually all the ensemble numbers, with singing, dancing and flipping."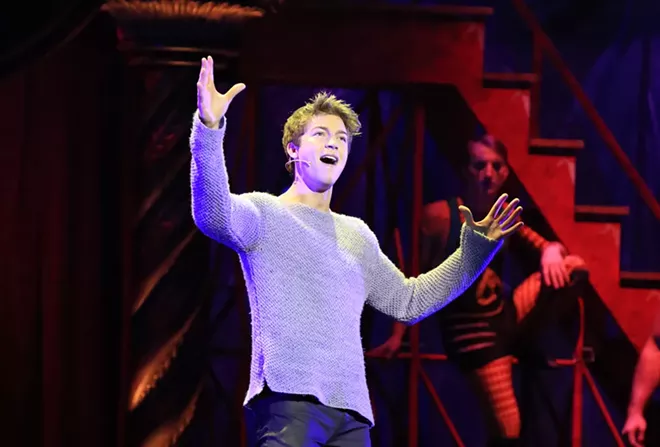 Sometimes more is revealed in the telling than the content: Fox is downright exuberant as he outlines what could pass for a theatrical boot camp. The basis for his exuberance is that Pippin has provided an opportunity to do things he thought were beyond his ability.
"They said, 'You're going to learn to play an instrument, and learn how to backflip, and how to knife-throw.' I have to do a backflip in a two-high, where I stand on another man's shoulders and walk around. When I first watched it, I was nervous. Scared. Because it just wasn't in my wheelhouse. But I've got to tell you, every time I have acro training, I really look forward to it. I'm now doing backflips and a free fall from the top of the stairs. It's just incredible and amazing."
Fox's offstage mix of guilelessness and ebullience suits his role. Pippin is a whimsical play-within-a-play that functions as a coming-of-age tale loosely set during the reign of Charlemagne, but with little heed for historical accuracy. As the title character, Fox becomes aware of a world that holds more than he'd previously imagined, and he begins to explore it in a search for identity and meaning.
"In its simplest context, it's really just an everyman story. Pippin is coming home from university and just trying to figure out his purpose in life. He realizes that all this education and books aren't for him." So he tries his hand at domesticity. He tries his hand at war. He even tries his hand at sex. "It goes into this huge, free-for-all orgy where this huge cage comes out on stage," Fox says, laughing, "and he realizes, 'This is not what I want.'"
"We've all gone through those things. Maybe not to that level, but we've all gone through that experience of, 'OK, I've tried this, and it really wasn't what I thought it was going to be.' It's someone trying to find complete fulfillment in life."
Pippin, therefore, has an intimacy despite its spectacle. All the same, that spectacle — "flash and glamour," in Fox's words — is what has made it a favorite of audiences and a magical fount of possibility for its leading actor.
"It's truly like nothing else that you've seen on Broadway," Fox says. "Never have they integrated circus, acrobatics, traditional Fosse movement with crazy singing, all in one show. And you see it all in the first number. And then it just gets bigger!" ♦
Pippin • Jan. 12-15: Thu-Sat, 7:30 pm; Sat, 2 pm; Sun, 1 and 6:30 pm • $30-$70 • INB Performing Arts Center • 334 W. Spokane Falls Blvd. • inbpac.com • 279-7000