Something's wrong with politics in 2017. Too much money is being raised for congressional elections. And all that money doesn't guarantee quality elected officials.
The latest example of excess spending is Georgia's 6th District special election to replace Rep. Tom Price, now secretary of the Department of Health and Human Services. Democratic frontrunner Jon Ossoff, a 30-year-old former congressional aide, won 48.1 percent of the vote last month — not quite the 50 percent needed to prevent a runoff between the two top vote-getters under Georgia law. He'll face Republican Karen Handel, who received 19.8 percent of the vote among 11 Republicans in a traditional GOP district, on June 20. Ossoff raised more than $8 million, mostly from nonresidents of the 6th District. Handel raised more than $2 million in Republican money.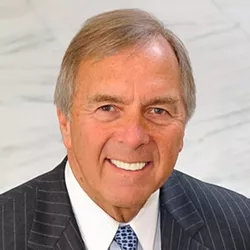 Money has now become almighty, as too many candidates spend their time raising campaign cash, especially incumbents — many of whom spend much of their time away from official congressional duties to fund-raise. As a result, 95 percent of all incumbent representatives and senators are re-elected. Meanwhile, as more campaign money is raised and spent, citizens are getting lesser-quality candidates, who care less about effective representation and more about their re-election, all because election money is too often deemed more important than ideas or wisdom in politics.
Today, your value in Congress is related to money raised for the party leadership. In order to remain on an important congressional committee, members are expected to raise funds for their party leadership in Congress. Too often, congressional leaders establish political action committees to raise extra, massive amounts of money for themselves that can also be given to other congressional leaders for their re-election efforts, with the understanding that congressional donors will benefit from such contributions. Or sitting members will hit up their top donors to give extra money, so that members can support other members' candidacies.
Ideally, money won't play as big a part in congressional representation in the future as it does today. There was a time in the past when personal qualities such as wisdom, local involvement and achievements played a bigger part in a voter's trust than money raised by a candidate. In 1994, when a sitting Speaker of the House was defeated for the first time since 1860, the winning candidate raised $750,000, compared to the Speaker's war chest of $4.5 million. The challenger didn't need to match the incumbent dollar for dollar; he only needed to raise enough to get out his message — of change and distinguishing the incumbent's voting record from the challenger's policy positions. Ideas, debates and public exposure were more important then than money raised, though any candidate must be able to show some public support through fundraising.
In the 2016 presidential election, winning candidate Donald Trump spent less money but expended more sweat equity than his opponent, who seemed to take for granted the inevitability of her election. Hillary Clinton failed to visit key states to show she cared about the voters there. Trump's election strategy saw him doing so; in the end, he surprised the experts and pollsters.
The likelihood is that in Georgia's historically Republican 6th District, the candidate spending the most money may not win, despite such a strong primary election showing. A runoff will help Republicans marshal enough voters to win on June 20. Voters there will likely discover that the Democratic candidate doesn't live in the district, has raised most of his campaign cash from outside Georgia and is taking liberal positions that don't comport with their views. Being anti-Trump likely won't carry the day for Jon Ossoff.
Even though Georgia's 6th District campaign appears money-driven, not idea-driven, that district's voters may be able to start a national trend that puts campaign ideas ahead of campaign money, sparking a return to the days when the quality of candidates, their ability to craft legislative solutions to national problems, and their ability to persuade other members to ideas that are in the national interest mattered most.
If so, then the polarization so evident in today's politics may ebb, fostering a return to a time when ideas in politics and high-quality candidates were more important than the amount of campaign cash a candidate could collect. ♦