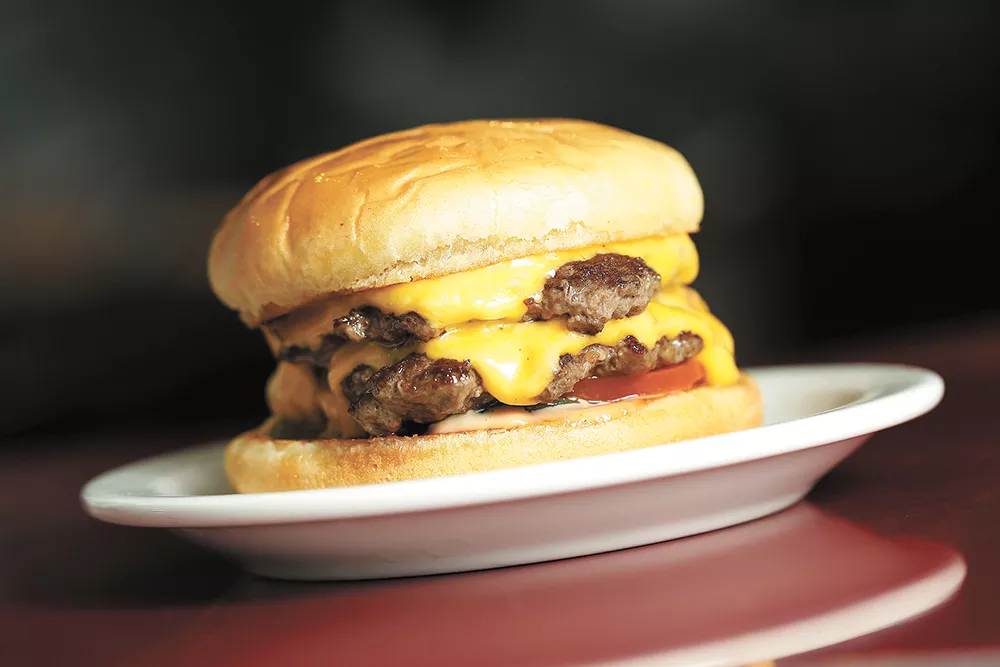 When it comes to burgers, "cheap" shouldn't automatically translate to "poor quality." In fact, it sometimes seems a bit silly that one of the simplest foods out there can be so ridiculously expensive at certain restaurants. So here's a celebration of the "cheap" burger, and we're thinking beyond the obvious (and excellent) choices like Zip's or Dick's. What most of these places have in common: They value simplicity without sacrificing taste. We set ourselves a limit of $8 or less per burger, and with that in mind, here are a few of the burger joints we'd recommend when all you've got is a $10 bill in your wallet.
Cheeseburger ($3)
Hudson's Hamburgers, 207 E. Sherman, Coeur d'Alene, 208-664-5444
The burgers at this beloved Coeur d'Alene establishment, which has been in the Hudson family for a century, are the definition of "no frills." Meat, cheese, pickle, onion — that's it. Add one of their spicy ketchup or mustard sauces if you want, but you really don't have to. Sounds simple (and it is), but I promise you won't miss any of the fixings you think you might. In fact, Hudson's is really defined by the stuff it doesn't have: French fries, milkshakes, relish, tomatoes, a debit card reader. In keeping with the minimalism of its food, the burger menu itself only has four options — you can get a hamburger or a cheeseburger, with either single or double patties — and this is my advice: Order a regular ol' cheeseburger and then keep ordering them until you can't eat anymore.
Double Cheeseburger ($6.65)
Wolffy's Hamburgers, 1229 N. Hamilton, 487-1587
This tiny '50s-style lunch counter near Gonzaga (there's another Wolffy's location in Airway Heights) is a must-visit for anyone fond of old-school burgers cooked right in front of you. You can't really go wrong with anything on the menu, but I'm fond of the juicy double cheeseburger: two beef patties, each topped with a slice of cheese, a pickle, tomato and a special sauce (which I typically ask for on the side for fry dipping). Onions are optional, and you can ask for them to be grilled (and you should). This burger is less than $7, and it's way more filling than the price might suggest. You might have to wait for a seat, but it's worth it.
The 1/2 Pounder ($5.79)
Ron's Drive-In, 12502 E. Sprague, 924-6853
Every couple of months, I make a trip out to the Valley simply to eat at Ron's, an old-school burger joint with a reasonably priced menu and a drive-thru. But I always go inside to order, because Ron's has a retro vibe, with lots of brick and bright red-and-yellow booths, that reminds me of being a kid. In terms of burgers, I tend toward the accurately titled Half Pounder, which easily gives you the most bang for your buck. It's loaded with toppings (cheese, lettuce, tomato, pickle, onion, ketchup and mustard), and if you're so inclined — and you know you are — you can add bacon for just 20 cents.
Humble Burger with Cheese ($5.75)
Humble Burger, 102 N. Main St., Moscow, facebook.com/humbleburger
At Humble Burger, the options are intentionally simple. You can order the Humble Burger or the Veggie Burger. That's it. Sure, you can add another 6-ounce smash-burger patty, made-to-order on the grill just behind the counter, throw on some American cheese, or substitute lettuce for the Panhandle Bakery brioche bun. But in the end, you're getting a delicious, filling patty, topped with pickles, grilled onions, and "special sauce," at a price that doesn't break the bank. In a world where having so many options can make it harder, not easier, to choose what you want, Humble Burger makes it smoother than ever to fill your pie-hole and leave satisfied. (SAMANTHA WOHLFEIL) ♦