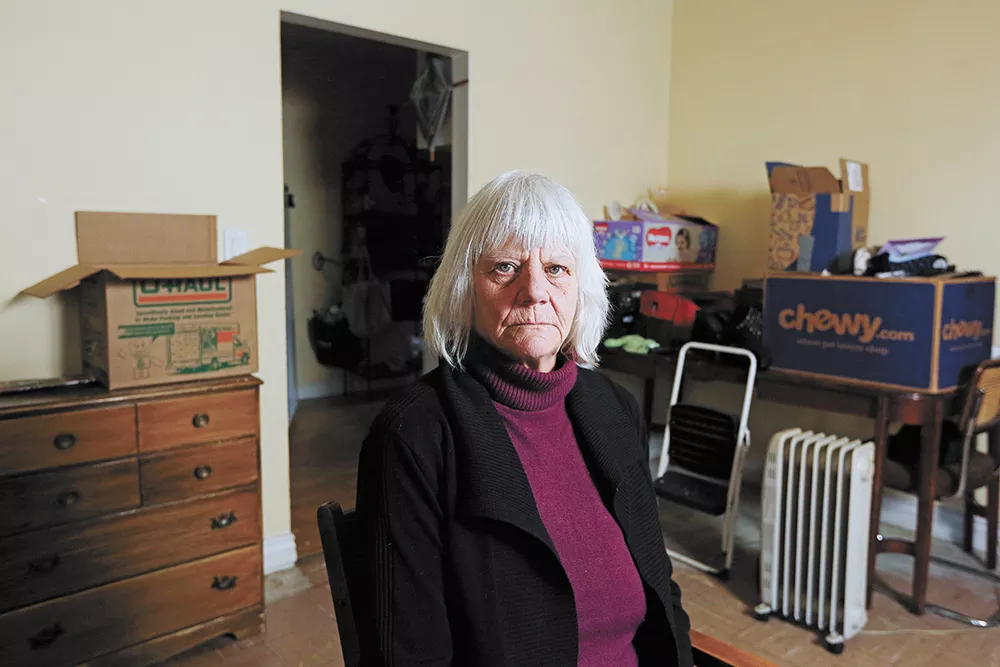 Outside Linda Dresback's front door, a half-dozen mailboxes are covered with pink sticky notes with frowning faces drawn in Sharpie. Each one represents another neighbor and friend who's moved out recently, facing eviction from the new building owner.
Dresback is next. She's lived in this apartment complex on the corner of Eighth and Oak on Spokane's lower South Hill for a decade, and she's lived in Spokane for her whole life. But the complex's new owner, Thomas Tedder, gave the building's tenants a notice in June that they need to be out by Oct. 31. And in September, Dresback got another notice: She owed more than $200 in late fees for the previous three months, even though she paid her rent as soon as she got her Social Security check, like always.
"I've been paying my rent on the third for the past 12 years," Dresback says.
It reflects a difficult situation for tenants in an already-tight rental market. People like Dresback, whose sole source of income is Social Security due to disabilities, have few options on where to live. And while new laws passed by the Washington Legislature this year were aimed to protect tenants, landlords have responded by increasing the pressure, according to housing advocates.
Earlier this year, Gov. Jay Inslee signed a bill that extends the amount of time a tenant facing eviction receives for not paying rent — from three days to 14 days. But many property managers hoping to get rent checks sooner have simply eliminated the fairly typical five-day grace period given to tenants for rent, issued the 14-day "pay or vacate" notice on the second day of the month, then sometimes slapped on a late fee on top of that.
Terri Anderson, executive director of the Tenants Union of Washington State, thinks landlords are issuing the notices as a way to circumvent the law. If three 14-day notices are issued in a year, then some of the protections that could keep tenants in their home are taken away.
"This is happening everywhere," she says. "This is the landlord's way of responding to the new law."
ON NOTICE
Tedder says he wanted to cause as "little hardship" as possible for the tenants when he bought the building with more than a dozen apartments on Eighth and Oak in March.
"I knew it was in need of some repair, and after buying it I came to realize it needs substantial refurbishing in order to meet our standards," he tells the Inlander in a statement.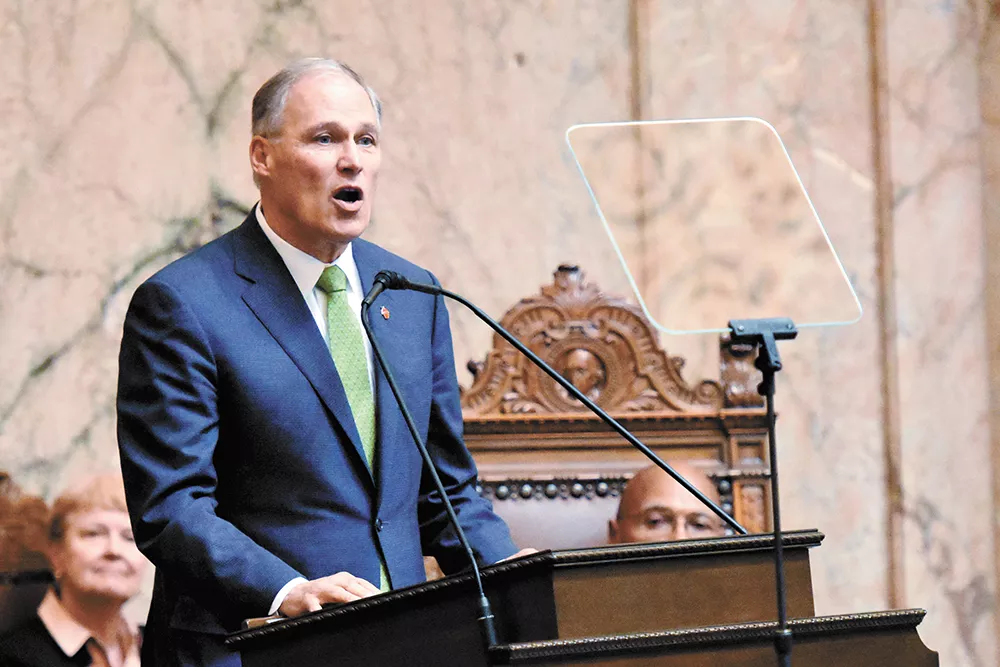 He says he "was left with having to evict all the tenants at the same time" because picking and choosing which units to rehab could have caused a discrimination lawsuit. The property management company he owns, Tetiri, gave notice to tenants in May, then extended the deadline by four months in June.
But the late fees imposed on the tenants only made trying to move harder, Dresback says. The fees were imposed starting in August, the first month that the new landlord-tenant laws went into effect. Dresback had an attorney from Northwest Justice Project send Tetiri a request for a reasonable accommodation to waive the fees, and Tedder agreed. But he wouldn't rule out charging those same fees for people receiving government assistance checks on the third day of the month in the future.
"I can't speculate on every future possibility," Tedder says.
Marley Hochendoner, executive director at Northwest Fair Housing Alliance, says evictions like this reflect the current market. It's profitable to purchase a property, renovate it, and then charge more rent, displacing people with lower incomes along the way.
Knowing this, the state passed multiple laws designed to decrease evictions. Starting in July, landlords had to give tenants 60 days of notice before raising rents and 120 days notice before kicking tenants out for a demolition of the building. That's in addition to changing the pay-or-vacate notices from three to 14 days in order to give tenants more time to find the money for rent.
"It's a big change of course for people who are on fixed disability incomes who have been accustomed to receiving checks later in the month."

tweet this
But when the landlord gives a 14-day notice on the second, as is becoming standard for many property management companies, that only "exacerbates the fear and vulnerability of people wanting to stay housed," Hochendoner says. And it has the biggest impact on people with disabilities and people who have low or fixed incomes.
"It's a big change of course for people who are on fixed disability incomes who have been accustomed to receiving checks later in the month," Hochendoner says.
Sean Martin, executive director of the Rental Housing Association of Washington, notes that these notices can't be sent earlier than pre-existing leases allow. But he says some landlords have removed the typical grace period because the current law now gives residents two weeks to pay rent.
"This is a challenge for mom and pop landlords whose mortgage and bills are due much earlier," Martin says.
But those "mom and pop" landlords don't seem to be the ones removing the grace periods. The Landlord Association of the Inland Northwest has about 800 members who mainly have one or two properties, says president Steve Corker. Corker says they're more worried about changes to the city of Spokane's property maintenance code that could quicken the process of enforcing violations. Already, he says, some landlords who don't feel like they can fix up a building have sold properties to someone with the money to do so — creating scenarios like the one on Eighth and Oak.
Extending pay-or-vacate rules? That's not a huge concern, he says.
"We recognize that the housing shortage and the vacancy rate doesn't allow enough time for people to find options if they have to find a different place for whatever reason," Corker says. "We basically didn't really argue with the three or 14-day notice or the extension on rent increases."
WHAT TO EXPECT WHEN YOU'RE NOT EXPECTING
State Sen. Patty Kuderer (D-Bellevue), who sponsored the bill to extend pay-or-vacate notices, had no idea this would happen.
"I did not expect this to be the response," she says. "The landlords were at the table and negotiated every step of the way."
While she acknowledges that it's technically legal, she says eliminating grace periods and serving notices on the second of the month violates the "spirit of the law." She adds "it doesn't make sense to intentionally cause stress and anxiety on seniors and disabled vets who pay like clockwork on the third of the month."
"I find it shameful," she says.
Rob Trickler, president of the Washington Landlord Association, is confounded by the idea that Kuderer didn't see this coming.
"I flat out told her, face-to-face in one of the first work groups, that this was going to happen," Trickler says.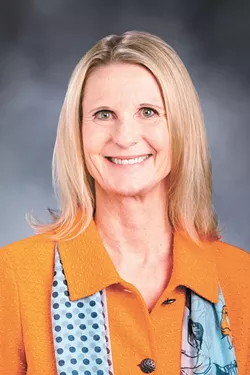 Trickler says he personally "hasn't seen" landlords impose late fees on the second of the month. He says the late fees can get conflated with the pay-or-vacate notices, and that those notices help landlords get money so they can pay mortgages on time.
He also suggests another impact of 14-day notices: If a tenant gets three of them, it takes away the tenant's right to ask for the court's discretion in postponing an eviction up to 90 days.
Anderson, with the Tenants Union, says that's the real motivation for the response from landlords.
"It's a concentrated effort by landlords to find a loophole in the law that allows them to take away any protections that the law provides," Anderson says.
Kuderer says that's where she may start in addressing the response to the bill. If landlords are serving the notices as a way to remove judicial discretion, then "one of the options is removing that provision from the law," she says.
Hochendoner says market trends — low vacancies, more renters — are coming to a head and disproportionately impacting low-income residents. Add to that the fear that the new law has given to many of renters, and the situation leaves few easy answers.
"The Legislature tries to balance things between tenants and housing providers," Hochendoner says. "And when they do make what they deem a correction, then the market responds in sometimes unexpected ways." ♦