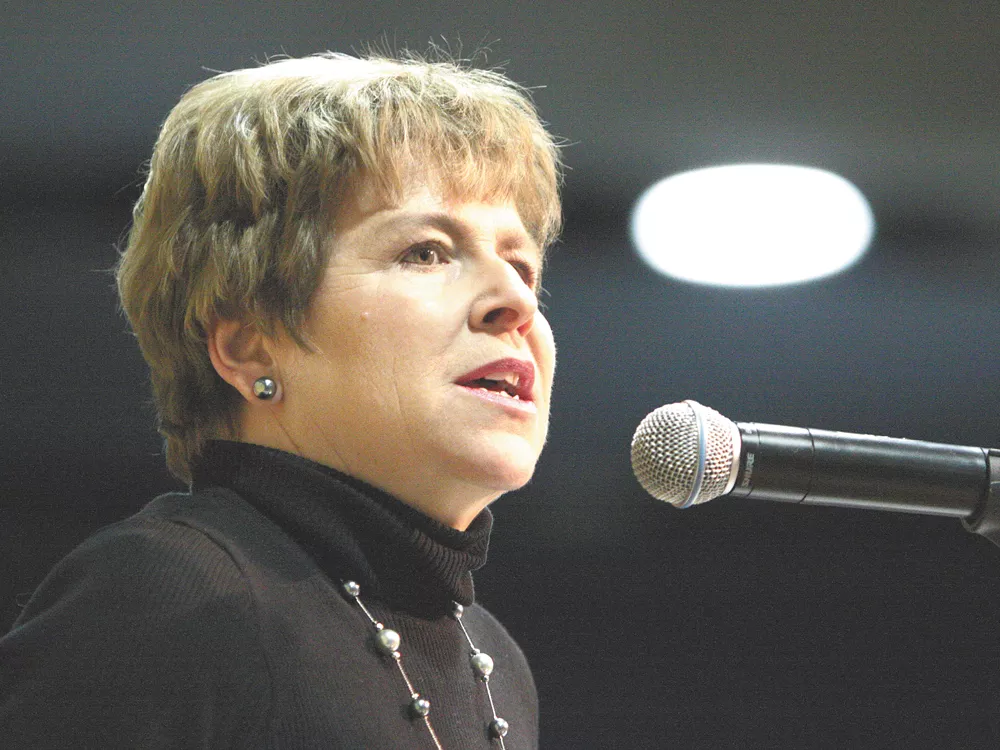 In the past seven months, Eastern Washington's two high-profile Democrats have given up their seats. One, Spokane Mayor Mary Verner, was voted out in November. The other, Senate Majority Leader Lisa Brown, decided to retire while taking a walk near a friend's cabin.
"The last few years have been difficult because of the recession, and definitely cutting the budget again and again has been hard," says Brown, who has led Senate Democrats since 2002. "Hard decisions to make but also hard to see the consequences."
Brown counts among her accomplishments shepherding Spokane's burgeoning Riverpoint Campus and securing a film and video tax credit. Smaller victories also ring in her ears, like helping to save funding for nonprofits like Crosswalk Teen Shelter and the Spokane Guilds School.
As candidates scramble to fill the void created by her departure, it remains to be seen whether anyone can fill her shoes. Or how much her retirement would affect the Democratic Party's toehold in Eastern Washington.
Brown's retirement set off a scramble behind the scenes. The same day she announced, 3rd District Rep. Andy Billig declared his campaign for her Senate seat. That same day, Marcus Riccelli, a political operative serving as an aide for Brown, announced his intention to run for Billig's seat.
Spokane City Councilman Jon Snyder, local businessman John Waite and child daycare reform advocate Tim Benn have also declared their intentions to fun for Billig's seat.
Billig, co-owner of the Spokane Indians, was first elected to the House in 2010. Riccelli had been talked about as a candidate for the Legislature in the 6th District, but redistricting put his house in the 3rd District earlier this year.
Those behind-the-scenes orchestrations were necessary, says Kevin Pirch, a professor of government with Eastern Washington University.
"If she wouldn't have let some other people know to fill that gap, she would have left her party in the lurch," he says.
Pirch believes Brown will remain a powerful force in the party, but it's unclear whether that will extend to Billig's prospects against Spokane City Councilwoman Nancy McLaughlin, who's announced her campaign for seat.
"I think the 3rd District, after redistricting, is going to be a little bit more competitive than in the past," Pirch says. "[McLaughlin's] got name recognition, she's got a political history as well. … I think it's going to be relatively close."


Republicans, meanwhile, like McLaughlin's chances to take Brown's seat. Kirby Wilbur, chairman of the Washington State Republican Party, says McLaughlin began the race expecting a fight. Now that Brown is retiring, McLaughlin won't have to face an incumbent.
"She's faced the general electorate, and she's very popular," Wilbur says, referring to McLaughlin.
Wilbur says the retirement caught him off guard.
"I was surprised by Lisa stepping down," he says, adding that the defection of three Democrats during this year's special-session budget negotiations may have dampened Brown's enthusiasm for the job.
"She may very well just be tired of it all," Wilbur says.
As to whether any Republican can take Billig's seat, Wilbur is less sure.
"I don't know if we have anybody in that district who has the credibility," he says. "I think that would be tougher."
Brown says the defection of the "roadkill Democrats" didn't influence her decision.
"I've been around when the [voting] margin was slim," she says, adding that GOP senators crossed party lines to vote with her on past budgets. "That's not unusual, but probably people haven't seen it for a while."
And she says the battle for the state Senate is an uphill one for Republicans.
"I think the odds are good for us," she says. "You never take any election for granted. Every one just has its own dynamics."
"I think President Obama will do well" in Washington state, she adds. "And Andy, who is going to run for my seat, has really been a rising star."


Brown isn't disappearing. She'll continue teaching part-time at Gonzaga University. And she says she's waiting to see what kind of opportunities pop up, though she's in no rush.
"I feel like I will take a little time," she says, adding that she hasn't had any job offers yet. "And I think that I probably can have another chapter of service of public-policy work."
Billig, the representative running for Brown's seat, says he admires how she handled two different jobs: herding senators as majority leader while simultaneously giving Spokane a voice in Olympia.
"I'm not sure there are many people who could do both of those jobs so well," Billig says.
"I feel confident that we're going to be able to continue to deliver for Spokane just as we have in the past," he adds.
That is, if he can win.